Silenced Minority

Gay activist Eric Ethington feels he, and the LGBT community got screwed this year. "It seemed like the Legislature did not take much input from their constituents, and by and large, just made general statements." He continually got the cold shoulder from tight-lipped legislators—especially Senate President Michael Waddoups, R-Taylorsville, and Sen. Wayne Niederhauser, R-Sandy—who flat-out ignored him when he approached them in the Capitol hallways.
"Citizen lobbyists should be essential because we care the most, enough to make something happen. Really, we should be the strongest voice up there, but that tends not to happen." Ethington, in his third year of lobbying, says that, over time, he's become more passionate and more knowledgeable on how to best use his efforts, like whom to talk to and when.
It's been an eventful year for the LGBT community. A forum was held Feb. 11, to discuss the "compromise"—a moratorium on all anti- and pro-LGBT bills and resolutions for the year—between conservatives and pro-LGBT legislators. The moratorium initially angered a number of gay-rights activists who felt that the LDS Church's support of Salt Lake City's nondiscrimination ordinance gave them the momentum needed for real change at the Legislature.
During the forum, however, most of the frustration was quelled by gay-rights leaders, who urged patience. Still, activists would not move completely to the sidelines, including Ethington.
In response to the moratorium and comments made by Waddoups that suggested the gay community avoid protests the rest of the session, Ethington staged a sit-in at the Capitol Building on Feb. 12.
The lack of communication from legislators this session disappointed Ethington. He says opinion polls showed a majority of Utahns favor anti-discrimination laws and even the LDS Church showed support, yet the Legislature wanted to fight against it.
Ethington will keep lobbying, and that work goes beyond the three months of the Legislature's General Session on the Hill. "Over the next nine months, it's incredibly important to pay attention to what our legislators are prepping. Quite a bit was damaged on the LGBT front because people weren't aware of what bills were prepped beforehand."
Not Asking for an Arm and a Leg
Entrenched for three years in the complicated and murky waters of health insurance and mandates, amputee activist Tami Stanley is persistent and hard working. She has been pushing a bill that would help amputees obtain prosthetic limbs, and uphill battle because mandates don't receive much love on the Hill. This year, however, she entered the session optimistic, and her optimism was validated when House Bill 66 was passed by the Legislature.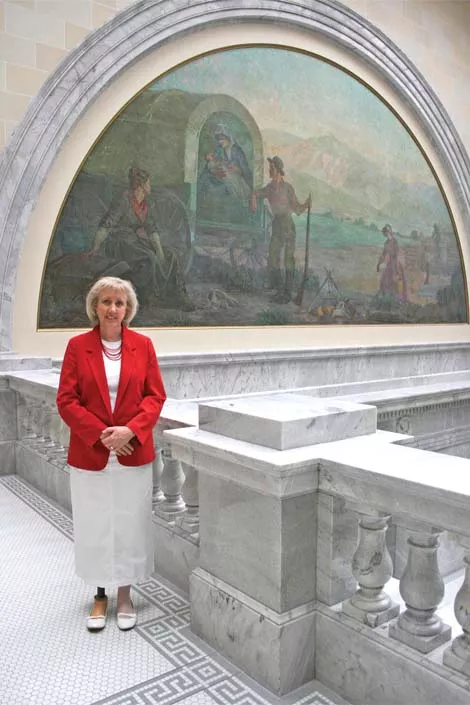 She's been asking for coverage that is essentially already there, so that amputees are not discriminated against, which HB66 accomplishes. "There are caps that limit the coverage on what is outside of the body, less so for internal organs. There aren't many amputees, so it's not driven by demand," Stanley says, who lost a leg in a sports injury several years ago.

The bill was initially—and continually—sponsored by House Minority Leader David Litvack, D-Salt Lake City. This relationship has been paramount to her citizen-lobbying efforts. And, she says, they make a good team, despite the two years of losses. She does the groundwork behind the scenes, talking to legislators, while he makes things happen in committees and on the floor.

When she threw herself into the world of citizen lobbying three years ago, she had no previous experience. She thinks any passionate person can get involved on the hill, from small-town homemakers to pissed-off school principals. "I think what made [my successes] happen is education, commitment and patience. When you deal with someone that has a different view, you respect that and you do all that you can to dialogue with them."

But she warns: "You are up against very powerful people that have a lot of money—paid lobbyists—and it's a really tough thing to do. It has been a full-time job for me, and it's taken away from my paid job and my family, but it's worth it to give someone a better quality of life."

Smells Like Teen Spirit
After last year's Teen Lobby Day at Capitol Hill, hosted by Youth City Government, 18-year-old Emma Waitzman, a senior at West High School, was inspired to make her voice heard. After all, YCG teaches high school students about civic engagement and participatory government.
Ironically, Waitzman and others working for sex-education reform saw their efforts fail this year because, when forced to address the proposal publicly, legislators refused to engage. The students' best chance for change was with Senate Bill 54, sponsored by Sen. Steve Urquhart, R-St. George, which was scheduled for a public hearing before the Senate Education Committee. But when the committee was asked to make a simple motion that would have allowed debate and public comment, the committee members sat silent for almost five minutes before adjourning.

"The five minutes of silence was crazy," Waitzman says. "I was waiting for Karen Morgan, the Democrat, or anyone, to do something. I think a lot of people were shocked."

Although their work ended in five minutes, she believes their efforts weren't in vain. "We've started all these parent groups and are wanting to do some online resources for everyone. We are going to keep going."

For Teen Lobby Day 2010, held Feb. 26, Waitzman and company had the opportunity to talk to legislators in both chambers. She says it was an encouraging experience, because the teens felt like their voice mattered when a legislator offered face time. And, she thinks it's a strong message that teens are getting involved.

Among the representatives they spoke to, some opposed the sex education bill and one proposed that teens should educate themselves and then teach one another. "If that's the best way, then maybe we should all quit school and learn calculus and teach each other that, too," Waitzman says.

She's unsure if citizen lobbying is the path for her after high school but says, at a minimum, her goal is to "understand my community and be a part of it, to look toward change in the future."