The awards season for 2018 films remains in high gear for the next month or so, but it's already time to start contemplating what we'll be fired up about in 2019. Here are our most anticipated titles coming to theaters and major streaming services: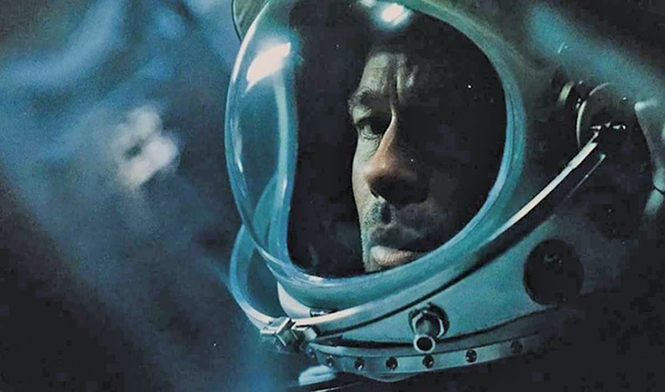 20th Century Fox
Ad Astra
Scott Renshaw: It's always worth getting excited when one of the greatest directors of all time has a new project coming. When that director is Martin Scorsese, and he's diving back into the world of mobsters with Robert DeNiro—as in the Netflix release The Irishman (late fall, release date TBD)—it's even more noteworthy. Then consider that he managed to get Joe Pesci to come out of several years of semi-retirement, and it's an occasion for fireworks. Speaking of "greatest directors of all time," there's the prospect of Steven Spielberg's remake of West Side Story for year-end awards consideration (though at press time, it still was uncertain whether it would make a 2019 release). That's just one of more than 40 remakes, sequels and franchise installments set for wide release in 2019, so you better hope that at least some of them will be great. My fingers are crossed for Toy Story 4 (June 21), since betting against the Toy Story movies to continue being great hasn't paid off yet. But I've got a sneaking suspicion that one of my favorites will come from one of my favorite underappreciated directors: James Gray, who's moving away from his usual earthbound, gritty character dramas with the science-fiction adventure Ad Astra (May 24), starring Brad Pitt as an astronaut searching through space for both his missing father (Tommy Lee Jones) and the solution to a planet-threatening mystery.
Tristar Pictures
A Beautiful Day In The Neighborhood
Eric D. Snider: I don't know which 2019 movies will be good (probably some), but these are the ones I'm curious about:As a fan of Unbreakable since day one, and then of its surprise kinda-sequel Split, I'm looking forward to Glass (Jan. 18), which promises to bring all the threads together. Men in Black: International (June 14) looks like the sexy reboot the franchise needs (to the extent that any franchise "needs" to be perpetuated). It's sure to be better than Men in Black 3, which is a real movie that came out in 2012 (seriously!).There's no reason for a Toy Story 4—but, then, there was no reason for a Toy Story 2 or 3, either, and both turned out to be classics.With Spider-Man: Far from Home (July 5), mostly I'm curious how they're going to make a Spider-Man movie when Spider-Man died in Avengers: Infinity War. There's no way all those dead superheroes will come back to life, is there?! A Beautiful Day in the Neighborhood (Oct. 18), starring Tom Hanks as Mr. Rogers, might be the soothing balm we need. I wish it were out now, though we'll probably need it even more in October.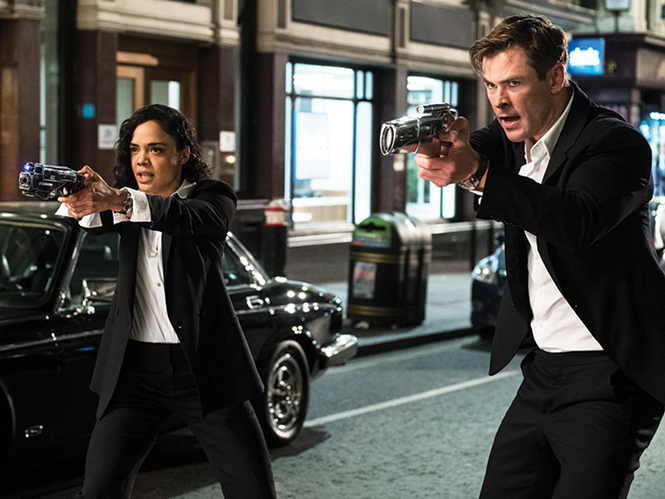 Sony Pictures
Men In Black: International
MaryAnn Johanson: I'm a geek, so of course my most-anticipated movies of 2019 tend to be of the science fiction and fantasy variety. I can't wait to see Brie Larson take onCaptain Marvel (March 8); hopefully it will prove that great women-led superhero movies are not a Wonder Woman one-off. I'll watch anythingfrom director Jordan Peele after Get Out, and he'll give us Us (March 15); we don't know much about it yet, except that it's another horror flick, and I'mhappy for its secrets to be kept until the lights go down. I'm not always enamored of sequels, but I'm ready for Avengers: Endgame (April 26), Godzilla:King of the Monsters (May 31), Toy Story 4 and Star Wars: Episode IX (Dec. 20). A chance to revisit the tremendous sci-fi comicchemistry Chris Hemsworth and Tessa Thompson shared in Thor: Ragnarok comes with the landing of Men in Black: International. Just about theonly non-genre film I'm already psyched for is the Tom Hanks-as-Mr. Rogers drama A Beautiful Day in the Neighborhood. Directed by Can YouEver Forgive Me's Marielle Heller, it should be lovely.
Marvel Studios
Captain Marvel
David Riedel: I'm thrilled 2019 is likely the last year we'll see Stan Lee cameos in Marvel movies. Look, I like Lee as much as the next guy. He was funny! He had that great voice. He created fascinating characters. Plus, he wasn't a half-bad actor. That he made his contrived-as-shit role in Kevin Smith's Mallrats seem authentic is a testament to his skills as a performer as well as a creator. But, Jesus, man. The Marvel cameos. Just think: It's a crowded opening weekend and you're watching Black Panther or Avengers: Infinity War for the first time. Suddenly, Lee and his ridiculous hairpiece show up, and every Marvel fanboy is hooting and hollering like he just discovered his dad's stack of Playboys. (I was raised in the '80s.) And then anything that happens in the 90 seconds following Lee's appearance is something you'll miss entirely or have to witness later via your favorite streaming app. So, yes. After Captain Marvel and Avengers: Endgame come and go, I'll be relieved Lee won't appear on screen. Fanboys are like nuclear weapons: They fuck up everything, even the harmless old guy with the funny toupee.