The bad news, Douglas Hudson was told in August 2007 while sitting in the office of colorectal surgeon Edward "Joe" Eyring, was that Hudson's colonoscopy showed he would need surgery—two operations, in fact. A procedure known as transanal endoscopic microsurgery would remove a number of dangerous tumors growing inside Hudson's colon. The good news, Hudson recalls Eyring telling him, was that he had come to the only doctor in the state who could perform the operations. With Eyring's poise, confidence and TV-doctor good looks, Hudson felt assured that, despite the dire diagnosis, he was in good hands. Then came more bad news: That during the course of those operations, Eyring would have removed half of Hudson's colon.
"My wife, Peggy—in her infinite wisdom—said that when your doctor is talking about chopping you up, it's probably a good idea to get a second opinion," Hudson says. He turned to a friend for advice, who recommended a doctor at the University of Utah Medical Center. Hudson said that while the colonoscopy exam he received from Eyring took about 15 minutes, the same procedure lasted nearly two hours at the University of Utah. The second doctor found none of the tumors Eyring claimed to have seen. Hudson's relief about his health soon turned to anger when he thought about Eyring's initial opinion.
"I went home and steam was coming out of my ears, I was so goddamned mad," Hudson says. He decided to complain to the Utah Division of Occupational & Professional Licensing (DOPL), the state agency that oversees professional license holders, including surgeons and physicians. Hudson met with investigators and even gave a statement to DOPL about his experience.
.

Editor's Note: Earlier this year, City Weekly requested the Utah Attorney General's Office to produce records previously produced for the Bob Bennett for U.S. Senate campaign in July 2009—when Shurtleff was still a candidate for Bennett's Senate seat (Shurtleff withdrew from the race in November 2009).

The Bennett campaign received more than 5,000 pages of documents that detailed Mark Shurtleff's travel arrangements, contracts made by the Attorney General's Office and e-mail correspondence. This complete records request was then made available to City Weekly upon request.

Hicks' expert-witness report and Blaine Ferguson's memo referred to in this story were among contracts overseen by the Attorney General's Office and produced to City Weekly. Upon learning City Weekly had obtained these records through an open-records request, representatives from the Attorney General's Office notified the editor that as the documents were part of an internal investigation file, these documents were private. They demanded the information not be published and be returned to the state offices, and they threatened possible criminal prosecution if City Weekly did not comply with these demands. However, as these documents illustrate to the public the challenges and complexities involved in state investigations of standard-of-care cases, information from the private documents remains in the story.
"Frankly I'm very disappointed in DOPL," Hudson says. "I thought they were going to do something with this guy, but nothing's been done about him." That's not exactly true: Hudson's complaint
was
investigated by the state, and DOPL even filed a formal petition seeking to sanction and discipline Eyring for his allegedly improper treatment of Hudson and three other patients. Eyring's attorneys, in a response to the DOPL petition, said Eyring did not recall if he used the term "tumor" with Hudson or not. He also thought the pathology reports showed Hudson's colon contained "high-grade dysplasia"—a warning sign of cancer.
"Dr. Eyring does not have the pathology report at the present time and cannot, at this time, fully admit or deny. Therefore he denies the allegations," his attorneys stated in their March 2010 response to the DOPL petition.
According to DOPL's July 2010 newsletter, the complaints against Eyring were resolved by Eyring agreeing that he would receive a public reprimand and would complete continuing medical-education courses over the next 18 months. In the stipulation order, Eyring admitted to "unprofessional conduct" in 2006 and 2007 "when he violated generally accepted professional and ethical standards of practice."
Has your doctor been disciplined?
Check City Weekly's new doctor discipline database:

Since Hudson only knew of his individual experience with Eyring, he couldn't say if his misdiagnosis was a one-time occurrence or not. Someone who could say that was Terrell "Terry" Hicks, a colon surgeon from Louisiana, hired by DOPL as an expert witness to assess complaints of "unprofessional conduct" against Eyring. Those complaints involved approximately 20 patients, according to a Utah Attorney General's Office memo authored by Blaine Ferguson that City Weekly received in an open-records request along with Hicks' report.
In his report, Hicks opined that Eyring not only made "false and misleading" statements, such as in Hudson's case, but Eyring also appeared to have pressured one patient not to seek legal advice over her alleged substandard care by Eyring. "Dr. Eyring's actions displayed an obstruction of justice, (or whatever the correct legal term would be)" Hicks wrote, "by dissuading the patient from seeking legal guidance that would have explained to her all of her options."
In the case of another patient, Patient "X" (his name is withheld to protect his family's privacy), Hicks reported that Eyring, who performed three abdominal surgeries on Patient X, was not "cognizant of the fact that the patient was dying from overwhelming sepsis." The DOPL petition alleges that Eyring failed to perform the surgeries in accordance with accepted standards of medical practice, resulting in a tear in Patient X's blood vessel. Eyring, the petition alleges, also failed to submit accurate and sufficient operative notes and other required reports to the hospital, and later, in 2009, gave false information to DOPL in an investigation into his case. The petition alleges that Eyring's care of this and two other patients constituted "Gross incompetence, gross negligence or a pattern of incompetency or negligence." Patient X died shortly after the three surgeries, and his family is still in legal proceedings with Eyring.
In their response to DOPL's January 2010 petition, Eyring's attorneys deny the doctor provided substandard care in any of the cases and deny he pressured any patient not to seek legal redress. Regarding the allegation that Eyring (pictured at left) failed to accurately report the size and location of the tear in the vessel, Eyring's attorneys noted that Eyring was "more concerned with stopping the bleed and getting the cardiovascular surgeon to repair the bleed, than measuring the size of the bleed." Eyring's attorneys also claim that Eyring has been unfairly targeted by DOPL, and that DOPL investigators have interfered with his medical practice and "encouraged former patients to file lawsuits against Dr. Eyring."
Given the seriousness of DOPL's allegations and the fact that its retained expert concluded that Eyring's conduct presented "patterns of deception, technical misadventures, and unprofessionalism," it strains credulity that DOPL would only publicly reprimand the doctor and force him to attend continuing-education classes. At least one of Utah's medical-malpractice lawyers is concerned enough to say that DOPL is a toothless tiger when it comes to regulating sloppy, shoddy or just plain bad doctors who fall below accepted medical standards.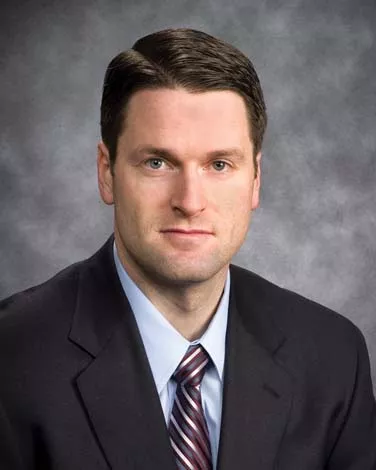 With 25 investigators tasked with investigating 177,000 licensed professionals in Utah, the state's watchdogs keep plenty busy regulating licensees who range from hunting guides and acupuncturists to nurses and cosmetologists. While DOPL Director Mark Steinagel (pictured at left) himself struggles with how his investigators can more effectively challenge doctors for standard-of-care issues, personal-injury attorneys such as Dustin Lance fear the overwhelmed government regulators are too outgunned—or outlawyered—to effectively regulate dangerously sloppy doctors. Lance argues that surgeons and physicians in Utah should be regulated by a separate board, as they are in most states—a system he says would work more efficiently, similar to the way the Utah Bar regulates lawyers.
"There are far more lawyers sanctioned regularly than there are doctors here," Lance says. "And our mistakes don't kill people."
Dr. B
What Teresa Law didn't know about Dr. James A. Brinton cost her—and hurt her.
In July 2009, Law was looking forward to celebrating her husband's 50th birthday on the beaches of Mexico. Before she left, she decided to have "smart lipo" done to smooth out fat deposits on the backs of her thighs. She said that Brinton, who worked at an Orem medical spa, told her a simple operation would take care of her problems. Law's first impression of Brinton was that of a charming and competent doctor. Her first warning sign that he wasn't, however, was the day of the procedure, when Brinton chose to multitask while operating on her: taking a hands-free cell-phone call on an unrelated business matter while he performed the liposuction. Plus, she didn't receive pain medication for what she describes as one of the most agonizing experiences of her life. Leaving the Orem office, she was assured the pain would be only temporary.
"I had to travel the next week, and he said, 'Oh, yeah, you'll be fine, there are people who have even gone hiking the next day.'" Law wasn't one of those people. "It drained and oozed blood for days and days," she says. "My leg swelled up to double the size." A miserable and embarrassed Law still went on the trip, keeping her legs under wraps. Law was assured that the scars that appeared on the back of her thighs would go away. After months of added therapy that she was offered for free, they didn't.
Nearly a year later, Law discovered that Brinton had been indicted in federal court in 2008, a year before she sought treatment, for being involved in an online pharmacy scam where he and several other co-conspirators smuggled as many as 8 million diet pills from Mexico. Brinton and others sold them over the Internet to customers who could obtain the drugs without a prescription or receiving any medical evaluation. On May 19, 2010, Brinton pleaded guilty to the charges of conspiracy to distribute phentermine and one count of international money laundering; on July 2, Brinton was sentenced to three years in federal prison.
Had Law only bothered to check the status of Brinton's license on DOPL's Website … well, it wouldn't have helped. Even though Brinton was indicted before she received treatment, DOPL had not posted any restrictions or suspensions on Brinton's license. In other such pending discipline cases, DOPL has been known to place probationary modifications on a license if a licensee is charged with a crime, which can then be removed if the individual is not convicted. However, that didn't happen with Brinton—a likely oversight, DOPL says. DOPL only took action on his license one month after Brinton had pleaded guilty to the federal charges, and then by simply denying a request for a renewal of Brinton's license to practice medicine.
Law also would not have found out that Brinton had lost a malpractice case in 2002, where a woman's face was badly burned in a laser-hair-removal procedure, since DOPL is not always aware of when doctors lose court cases. Nor would she have known that Brinton had lost all his hospital privileges from Intermountain Healthcare in 1989.
DOPL only has ever placed Brinton on probation—in 1996, based on allegations of his sexually harassing four patients throughout the late '80s and early '90s, when he worked as an OB-GYN. In the initial investigation, DOPL's complaint alleges Brinton even had admitted to performing "sexual stimulation techniques" on his patients for the previous 15 years. In 2000, however, through his attorneys, Brinton denied all the allegations of harassment and insisted that he only performed sexual-stimulation techniques when patients requested it of him.
During this same period, Brinton was actually fighting IHC's decision to revoke his privileges, taking his case to the Utah Supreme Court, which, in 1998, upheld IHC's decision. In that decision, the court noted that Brinton "treated too many patients, provided substandard care, and took other inappropriate actions with respect to staff and patients."
As an OB-GYN, Brinton averaged 45-60 baby deliveries a month, the Supreme Court decision reported—a staggering number compared to most OB-GYNs, who deliver about 24 babies a month.
A client of attorney Dustin Lance would later sue Brinton because of the doctor's alleged botched operation. In researching the doctor's background, Lance learned why Brinton lost his IHC privileges in 1989. An infant under his care died, allegedly because he failed to diagnose the baby's gestational diabetes. Lance noted that Brinton fought the hospital's decision tenaciously, arguing that a loss of IHC privileges would force a Utah doctor out of business. Soon thereafter, Lance says, Brinton's new specialty was performing laser-hair removals and smart-lipo procedures in the spa business.
In 2001, Lance's client, Toupta Boguena, then a 34-year-old international student at Brigham Young University and originally from the war-torn republic of Chad in Africa, received hair removal from Brinton's clinic, only to suffer serious scarring on her face. Lance and the other attorneys working for Boguena successfully argued that Brinton's staff had failed to realize the spa's laser was not designed to be used safely on individuals with dark skin.
During the trial and proceedings, it was established that most procedures were conducted by Brinton's staff. Boguena's procedure was done by an assistant who, prior to being hired by Brinton, was a homemaker with no medical experience. She testified that Brinton showed her how the laser worked and left her a magnetic guide sheet stuck to the side of the machine that gave basic instructions to the laser. She also testified that "Dr. B" as she knew him, supervised a number of procedures but generally only personally performed hair removals of women's bikini areas and that it "normally would be after-hours and the staff would be leaving to go home. We had certain hours that we worked, and he was still seeing patients," the assistant testified.
Despite repeated attempts to contact Brinton and his attorney for this story, neither could be reached for comment.
While a jury found Brinton's actions to have fallen below the standard of care in awarding Boguena $150,000 in damages in 2002, DOPL was never made aware of the decision and placed no restrictions on his license. This type of oversight unfortunately occurs, a DOPL representative says, because there is no requirement for such cases to be reported to DOPL.
According to the Drug Enforcement Administration, within a year of Boguena's case being decided, Brinton and others had begun smuggling Mexican pharmaceuticals into the country for sale over the Internet, according to the 2008 federal indictment.
DOPL often determines to hold back on its investigations if other agencies are building a case against a licensee. DOPL was likely made aware of Brinton's federal investigation, which may explain why the state agency took no recent action. But it still doesn't explain why no restrictions were placed on Brinton after the Boguena verdict, or why no restrictions were placed on his license after indictments for smuggling pills were handed down in 2008—a year before Teresa Law visited Brinton.
For Law, however, it's just too late. With the scars she now has, she feels too ashamed to show her legs in public and is looking to plastic surgery to repair the damage. "[My legs] look a million times worse than they originally did."
White Coat Conspiracy?
DOPL Director Mark Steinagel recalls accompanying an investigator to a case that shows just how difficult it is to prove malpractice or standard-of-care cases. The case focused on a woman who claimed she had received poor care by a nurse that resulted in her losing her entire stomach.
"What we know is this woman is sitting here without a stomach," Steinagel says. "What we don't know is anything beyond what this person says happened and what [the nurse] says happened. The only record is this nursing-home record that says she did it the right way." In a situation like that, investigators know they'll have to investigate more rigorously than they would a case where other law enforcement finds evidence of drug problems or criminal sexual harassment—situations that make up the clear majority of DOPL disciplinary actions.
"Compared to other states, we have fewer staff," Steinagel says. "Most other states have a board that functions independently; we're unique in that we have an umbrella agency, with lots and lots of professions underneath it." With 25 investigators for all licensees, Steinagel says the workload is divided mostly between construction trades and medical professions, with about 10 to 11 investigators focusing on construction cases, and 13 to 15 looking at medical professions. That leaves, at most, 15 investigators to look at all the nearly 10,000 physicians and surgeons in the state, along with all nurses, cosmetologists, pharmacists, dentists, physical therapists and other professions that fall into the medical category.
While Utah's system is different, Steinagel believes there are a few upsides because there are more checks and balances. For example, when the physician advisory board that works with DOPL to recommend discipline for doctors renders a decision on a licensee, Steinagel gets final approval. In a recent case that Steinagel cited, the board wanted to give full privileges back to Louis Bedell, an anesthesiologist who was charged with two counts of felony sex abuse in 2005. Bedell beat these counts but was still convicted of misdemeanor sexual battery in May 2007. In an e-mail obtained through DOPL, Bedell even complained to the Governor's Office over DOPL's treatment, but Steinagel rejected the board's recommendation to give all privileges back to Bedell, and instead placed Bedell's medical license on probation for two years as of May 2010. Bedell could not be reached for comment.
"I had been here only a year, and they said they wanted to give [Bedell] his license back. I said 'I'm not giving a doctor who's just been convicted of sexual battery his full license back,'" Steinagel says.
Still, he says, standard-of-care cases present a fiscal challenge to the division. "Our attorneys get nervous on standard-of-care cases," Steinagel says, because of the higher burden of proof involved, which may mean hiring expert witnesses. "I've said, 'Are you telling me that on every standard-of-care case, we need an expert? Because I can't afford to hire one every time.'"
Charles Thronson, a Salt Lake City medical-malpractice attorney with Parsons Behle & Latimer (a firm that also does legal work for City Weekly), says that finding unbiased medical experts is a unique challenge for DOPL in standard-of-care cases. "Historically, there has been this code of silence among physicians to protect other physicians—even if they're negligent," Thronson says.
"If DOPL wanted to determine whether a physician was negligent and breached the standard of care, they have to go typically to a local physician for help," Thronson says, adding that in a close-knit medical community, the doctor may be an acquaintance of one being investigated, or perhaps refer patients to that doctor. "It's understandable that a physician would be reluctant to criticize a fellow physician."
A look at documents obtained by City Weekly from the Attorney General's Office shows how DOPL grappled with this exact problem in the Eyring case. A signed memorandum by Assistant Attorney General Blaine Ferguson stated that investigating Eyring was difficult since it required hiring an outside consultant.
This is partly because the contract couldn't be advertised for public bid (the usual procedure with state contracts) since doing so could jeopardize the case, ostensibly because it would alert Eyring to the investigation and because there could be conflicts of interest in Utah's small, colorectal-surgeon community. Ultimately, the expert, Terry Hicks, had to be hired from outside of Utah. Hicks was paid $20,000 to examine 16 separate complaints against Eyring, according to a billing document from the Utah Attorney General's Office.
One complaint even referenced a 2007 case, where a patient of Eyring's (referred to as "X") died when Eyring wrongly—in the expert witness' opinion—diagnosed the patient with pneumonia after surgery instead of the sepsis that ultimately took his life. The family of the deceased patient would not comment for this story since it is still in private arbitration with Eyring and his attorneys.
Patient X, according to DOPL's petition, had troubles during surgery when X suffered a hole in his colon during surgery by Eyring. The complication required repair by another surgeon. Eyring's attorneys responded to the complaint, highlighting Eyring's efficiency in calling for a quick blood transfusion and requesting a vascular surgeon to repair the hole. "Dr. Eyring asserts his handling of this situation was an excellent response to the surgical complication."
Yet, it was the postoperative care that concerned the state's expert witness. In his report, he said that X's wife was told by Eyring that her husband had pneumonia, when, in fact, other physicians assigned to monitor X's recovery from surgery noted X was suffering "septic shock."
Steinagel says the problem with the Eyring case was that there were internal delays with the investigation and that new complaints were not being filed with DOPL (hinting perhaps that the doctor's standard of care had improved in the intervening years). This led to the decision Steinagel stands by: to simply reprimand Eyring and order more professional training.
"Still, it's a case I grapple with," he says. Internally, Steinagel believes his department can streamline cases and make more timely responses. He's also approaching investigations differently by hiring investigators who are former professionals in the field they investigate as opposed to having a background in law enforcement. "We need not only good investigative experience, but we're also seeking investigators with medical experience to pick up on these standard-of-care issues," Steinagel says.
Some in the medical-malpractice legal field want broader changes to make the public more aware of licensing complaints, even if that's a harder pill than the Utah Legislature and local medical professionals are willing to swallow.
One possible reform might be to allow hospitals to share their discipline files with DOPL so long as the information is not discoverable by attorneys. Generally, hospitals don't share their discipline files with DOPL, especially if it's a standard-of-care issue, since a hospital could face liability by admitting it had tried, perhaps unsuccessfully, to police its doctors in-house.
"At a minimum, [hospitals should] give it to DOPL, so DOPL can decide if they need to change your privileges," Lance says.
Thronson agrees, arguing real reform can't be left to courtroom battles.
"Obviously, lawyers are not in the best position to regulate the medical profession," he says, pointing out that hospitals that maintain higher practice standards tend to report fewer injuries and thus reduce the costs of defensive medicine. "It's got to be done by the medical association or by DOPL—even with their manpower limitations."
Tough Break
Like many Utahns who feel they've suffered from medical malpractice, Tammie Hatton didn't research her doctor until she felt something wasn't right. In March 2009, Hatton was rushed to the Ashley Regional Medical Center in Vernal after suffering a broken arm from falling off a horse. In the emergency room, Hatton and her husband met Ghansyam Massand, the on-call doctor. The couple recalls Massand saying he would reset the arm by placing a metal plate next to the bone, and in three months' time, when the cast was removed, her arm would be healed.
When the cast was removed, however, Tammie says her arm was bent backward at a 45-degree angle. In their legal complaint, the couple alleges that Massand had installed the wrong plate and did not recognize the plate breaking apart in X-rays taken after the cast had been in place for three months.
Tammie's husband, Steve, still recalls walking into Massand's office the morning the cast came off and seeing an X-ray of another patient's broken bone on his desk. Steve told Massand that the X-ray wasn't his wife's. "[Massand] said, 'No, that's another little boy out there [whose] cast came apart this morning. That's two this morning—this isn't a good day for me.' I just looked at him and said, 'For you?" says Steve Hatton.
Massand's lawyer, David Epperson, writes in a statement to City Weekly that his client denies any allegation of malpractice and that the injury was the result of a hardware malfunction, which he says is a common issue with these types of metal plates. The case is still in the discovery proceedings in the 8th District Court in Uintah County.
Massand's name does appear in DOPL's discipline files but only for a notice of a restricted license. The vague note in DOPL's discipline newsletters simply states that Utah restricts Massand from performing neck and spine operations based on the result of a malpractice case in Massachusetts that restricted Massand from performing such operations. Those restrictions were also upheld by Rhode Island's medical board. Utah's DOPL, however, does not offer any insights into or a case file about what happened in Massachusetts. After Rhode Island's decision, Massand moved to Utah in 2006.
While Lance is suspicious of Massand moving his practice from state to state, his real concern is that this sort of case often falls through the cracks. If DOPL has trouble pursuing and disciplining standard-of-care cases with doctors, it doesn't get any easier for lawyers to bring lawsuits against negligent doctors.
For attorneys like Thronson and Lance, a medical-malpractice case means clearing a lot of hurdles. According to Thronson, there are 29 statutory protections for physicians in Utah in the event of litigation, compared to zero for every other profession. These barriers make it hard for some attorneys to justify taking cases like Tammie Hatton's or Toupta Boguena's—cases that have strong claims but do not necessarily justify a protracted legal battle.
"I lost my shorts on [Boguena's] case," Lance says, referring to the amount he received in contingency fees compared to the number of hours he put into the case. "But it was a legitimate case, and it was the right thing to do," he says, adding, "If we're not policing doctors—and we know DOPL isn't doing it—then, who is?"
Where Does One Look?
Between overworked state regulators and lawyers who can't afford to take legitimate but time-intensive—and thus costly—malpractice cases, it may remain up to patients to protect themselves by finding out what they can about health-care providers.
Unfortunately, the inconsistent regulation can make researching a doctor difficult. A simple Internet search of a doctor's name—even those with discipline records—often won't reveal blemishes. When searching online for the name of Edward Eyring—the colorectal surgeon who was described by the state's own expert witness as displaying a pattern of deception and negligence—a search yields sites that contain mostly glowing reviews of the doctor, such as Eyring being named "Patient's Choice for 2008" by Vitals.com, or HealthGrades.com showing it "has found no sanction history for Dr. Eyring for the last 5 years."
His own Website (JoeEyringMD.com) and others highlight Eyring's community involvement, the fact that he is the chair of the Utah Colon Cancer Taskforce and that he is a past chair of the Utah Cancer Action Network. He even appears in videos, one of which has aired recently on a local TV station, urging viewers of appropriate age or risk to be screened for colon cancer.
Eyring's medical practice receives a clean bill of health online. And this is not surprising, considering an allegation DOPL's expert noted in his report: In 2008, a patient allegedly suffered injury from an elective operation she says Eyring urged her to undergo (in Eyring's response to the DOPL complaint, he denies this and says he initially advised the patient against surgery). After surgery, she would end up having her surgical complications repaired by other physicians. When she picked up her medical records from Eyring, he "allegedly pushed [the patient] into an exam room," and "informed her that she did not need to contact anyone and just have her insurance company contact him," according to Hicks' report. Hicks also wrote that the woman felt "Eyring was pressuring her for a dollar amount to settle this matter." (Eyring's attorneys say in their response to DOPL that their client denied pressuring the patient.)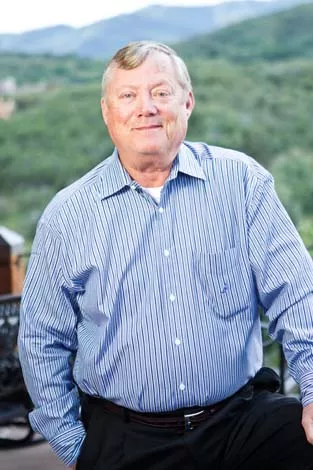 This woman allegedly experienced what the expert referred to as a "surgical misadventure"—what Doug Hudson (pictured at left) believes he narrowly avoided by seeking a second opinion about his colon. For Hudson, it didn't matter what an Internet search would tell him about Eyring—or what a DOPL newsletter wouldn't tell him. "I really got mad," Hudson says, recalling his diagnosis. "I mean, someone cutting people up for money? Why don't you just go rob a bank?"
When repeatedly asked to comment on this story, Edward Eyring—who now practices medicine using his middle name, as "Joe" Eyring—said through the attorneys who represented him in the DOPL proceedings that he couldn't talk with City Weekly since he claims his DOPL stipulation order prohibits him from talking about the investigation (although, in reality, the order only prevents him from claiming the matters in his stipulation "are without factual basis").
"I can say, however, that my license is clear, and I have nothing against [DOPL]," Eyring says. "And I have no restrictions now in the practice of medicine."%uFFFD
Visit CityWeekly.net/doctors for a Utah physicians DOPL discipline database.