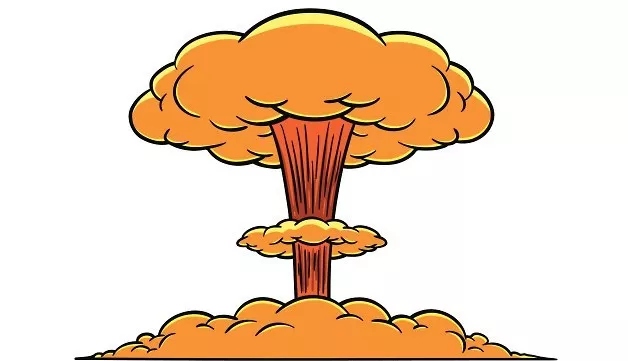 Our new series "A Peek Into the Hereafter" looks beyond this life with the help of our clairvoyant, Isadora Luna, to give insights into the fate awaiting well known former Earthlings. This week, we see Clarence Thomas on Judgement Day.
St. Peter: Well, well, Clarence Thomas, what do you have to say for yourself. Thomas: I showed 'em. St. Peter: Who did you show, Clarence? Thomas: Those stinkin' liberals, that's who. Those "woke" folk. St. Peter: Do you mean the white liberals or the black liberals? Thomas: The white ones, of course. The ones who raked me over the coals with Anita Hill and her sexual harassment lies. It was a high-tech lynching. St. Peter: But isn't Anita Hill black? Thomas: Don't confuse the issue. I showed 'em that affirmative action sucks. It robs black people of their dignity. I wrote about it in
The Washington Post
. Those people at Yale Law thought I was there because of affirmative action—I wasn't, damn it. St. Peter: Ronald Reagan really liked that, especially coming from a Black man. He even selected you to head up the EEOC (Equal Employment Opportunity Commission). Thomas: I know how to play the game. The Republicans needed a black guy who bought into their zero-sum welfare crap and I delivered. Then I worked those white conservatives so that even though I didn't have much experience in court, I had friends in high places. St. Peter: When you were little, Black kids made fun of you because your skin was so dark. Later, in Catholic seminary, the young white men drove you out. Then at Yale Law School, all the white students, especially the girls, looked at you like you were the janitor. Thomas: Yeah, but I showed 'em. I married a white woman and got appointed to the Supreme Court by George H.W. Bush. And I made those liberals pay with rulings that drove them up the wall. St. Peter: You replaced civil rights icon Thurgood Marshall who fought against segregation his entire life. Some say you didn't measure up. Thomas: Oh yeah, well I sat on the high court for 40 years and wrote more opinions than anyone, including Thurgood Marshall. And I told better jokes than he did, too. So they can stick that in their civil rights pipe and shove it. St. Peter: You voted against abortion and affirmative action and made gun restrictions more difficult. These days, you hang out with rich, white folks. You fly around on a rich guy's jet and take vacations on his giant yacht. Thomas: What good is power if you don't wield it and cash in? And besides, real conservatives like jets and yachts. I'm a real conservative. St. Peter: But aren't you afraid that the public will lose confidence in the Supreme Court if conservative justices keep ruling that corporations are people, money is speech and women don't have a right to reproductive care? Thomas: That's their problem. Now can we stop with these silly questions so I can get my angel wings?
Postscript—That's a wrap for another beautiful spring week here in Zion, where we keep track of AI (artificial intelligence) so you don't have to. Not to worry, but we may be heading for Dr. Strangelove territory, where AI could start a nuclear war, according to Tom Shanker, co-author of Age of Danger.
In the 1964 dark comedy,
Dr. Strangelove or: How I Learned to Stop Worrying and Love the Bomb
, the crazy Gen. Jack D. Ripper launches an attack on the Soviet Union, which has invented a doomsday machine that will automatically respond with a full-scale nuclear counterattack. Whoa! Closer to home, Sam Altman, the CEO of OpenAI, told the Senate Judiciary Committee it should regulate AI: "I think if this technology goes wrong, it can go quite wrong..." But don't worry. Flipping to our "Who Dat" file: A British paper,
The Daily Mail
, reports that Utah is the "most closeted" state based on Google searches for things such as, "Am I gay?" "Am I a lesbian?" and "Am I trans?" Coincidentally, Dallin H. Oaks, first counselor in the Latter-day Saint Church First Presidency, reaffirmed the church's position on same-sex relationships last week, saying that single adults should persist in their efforts to marry (the opposite sex) and start families. Well, maybe it's not so coincidental after all. OK Wilson, we need a little theme music for poor Clarence Thomas. He's been victimized by Black men, white men, Black women, white women, liberals, academics, fellow jurists and woke people. But he played the Washington game like a pro con man. Now he's got powerful, white, rich friends and a life right out of Shakespeare: "Hell is empty and all the devils are here."
I've got a hard road to travel and a rough rough way to go
Said it's a hard road to travel and a rough rough way to go
But I can't turn back, my heart is fixed
My mind's made up, I'll never stop
My faith will see, see me through
Let me tell you
I'm all alone, this lonesome road I roam
I've got no love to call my very own
Oh the river gets deeper, the hills get steeper
And the pain gets deeper every day, yeah I've got a hard road to travel and a rough rough way to go
Said it's a hard road to travel and a rough rough way to go
But I can't turn back, my heart is fixed
My mind's made up, I'll never stop
My faith will see, see me through Aah, oh oh
Aah, oh oh - one more thing I dream of a home far beyond the sea
Where there is love and peace and joy for me
Oh, in my eyes I see troubles and dangers for me
But destiny where it leads me I must go, hey I've got a hard road to travel and a rough rough way to go
Said it's a hard road to travel and a rough rough way to go
But I can't turn back, my heart is fixed
My mind's made up, I'll never stop
My faith will see, see me through Aah, oh oh - no, help me somebody
Aah, oh oh - somebody please, help me right now
"Hard Road to Travel"—Jimmy Cliff