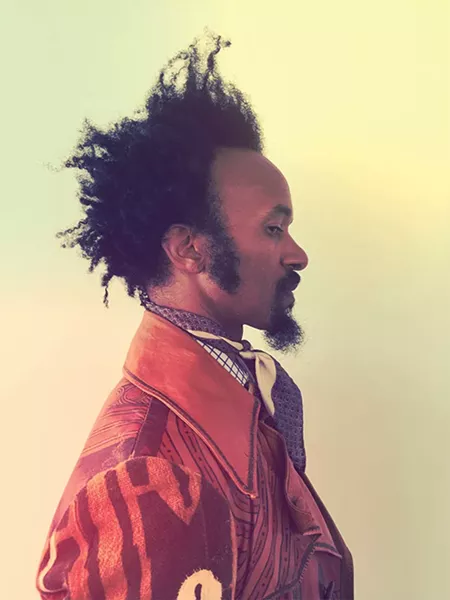 The Sundance Film Festival always includes a few noteworthy collisions of sonics and celluloid. There are films about music or musicians, films by musicians or featuring them as actors, film screenings where musicians show up as fans or for photo opps and concerts coinciding with and capitalizing on the festival. The year 2017, known in the days of Trumplandia as the Final One, has all that ... but no bag of chips. Here are City Weekly's picks, plus some other stuff.
Mogwai Plays Atomic: Scotch experimental post-rockers Mogwai performs their latest album Atomic, a retread of their score for Mark Cousins' documentary Atomic: Living in Dread and Promise, which explores the full spectrum of atomic power—how it's used to both enrich and destroy lives. The Complex, Saturday, Jan. 21, 8 p.m.; smithstix.com.
Roxanne, Roxanne: Remember when rap was scandalous for using just one F-bomb? It was a simpler time, then. I was in junior high back then, so of course I was all about dat. I hung on every salvo of the "Roxanne Wars," a dis battle that started when Roxanne Shanté, a young rapper from Queens, dropped "Roxanne's Revenge" in response to UTFO's "Roxanne, Roxanne." Fans of old-school rap music will no doubt dig this biopic about Shanté, who left the game (although not entirely) after two albums to go to college, becoming a motivational speaker. Five screenings—see schedule at sundance.org/projects/roxanne-roxanne.
Kuso: Another rap-connected film, this time directed by and starring Flying Lotus (Steven Ellison). The rapper's debut feature is based on his original short film, which is so gnarly they thought it wise to provide audience members with a barf bag. The film, based on one of FlyLo's nightmares, stars Hannibal Buress, Tim Heidecker, Donnell Rawlings, George Clinton, Anders Holm and Byron Bowers, and features new music by Flying Lotus alter ego Captain Murphy, Thundercat and Akira Yamaoka. It screens four times, including once in SLC at the Broadway. See dates and times at sundance.org/projects/kuso.
ASCAP Music Café: Now in its 19th year, the ASCAP Music Café is a perennial Sundance favorite, highlighting the juncture of music and film with daily sets by singer-songwriters and the occasional band. Artists appearing at the eight-day Café include Josh Kelley, Rooney, Fantastic Negrito, Michael Franti, Wilder Adkins, Andy Shauf, R.LUM.R, Nahkane Touré, Clare Bowen (Nashville), Lee DeWyze and more. ASCAP Music Café, 751 S. Main, Jan. 20-27, 2-6 p.m.; ascap.com.
Side Gigs: Park City Live's annual Snow Fest series will feature performances by Major Lazer (Jan. 20), Tiësto (Jan. 21), Marshmello (Jan. 22), Michael Franti & Spearhead (Jan. 24) and R.L. Grime (Jan. 26). The Cabin at Park City (thecabinparkcity.com) hosts shows by DJ Spider (Jan. 22), Oteil Burbridge & Friends (Jan. 23), The John Popper Project feat. Vernon Reid (Jan. 24), Rob Garza (Jan. 25) and Lukas Nelson with Royal Bliss (Jan. 26). parkcitylive.net.
Surprise! Just like fake encores, surprises at music and film festivals are de rigeur, which is French for either "Cracker Jack surprise" or "calculated leak by a publicist who is competing in a microcosm where the concentration of celebritude creates the Q Score bell curve equivalent to King's Peak." Speakin' of peaks: I have heard of no such surprises this year. So here are three totally made up rumors that we locals can start spreading now, just to see if they get traction.
Perhaps there will be a Nirvana tribute with Courtney Love as Kurt Cobain, Yao Ming as Krist Novoselic and Cult Leader's Casey Hansen as Dave Grohl.
Maybe a B-lister will attend the DJ set of a C-lister and an actor will perform their ho-hum original music.