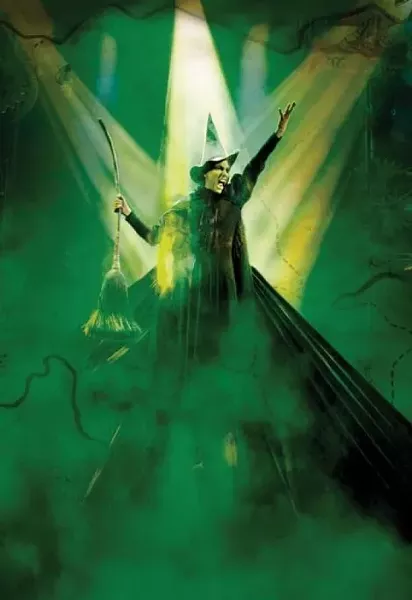 For infrequent theatergoers, a theater production—particularly a touring Broadway show—can be like a tourist attraction. From the number of people taking photos in front of the Capitol Theatre stage during an opening-week performance of Wicked, it was clear that the "event" of the occasion may have been more significant for some members than seeing a story unfold on the stage.
It's a shame that Wicked—like Phantom of the Opera, Les Miserables and other recent phenomena—is being approached so overwhelmingly as spectacle. It's true that the production—adapted from Gregory Maguire's novel about the friendship in Oz between the green outcast Elphaba (Donna Vivino) and the perky, self-absorbed Glinda (Katie Rose Clarke)—is a remarkable piece of stagecraft, from the fanciful costuming to the characters flying around the stage to the dazzling lighting design. But that's not what sends an audience soaring after the final bows.
The story works as a tale of friendship, but it's also layered with subtext about convenient stereotypes and the creation of scapegoats. The Stephen Schwartz-composed song score overflows with memorable melodies, from the bubbly "Popular" to the yearning "I'm Not That Girl" to the redefines-show-stopping "Defying Gravity." And the touring company visiting Salt Lake City features two dynamic lead performances in Clarke (as unself-consciously physical as Molly Shannon) and Vivino (expressive and poignant even under all the green makeup). Spectacle is something you can preserve with a camera; experiencing great theatrical artistry clings to the memory.

Wicked @ Capitol Theatre, 50 W. 200 South, 801-355-2787, through May 1 (tickets available by lottery at box office only). ArtTix.org