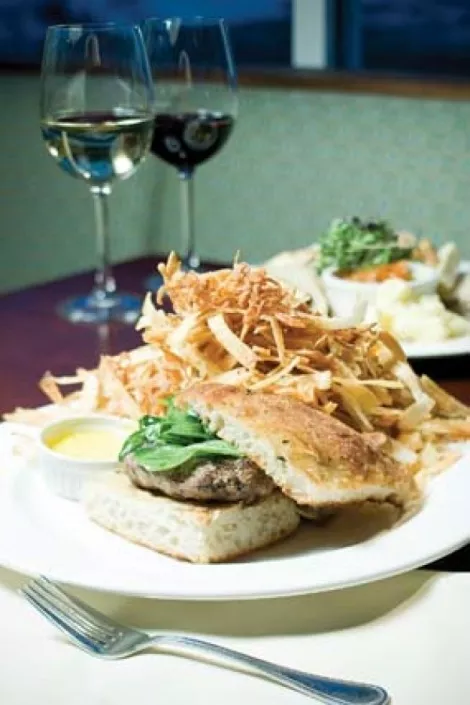 It's a no-no when reviewing movies to give away the ending. It may also be an unwritten rule about restaurant reviews: Keep the readers hanging on and give the thumbs-up or down near the end. Well, screw that. I'm thrilled to usher in 2009 with a restaurant recommendation that I feel pretty damned secure about: The Wild Grape New West Bistro. About the only negative comment I can think of is that the name is kinda clunky.
"Have you been to that new place yet?" friends and colleagues kept asking me. This was mere days after Troy and Jessica Greenhawt opened The Wild Grape in the space on South Temple which was previously home to Avenues Bakery & Café. I don't recall a restaurant creating such a quick buzz in a very long time; people here seem desperate for new dining options that aren't franchises or chains. I'm among them.
Not a hint of Avenues Bakery remains. Troy Greenhawt informed his architect that he wanted "just the exterior walls" left standing. So now when you enter the restaurant there's a nifty V-shaped bar to the left, and a spacious, airy, sunlit-by-day dining area on the right. In the rear of the restaurant is an open kitchen with counter seats for anyone caring to take in the cooking show that runs late; you can get food at The Wild Grape until midnight. Throughout the restaurant are faint hints of apple and cherry woods wafting from the wood-fired grill and smoker. Not enough to set off the smoke alarms, mind you—just enough to tantalize the senses.
A quick peek at the menu illustrates the Greenhawts' commitment to use fresh, sustainable, locally produced and—when possible—organic products. The wood from the smoker comes from a chap down in Santaquin. The cheese plate ($11) features artisan cheeses from Beehive Cheese Co., served with a Crumb Brothers baguette. Locally made chevre is used for the wood-grilled Portobello sandwich ($12), along with locally grown arugula. The sensational wood-grilled lamb burger is made with Morgan Valley lamb, served on Crumb Brothers focaccia with truffled whole-grain mustard. It's the best lamb burger I've ever gotten my lips around. And speaking of lamb, chef Phenix Gardner and sous chef Shawn Smith do wonders with a Morgan Valley lamb shank ($27). A beautifully crusty exterior cloaks oh-so tender meat that, yes, "falls off the bone." It comes braised with a ragout of wild mushroom, tomato, fingerling potato and house-smoked bacon. That is one scrumptious shank.
Although The Wild Grape is certainly a kid-friendly place to dine—there's even a unique kids' menu—there's a distinctly grown-up, we're-not-in-Utah vibe to the place. The service is friendly but very professional and informed. Customers aren't treated like children, with canned presentations and group renditions of "Happy Birthday." During my visits, I was continually impressed by my servers' knowledge of the wine selection as well as the menu items. Maybe I shouldn't be surprised. Owner Troy Greenhawt's background includes management positions in corporate establishments like Fleming's and Ruby River Steakhouse, where he developed a knack for spotting, nurturing and managing talent. From choosing a very capable new chef in Phenix Gardner and manager/wine expert Stephanie Bailey-Hatfield, on down the line, quality at The Wild Grape is startlingly high for a business that's been open less than two months.
During one lunch visit, we broke into a bottle of Rolling Central Ranges Shiraz ($23) from Australia, a very tasty, easy drinking, not over-the-top Shiraz that paired perfectly with wood-grilled flank steak topped with bleu cheese and cooked medium-rare as requested. It came on toasted garlic-focaccia with a side of crisp and light rosemary "skinny" chips and tobacco onions. Mm, mm, good. Smoked Kurobuta pork belly ($13) isn't for the faint of heart. It's sinfully fatty and served with equally sinful creamy cheddar grits made with Beehive cheddar, those tobacco onions again and a rich, heady barbecue jus. To hell with the New Year's diet; you owe yourself that pork belly.
The management has put together a very smart wine list—not the biggest in town, but one of the best. Prices are more than fair and most wines are available by either the glass or bottle, ranging from Wildhurst Sauvignon Blanc ($5/glass, $23/bottle) to Bucklin Old Hill Cabernet ($11/glass, $53/bottle). There's also a limited bottle-only list which includes Orin Swift "The Prisoner" Zinfandel ($80) and Cakebread Chardonnay ($99). Where possible, The Wild Grape features organic and biodynamic wines like Jeriko Estate Grenache Noir. That part of the wine program is still a work-in-progress. Stay tuned.
I was struck by the low price ($12) of a dish as decadent as white truffle mushroom risotto, which is served with Crumb Brothers crostini and shaved Parmesan cheese. Another bargain menu item at The Wild Grape is the rotisserie-roasted Cornish game hen ($18), which comes with those creamy Beehive cheddar grits and freshly sautéed veggies, and was bathed in a lovely natural jus.
From 9:30 p.m. to midnight, Monday through Saturday, The Wild Grape shifts into its "after hours" bar-menu phase. We're not talking pretzels and peanuts. There's spiced goat-cheese flatbread ($7), along with butternut-squash soup ($5), a "petite baby" (redundant, I know) organic arugula salad ($5) and even a trio of sliders ($12): your choice of wild mushroom, Manchego, barbecue pork, flank steak & bleu cheese or bacon barbecue cheddar. Brunch is served on weekends.
With a restaurant so new, I hesitate to say that I'm wild about The Wild Grape. So let's just say I've been duly impressed with the service, the décor, the wine, the food … ah, hell, I suppose I am wild about this place.
THE WILD GRAPE NEW WEST BISTRO
481 E. South Temple, 746-5565
WildGrapeBistro.com