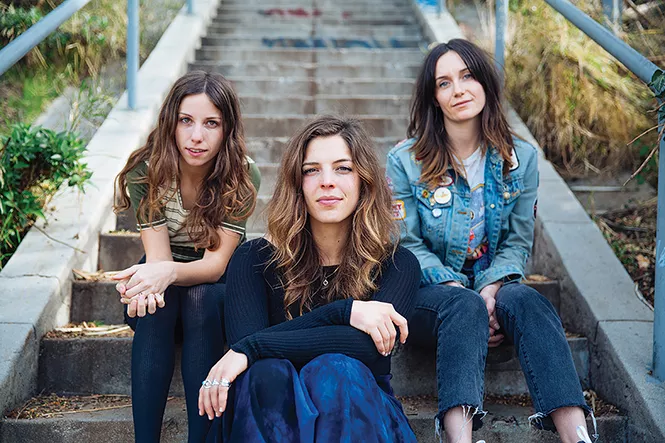 Soaring vocal harmonies really make a song—just consider the numerous classics by acts like The Everly Brothers, The Beach Boys or Crosby, Stills, Nash & Young. On The World We Built (Dualtone)—the new album from Los Angeles-based band The Wild Reeds—the songs are driven by that euphoric intermingling of honeyed vocals.
As anyone who's ever taken a road trip knows, such sing-alongs are ripe for travel. This is where we find Kinsey Lee: answering email questions while navigating highways with her co-frontwomen Sharon Silva and Mackenzie Howe, along with drummer Nick Jones and bass player Nick Phakpiseth. "We're doing a big lap around the USA," Lee writes.
Lee met Silva while attending a concert at the venerable L.A. club Troubadour, where the former noticed the latter singing along in her seat. Since both attended the same college, they found time to share songs between classes. Howe joined their musical circle after Silva heard her play some original songs at a party. They initially backed one another at open-mic nights, but a mutual friend suggested they combine efforts. This is the genesis of the group's sound, which involves alternating lead vocals, emphasizing harmonies and pooling strikingly diverse influences: Howe's affinity for '60s classic rock; Silva's penchant for punk, metal, folk and Americana, and Lee's background in church choirs and various jazz ensembles. When it comes to songwriting, Lee says, "We bring the songs in separately for the most part with lyrics and melodies mapped out. Then we let the beast come to life."
The women continue to share new music with each other during the long van rides—steeping the communal creativity that found fruition with their 2014 debut Blind and Brave, a stopgap EP called Best Wishes (2016) and, now, World. Although the releases demonstrate musical and lyrical growth, Lee dismisses the idea that there's been any sort of planned evolution from one offering to the next. "We try not to compare our albums," she says. "We have evolved very naturally. We do what we want."
Their organic bloom extends to the pair of Nicks who form their rhythm section. Silva credits Jones for adding drama and intensity to their sound, and even admits that she cried when she heard his first contributions in the studio. She also praises Phakpiseth—who they found after hearing him play at school—for his versatility and the subtle touches he adds to their music.
Still, there's no mistaking the fact that the three women are primarily responsible for The Wild Reeds' allure. It's a natural draw, both vocally and visually. Likewise, theirs is clearly a celebratory sound, flush with genuine enthusiasm and exhilaration. The band veers confidently from outright anthems to hazy ballads built on rich textures and sumptuous tones. Those bewitching harmonies take each song to a transcendental place, where surf rock, honky tonk and folk music collide.
The tour, which began in late February, will take them to the Newport Folk Festival at the end of July, and keep them on the road at least until mid-August. But while they'll have plenty of time to cozy up together in their touring van, singing with one another in sugary harmony, Lee says not to expect them to be too sweet on stage. It appears that, in concert, the group's sound can lean toward something slightly more tumultuous. "Look out for head butts, flingin' spit, yelling, harmonies, blank stares and moody snarls," she says.
They don't call themselves wild for nothing.