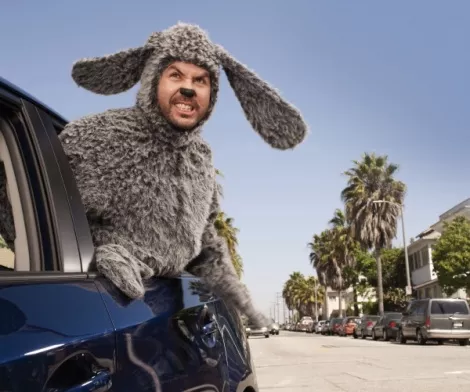 Wilfred, Louie
Thursday, June 23 (FX)
Series Debut, Season Premiere: You know the ads, with Elijah Wood and a surly dude in a dog suit (Jason Gann, who co-created the original Australian series) that everyone else just sees as pooch Wilfred. Despite appearances, Wilfred is more than a one-note gag: Wood plays Ryan, an introverted screw-up who can't even kill himself right. At first, it seems Wilfred has appeared to Ryan to help him get his life together and learn to have a little fun—and maybe even hook up his cute blond neighbor (Fiona Gubelmann), who also happens to be Wilfred's "owner." Until he begins ruthlessly (and hilariously) sabotaging Ryan. Is the "dog" real, or just part of Ryan's psyche? Doesn't matter: Wilfred is funny, dark, sweet and the most original idea—comedy or otherwise—to come along in some time. Let's hope 'Merica gets it.

In the season premiere of situation/stand-up hybrid Louie, it looks like Louis C.K. has taken his second-season pickup as a mandate to make viewers even more uncomfortable. The first episode back is all about the evils of children, while the June 30 episode wrings laughs out of horrible middle-age sexual encounters and the futility of life—you know, the usual Louis C.K. comedy touchstones, and nobody does them better. If you loved the first season, Season 2 delivers again; if you didn't, stay the hell away. And stay the hell away from Brewvies (677 S. 200 West, 21-plus) at 8 p.m. tonight, as True TV presents both Wilfred and Louie on the big screen—for free!



Burn Notice, Suits
Thursday, June 23 (USA)
Season Premiere, Series Debut: Busy Thursday—Futurama also returns tonight on Comedy Central. As Season 5 of Burn Notice opens, Michael Westen (Jeffrey Donovan) has been reinstated with the CIA and he's ready to let bygones be bygones and move on … ha! Right. His four-year quest for vengeance against whoever burned him out of the spy game still, uh, burns within him, even though he's back on the inside and freelance partners Fiona (Gabrielle Anwar) and Sam (Bruce Campbell) are feeling left out in the cold. Don't worry, there's still plenty of gunplay, explosions and cool sunglasses. As for new series Suits … Yeah, now that I'm warming to TNT's Franklin & Bash, I really don't need another lawyer show in my life/Tivo.



True Blood
Sunday, June 26 (HBO)
Season Premiere: Damn. So much happens in the first few episodes of True Blood Season 4, it's impossible to say much of anything without spoiling the surprises. The Only TV Column That Matters™ can hint at these plot points: Fairies are not your friends, vampires are shrewd real-estate players, my/your requests for more nudity have been answered, more witches were inevitable, Bill Compton (Stephen Moyer) looks even funnier as an '80s punk-rocker, Jessica (Debra Ann Woll) could not be hotter, and Sookie (Anna Paquin) may not be completely useless, after all. Oh, there's waaay more …



Weeds, The Big C
Monday, June 27 (Showtime)
Season Premieres: Doing the time-warp, Weeds Season 7 picks up three years after America's Worst Mom (Mary-Louise Parker) has served jail time for murder (taking the rap for her son, so … Best-ish Mom?). Now living on probation in a monitored New York halfway house, with the Botwin clan flying back from exile in Copenhagen, it's time for Nancy to put the band (i.e. pot business) back together! And then there's The Big C, the Laura-Linney-has-cancer series that went from Showtime cool to Lifetime lame in less than 12 episodes last year. The good news: The first three episodes of Season 2 recapture the spark. The bad news: They still have nine more to blow it.