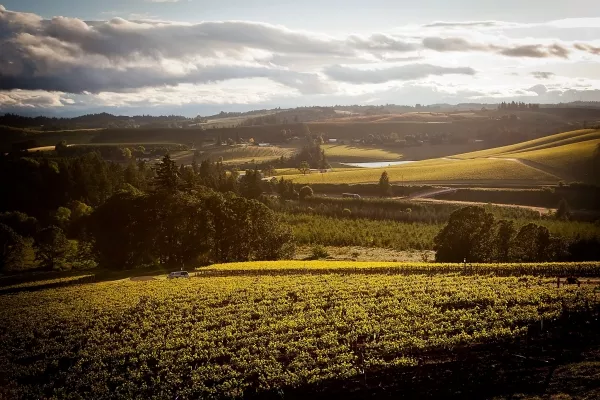 Willamette Valley Vineyards
In December, the folks at Snowbird Resort hosted a wingding at The Lodge Bistro featuring wines from Oregon's Willamette Valley. More specifically, they were from Willamette Valley Vineyards. And the Vineyards' representative, Deanna Eames, wanted to get one thing straight right off the bat. "It's 'Willamette,' damn it!" she said jokingly, providing pronunciation instructions. "It's not French; it's 'Will-AM-it.' " So, with proper pronunciation intact, we proceeded to enjoy a top-notch dinner paired with Willamette Valley Vineyard wines. Lodge Bistro Chef R.J. Peterson and his staff—including excellent servers—really hit it out of the park.
Willamette Valley might not have the name recognition or cachet of Napa or Sonoma, but this relatively tiny parcel of Oregon wine country is increasingly becoming known for producing world-class wines—especially Pinot Noir. It's one of my favorite wine regions, and not nearly as cluttered or high-falutin' as California's. You don't usually need advance reservations for wine tastings at Willamette wineries, and they tend to be fun and informal—more likely to take place in a barn or shed among wine barrels than in a gleaming Napa-style tasting room.
As part of the homage to Oregon, Peterson sourced some of the ingredients for the evening's dinner from there, beginning with Columbia River paddlefish caviar, served on a potato blini with creme fraiche and chives. It was paired with 2009 Pinot Gris ($15.23)—one of the more enticing examples of Pinot Gris I've come across, and just one reason why Willamette Valley Vineyards was named one of the Top Wineries of the World for 2011 by Wine & Spirits magazine. Deanna Eames described the Pinot Gris as a "chef's wine"—one that is very food-friendly, with honeysuckle and peach flavors, much more creamy and round and more like Chardonnay in body than I'm used to in Pinot Gris.
Next up was 2009 Chardonnay ($19.99), paired with cauliflower vichyssoise. It's a very elegant Chardonnay; more French in style than New World, made from Dijon clones and fermented in neutral French oak barrels, producing a rich, creamy wine with nicely balanced oak and good acidity.
Salmon and Pinot Noir is a heaven-sent food & wine match, and Peterson's Pacific salmon with fennel and onion soubise, maple glaze and sweet-pea sauce was the perfect foil for Willamette Valley Vineyards 2010 Whole Cluster Pinot Noir ($19.97). The wine undergoes carbonic fermentation, resulting in—without getting into the technicalities of that process—a wine with nice depth and structure, but that's also soft, with hardly noticeable tannins. It's a versatile wine with hints of cherry, and was a very good partner—in part due to its softness—for the salmon.
We got to taste a second Pinot Noir: 2009 Bernau Black Pinot Noir ($39.99), named for Willamette Valley Vineyards founder Jim Bernau. He, by the way, has won the Hero of Salmon award for his winery's salmon-safe, sustainable practices. This is a low-production Pinot, with only about 100 cases made annually, with grapes sourced from self-rooted vines, and organically farmed. It's aged for 15 months in new French oak, and the result is a luscious Pinot Noir with cherry, pomegranate and cranberry flavors and a slight citrus finish. Eames called this their "kumbaya" wine, as it tends to put a smile on everyone's face. It was outstanding with Peterson's remarkably rich and tender red-wine-braised beef short ribs and potato-parsnip purèe, with forest mushrooms and crisp-fried shallots.
Sadly, not all of these wines are readily available here in Utah; some were brought in especially for the dinner. However, remember that you, too, can special-order wines from Oregon and elsewhere through Utah liquor stores.