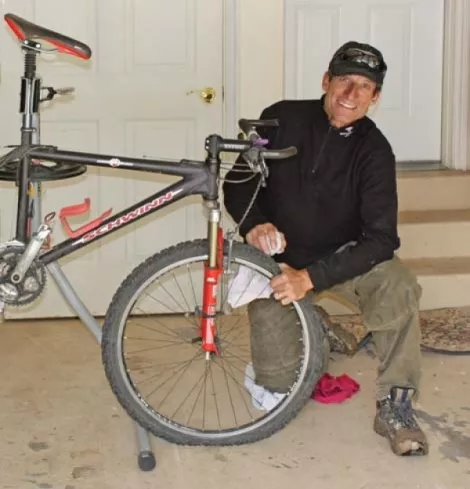 Everyone with a mountain bike has had the same nasty experience: It's four months from now. The final slush of winter has melted, the buds are blooming, and it's time for the first ride of spring. You're psyched to get back in the saddle.
But that first ride turns out to be a disaster. You discover you've got a flat tire—or maybe both tires are flat. Or, when your tire catches in a road rut, you find out too late that the joint where your handlebars attach to the headset tube is loose. You yank the handlebars to free the tire but it stays where it is while the handlebars turn, and down you go. Or the gears click and make noise and don't change smoothly. Or your brakes don't stop on a dime, or even a yardstick, and you do the slide for life.
The time to prevent all of that is now, before you put your bike away for the winter. Mountain-bike expert Ed Chauner, who runs the Intermountain Cup race series and has competed in several World Championships, says that a little basic maintenance performed now can make your first ride of spring a delight.
"The easiest way to do it is to work from the front to the back of the bike," Chauner says. "Start with the front tire. When you ride in autumn, you often pick up those spiky goat-head or puncture-plant seeds that are a big cause of flats. Check the tire, remove them, and fix the flat, now."
In fact, now is a good time to learn how to fix a flat yourself, if you don't already know how. It's easy to do and a lot cheaper and more convenient than paying a shop to do it for you. Most shops will be glad to show you how. Also, put a cap on each inner-tube stem to keep air from leaking out over the winter.
The next things to check, according to Chauner, are the front brake pads. If they're worn smooth or unevenly, change them or have them changed. Many bikes today have disc brakes, which are a problem because you can't really tell if those pads are worn. "Unless you're an expert, don't work on disc brakes yourself," he warns. "If you've been riding a lot without having your brake pads replaced, take the bike into a shop and have the brakes checked."
Now examine the tightness of the handlebar connection, which often loosens up during summer riding because it takes a lot of abuse. Chauner advises holding the brakes and handlebars while rocking the bike back and forth and moving it. If you see any movement in the joint, if there's any looseness at all, it's shop time for tightening. Then, still working from front to back, check the bottom bracket where the pedal cranks hook into your bike. If you're hearing a clicking or other noise when you ride, it's often because the bottom bracket has loosened; another tightening job for the shop bike tech. Check the front derailleur, the big chain ring, to see that the gears are shifting smoothly.
Next, clean the chain. Bike shops and even big box stores sell chain cleaner and solvent. Don't put your bike away without removing the summer gunk that's collected on the chain links. Now it's the rear derailleur's turn—go through all the gears to see that each is shifting quickly and quietly. There should be no clicking or hesitation before the gear change shifts into place. If there are problems, even with just one gear, again, it's shop time.
Now examine the rear tire for punctures or stones caught in the tread. Like the front tire, if there's a flat, fix it. The last chore is to wash your bike well with a rag and soapy water. Chauner says, "Make sure it's super clean. When you put your bike away, you want it to be like new. Then, when you take it out again in spring, your first ride will be a delight."