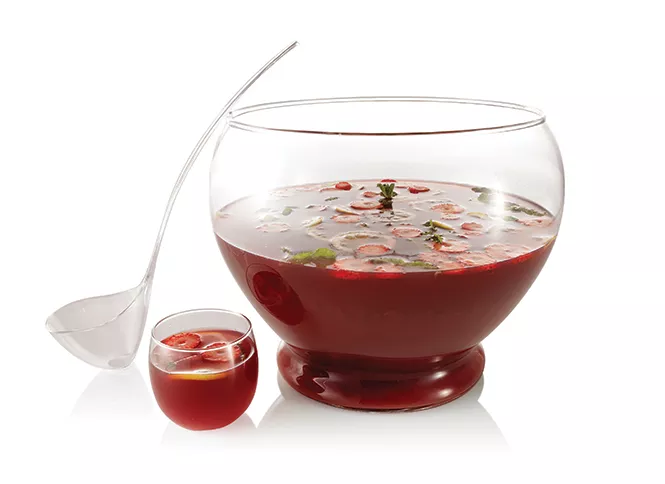 We are inundated, these days, by "craft" cocktails. You can't shake a rosemary sprig or maple shrub without running into one. But for Halloween, the standard craft cocktail just won't fly. You want to serve your adult party guests witchcraft-y cocktails that are a little spooky and ghoulish. Here are a handful of my favorites. Feel free to experiment with them and make them your own. Drizzle in a little Type A, for example?
A big bowl of punch on All Hallows' Eve is just the ticket. Here's a Halloween punch that packs a punch: Blood of Innocence. In a large punch bowl, combine the following: 1 liter Caliche Rum, 16 ounces Ruby Port, 12 ounces Curaçao liquor, 12 ounces fresh-squeezed and strained orange juice, 12 ounces unsweetened pineapple juice, 8 ounces fresh-squeezed and strained lemon juice, and 8 ounces light agave nectar. Stir well and refrigerate for a minimum of 4 hours. When ready to serve, add 1 large block of ice, gently stir in 1 bottle Martini & Rossi Prosecco, and garnish with 1 cup of hulled and sliced strawberries, 2 pitted and sliced large lemons and a handful of mint leaves.
Here's an easy Dracula-inspired cocktail called Vampire's Weakness (aka Blood-Orange Spritzer). With ice in a shaker, combine 1 1/4 ounces light rum, 4 ounces Merlot wine, and 2 1/2 ounces blood-orange soda. Shake and serve in a wine glass or Champagne coupe.
For another take on vampires, here's how to make Bloody Vampire Punch: Combine 4 cups white rum with 4 cups orange juice, 6 cups pomegranate juice and 1/2 cup fresh-squeezed lime juice in a big punch bowl or hollowed-out pumpkin. Refrigerate until serving time. When you're ready to serve the punch, add 1 liter chilled seltzer, preferably pomegranate flavored. For added creep-out factor, toss in some gummy vampire fangs, spiders and eyeballs.
Here's an interesting cocktail created by renowned mixologist and writer Eric Alperin, of The Varnish speakeasy in Los Angeles. It's called the Holland Razor Blade, a variation of sorts on a Genever Sour. Fill a cocktail shaker with ice and add 2 ounces Genever, 3/4 ounce simple syrup and 3/4 ounce fresh lemon juice. Strain into a coupe glass and sprinkle with a pinch of cayenne pepper. Garnish with a razor blade, if you dare! (The razor blade is my touch, not Eric's. He's more responsible than that.)
There are a number of cocktails called Corpse Revivers. This one—the Corpse Reviver 2—is considered by many to be the tastiest. I don't disagree. In a cocktail shaker filled with ice, add 1 ounce gin, 1 ounce Cointreau or triple sec, 1 ounce Lillet Blanc and 1 dash absinthe. Shake and strain into a chilled glass and garnish with orange peel.
I like to have Screamin' Jay Hawkins playing in the background to greet trick-or-treaters at my house on Halloween. Here's the perfect cocktail accompaniment: I Put a Spell on You, created by Ran Duan of the Baldwin Bar at the Sichuan Garden II in Woburn, Mass. Duan was the 2014 North American winner of Bombay Sapphire's Most Imaginative Bartender Competition. I Put a Spell on You is a descendant of the Ramos Gin Fizz, but without soda, egg white or cream. So, maybe not so like a Ramos, after all. In a shaker without ice, shake together 1 1/2 ounces Bombay Sapphire Gin, 3/4 ounce lemon juice, 1 barspoon of Greek yogurt, 10 drops orange-blossom water, and 1 ounce Earl Grey syrup. Strain into an ice-filled Collins glass and prepare to be bewitched.