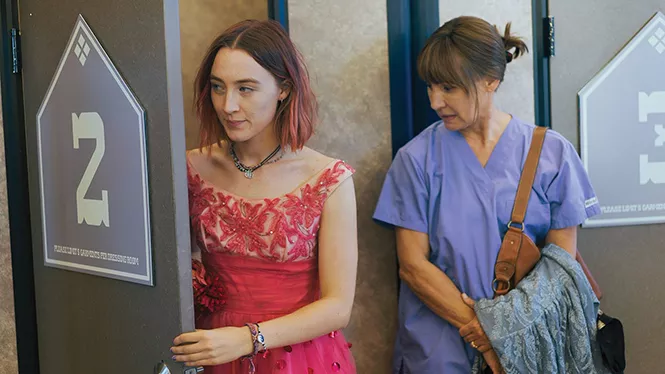 Herewith the single authentic movie about being a teenaged girl that our male-dominated entertainment sphere begrudgingly allows us. Last year's was The Edge of Seventeen; 2015's was The Diary of a Teenage Girl. Greta Gerwig's Lady Bird is like those films in that it's an emotional feast about the audacity, wonder and horror that is female adolescence, the likes of which we oh-so-rarely get to see onscreen. It is a nightmare and an adventure that will resonant with all girls and women, at least in its broad strokes. (If boys and men would like to understand what life is like for girls and women, they could watch these films, pay attention and believe them.) Lady Bird is also as un-like those films jsut as every teenaged girl is from every other teenaged girl. This isn't the same movie again. It's magnificently unique, while also being all-encompassingly universal. This is a rare cinematic achievement.
If this is our one shot this year, thank the gods and Gerwig that Lady Bird is the glory that it is: so smart, wise, funny and perceptive that it left me happy-sobbing and feeling like Gerwig had seen straight through me and knows me. (Obviously she and I are meant to be new best friends.) Her debut as solo writer and solo director—she has collaborated in both arenas before, including co-writing Frances Ha and Mistress America with Noah Baumbach—is clearly autobiographical in its details. That's probably why it feels palpably real and honest, and why it has a ring of truth that keeps ringing even if your life's details are wildly different.
Like Gerwig did, high-school senior Christine McPherson (Saoirse Ronan) lives in Sacramento and attends Catholic school. The year is 2002, which makes Christine just a few years younger than Gerwig, but which also compounds Christine's adolescent woes by setting her story in the post-9/11 economic downturn. Her dad (Tracy Letts) has lost his job, which leaves Mom (Laurie Metcalf), a nurse, struggling to support the family. Gerwig finds as much humor as pathos in Christine's longings—her "favorite Sunday activity" with Mom zings with absurdity and aspiration—which extend to wanting to get the hell out of dull Sacramento and into college somewhere singing with art and culture, like New York. Unfortunately, she's not a very enthusiastic student.
Everything about Lady Bird, in fact, is about looking back at the painful process of growing up with a mix of affection and exasperation. Ronan molds Christine into a wonderful mess, fiercely proud and determined yet also maddening, because her yearning to be true to herself and to sculpt her own identity keeps bumping into the complication that she simply has no idea who she is yet. She's flailing around trying everything. She auditions different boyfriends: theater geek Danny (Lucas Hedges); too-cool musician Kyle (Timothée Chalamet). She trades in her funky best friend Julie (Beanie Feldstein) for popular Barbie doll Jenna (Odeya Rush). She even renames herself "Lady Bird" just because it sounds interesting and mysterious. I'm not sure she knows what it's supposed to mean beyond that.
All that is overshadowed by the primary concern of many a teenaged girl's life: her relationship with her mother. Christine both craves her mother's approval and cannot wait to get out from under Mom's wing; Metcalf is marvelous as a woman going through her own push-and-pull with her daughter. Gerwig absolutely nails the mother-daughter roller coaster, the arguments about nothing that instantly morph into bonding over something silly, and vice-versa. It might be the best thing about the film, the most generous aspect of a movie that is already very generous and forgiving of all its characters' flawed humanity.
A teenaged howl of grief and frustration, a fond memory from the perch of hindsightful adulthood, Lady Bird is a beautiful and bittersweet snapshot of the awful journey that is adolescence—the one that forces us onto the mysterious road to adulthood without a map, without directions and without a clue. How are you supposed to get somewhere when you don't even know where it is?