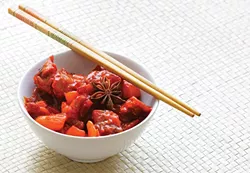 Woktoberfest Returns
Bountiful's Mandarin restaurant (348 E. 900 North, 801-298-2406) is closed for deep cleaning, restoration and rest, according to its owners. Mandarin's popular annual Woktoberfest will take place after the hiatus, weekdays from Oct. 19-29. Woktoberfest 2015 is a celebration of small plates, with a special menu and prices ranging from $1.25 to $6.50. Featured menu items include satay chicken noodles, eggplant with garlic sauce, bon bon chicken, crab cream-cheese wontons, Szechwan chicken wings, mu shu pork, Szechwan catfish, pumpkin bread-pudding with bourbon-butter sauce, ginger ice cream and more. Uinta Brewing's Cutthroat Pale Ale and 801 Pilsner beers will also be featured. Mandarin accepts dining reservations for parties of 8 or more. MandarinUtah.com
Fratelli Fights Hunger
The community-minded folks at Sandy's Fratelli Ristorante (9236 S. Village Shop Drive, FratelliUtah.com) will host the eighth annual Fratelli Fights Hunger Dinner on Sunday, Nov. 1, with seatings available from 5 p.m.-8:30 p.m. The five-course fundraising dinner will be held to benefit the Utah Food Bank, and is priced at $50 per person for food, plus an additional $50 per person for optional wine pairings. There will also be a full bar selection available at an additional cost. In addition to dinner and wine pairings, Fratelli will host a silent auction with contributions from Utah Red Zone, Nixon, Ruth's Diner, Porcupine Pub & Grill, The Dodo, IG Winery and others. In 2014, Fratelli Ristorante raised $5,000 for the Utah Food Bank, and this year, organizers hope to do even better. Reservations can be made by calling 801-495-4550.
Celebrate the Harvest
Franck's restaurant (6263 S. Holladay Blvd., FrancksFood.com) will host a Harvest Wine Dinner on Monday, Oct. 26, at 6:30 p.m. featuring a four-course menu paired with wines selected by Tyler Heninger and Jeff Carter of Southern Wine and Spirits. The cost for the food is $35 per person with an additional $55 for four optional wine pairings. Menu items include braised bone-in beef short rib, sage-crusted Niman Ranch pork loin, banana squash risotto and more. Phone 801-274-6264 for reservations.
Quote of the week: He was a bold man who first swallowed an oyster. —King James I of England