With the days getting longer and warm weather right around the corner, it's time to start getting pumped for one of my favorite times of the year: dive-bar-patio season. Arguably one of the best spots to bring in this sort of day-drinking celebration is X-Wife's Place (465 S. 700 East, 801-532-1954). For nearly 20 years, this downtown dive has been a local favorite, offering up cheap drinks, like $5.25 Bloody Marys, $2 Beam Ryes and $6.50 Russian Lowriders (sort of like a modified Irish car bomb). There's free pool Monday through Thursday, from noon to 7 p.m., and a pinball tournament every Sunday night. Coming up March 17, get your tossin' arm ready for the Cornhole Tourney Qualifier, where the top three contestants will walk away with tickets to the Salt Lake City International Tattoo Convention.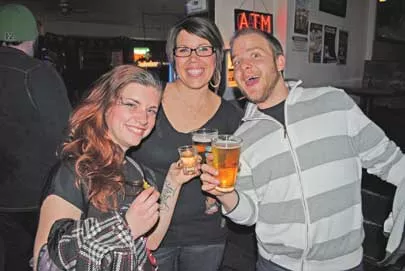 Maybe She's Born With It. Maybe it's Maybelline.
Carissa Gill, Kolby Robbins, Sam McGinnis
Playing on the jukebox behind them: "I Swear" by All-4-One.
Patrick Carey, Maggie Sandack
She loves gold—the smell of it, the texture.
Keith Thomas, Malinda Fisher
The mysteries of creation dwell in that beard.
Cameron Farnes, Laura McDaniel, Jason Merrill