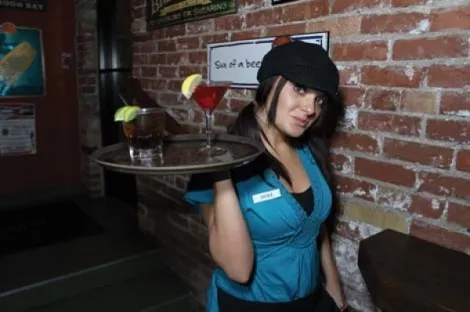 Promenade: Xochitl's Prom Party
The Latin community has a strong tradition of throwing parties for girls in fabulous dresses, and Xochityl Ayala's upcoming prom-themed birthday party will reinforce that positive stereotype. All guests are encouraged to wear tuxes and prom dresses for Ayala's Dec. 17 party at Elevate (155 W. 200 South). All prom guests get in free before 11 p.m. Hit the party girl up for guest list info at Facebook.com/Xochitl1981.
Eden Crackin' Wise: At Wiseguys
Local comedian Cody Eden is one of the best in the valley and has a two-night run coming up to prove it. Catch him Dec. 17-18 at 7:30 and 10 p.m. at Wiseguys in Trolley Square (505 S. 600 East). Only a $10 cover to get your sides busted from laughter.
Bad Santa Bar Tour: Partybus on the Shore
Santa pub crawls are staples in some communities, and Partybus Utah is hoping to fan the flames of the craze with their Bad Santa bar tour. The Bad Santa bar tour starts at South Shore Bar and Grill (2827 S. State) at 9 p.m. on Dec. 18. There's a $5 fee for just the party at the Shore, but $20 gets you on the bus and into all the six bars the party bus will be hitting up that night. The party at the Shore will include $3 Jagers, $1 Jello shots and $2.50 rum & cokes. DJ Robot will be spinning at the event as the Baddest Santa and Sexiest Mrs. Santa contests run next to the ice luge, surrounded by sexy elf dancers and beads bedecking the hall.
Green Pig Weekday Warriors
Green Pig is one of our favorite bars downtown for three reasons: Its proximity to State and Main (off 400 South) in the former Cabana Club location; its friendly bar staff; and its affordable drink specials. Though their buffet on Sunday is great, the weekdays are a fun time to pop in, too.
Hot Shots from Green Pig Pub
1. Sarah Benoit, Abby Pincock, Heather Lindsay
2. Allen Bithell
3. Coley George
We want to keep Utah up to speed on local nightlife. Submit tips about club openings, closures, remodels, special events, drink recipes and noteworthy changes to comments@cityweekly.net.