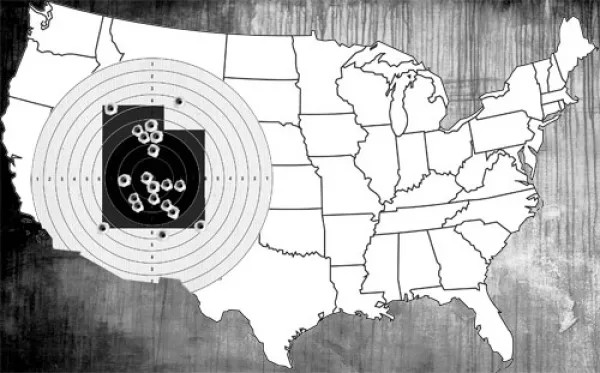 Whip out a Utah driver's license in any liquor store in the country and listen as the clerk chuckles, "Utah, huh?" While this piece of plastic might be scorned in certain circles, there is one form of Utah identification that is beloved by tens of thousands of non-Utahns: a Beehive State-issued concealed-weapons permit.

When it comes to concealing weapons, Utah is king. Its license, obtainable for $46 for residents and $51 for nonresidents, was issued to 141,257 people in 2013—72 percent of whom do not live in Utah. It can be purchased at LAX Firing Range in Los Angeles; at Genesis Firearms in Waldorf, Md., where they "specialize in the Utah concealed-firearm permit course"; and from 1,518 other registered non-Utah instructors across the country. In all, Utah has 535,857 active permits, 342,245 of which are out of state.

Utah's license, known as a CCW (carrying a concealed weapon), is beloved by weapons enthusiasts for its ease to obtain and its broad recognition by other states. If an applicant passes a background check and has enough money, Utah's CCW permit can be won by taking a four-hour weapons safety course—no shooting necessary. And Utah's permit is recognized by 35 other states—more than any other—making it a premier license for anyone with a pistol on their belt.

The state's stature in the CCW market has been carved out over time by state legislators like Rep. Curtis Oda, R-Clearfield, who is a certified CCW instructor and is proud of Utah's firearm-friendly reputation.

"We're the No. 1 permit in the nation," Oda says. "I worked very hard to get us there."

Utah's burgeoning place in the CCW market came into focus Jan. 29 during a legislative appropriation subcommittee meeting for the Utah Department of Public Safety, where it was revealed that the state received 165,000 permit requests in 2013 (not all were granted, and some hadn't been processed by year's end).

On hearing this figure, Sen. Jim Dabakis, D-Salt Lake City, suggested that Utah should substantially raise the fees to as much as $500 for out-of-state CCW permits. The comment sparked a fierce rebuke from Oda, who said raising the fee would be akin to a tax hike. The debate was cut short, but could likely return when the committee convenes in the coming weeks to discuss policy issues.

Dabakis says he would relish cranking up the fees on CCW permits, but that political will for such a measure is thin.

"He can try," Oda says of any attempt by Dabakis to hike the fee, vowing: "It's not going to go anyplace."

Although Utahns aren't seeing big bucks from the state's liberal issuance of CCW permits, weapons instructors across the country are. And in 2013, spurred by the threat of gun-control legislation in the aftermath of the Newtown, Conn., shooting, where 20 children and six adults were massacred, business was good.

The flow of permit requests tracks closely with tragedy. In November 2012, just a month before the Newtown shooting, Utah fielded requests for 6,500 CCW permits, says Jason Chapman, a firearms supervisor for Utah's Bureau of Criminal Identification, which reviews the permits. A month after the shootings, in January 2013, the number rose to nearly 13,000 requests, just 59 shy of the previous single-month record. The record books were reset in March, when the state processed 19,000, and again in April, when it sifted through 19,000 more.

The total number of permits issued in 2013 broke 2012's record of 81,122 by more than 60,000.

This translates to big money for in-state and out-of-state weapons instructors, who charge up to $200 for the Utah CCW course.

Some instructors interviewed for this story say Utah's permit is sought out simply because it is recognized by so many other states. Florida and Arizona's CCW permits are recognized by 34 states apiece. And it's common, instructors say, for those seeking a permit to obtain them from all three of these states, plus the state where the course is being taught, in order to be recognized across a wider swath of the country.

Robert Dick, owner of Save Your Six, a weapons training outfit in Roseville, Calif., says the broad recognition of Utah's license comes in handy to his clientele of bounty hunters, who often cross state lines to retrieve assets.

"Those three nonresident permits get you the most state coverage to be able to carry concealed," says Dick, who says he has contemplated moving to Utah because of its loose gun laws. "I think another reason is that Utah is a very gun-friendly state. Utah's always been a lower cost [permit] as well."

Utah's permit is cheaper than Arizona's, which costs $60, while Florida's is $112. Utah's $15 renewal fee lags far behind Arizona's $43 and Florida's $102.

Even so, Utah's fees cover the costs associated with the program. Nicole Borgeson, assistant director of Utah's Bureau of Criminal Identification, says no general-fund money is used to supplement the state's concealed-carry program, which in the last fiscal year brought in $5 million, while expenditures were only $2.3 million.

But the crush of applications strained personnel, Borgeson says, prompting the department to hire six new employees.

Praised by Oda and disparaged by Dabakis, Utah's law has one hole that has come under scrutiny in states like Nevada: It does not require applicants to demonstrate proficiency in firing a weapon.

Nevada recently dropped Utah from the list of states it recognizes through a reciprocity agreement—a "you support us if we support you" kind of deal—that many states arrange.

"The reason we don't recognize Utah is because they changed their training standard where they no longer require live fire," says Bob Roshak, executive director of the Nevada Sheriffs & Chiefs Association, which is charged in the Silver State with approving or disapproving of other states' laws. "If you're going to be carrying a gun, you should know how to shoot it, and you should be able to hit what you're aiming at."

Oda says Utah's training course, which he teaches, is modeled after one recommended by the National Rifle Association and is stringent enough. And he is steadfast in his belief that Utah's fee should not cost anyone a dime more than it costs the state to process the application.

"The role of government is to provide services, not to make a profit," he says. "As far as I'm concerned, they're still citizens of the United States. We shouldn't be punishing them just because they're from another part of the country."

Oda also says Nevada's refusal to recognize Utah's permit was about jealousy, not safety. He says Nevada residents were obtaining Utah permits because they were cheaper. An effort by Texas and Arizona to sever reciprocity agreements with Utah was thwarted, Oda says, when he and his colleagues tweaked the law to require all nonresidents to obtain their own state's permit while receiving Utah's.

"That takes away the money argument," Oda says.

For Dabakis, Utah's permitting process is shameful. He says he wishes Utah could transfer some of the pride it has in being the nation's premier issuer of CCW permits to education funding, in which the state ranks near the nation's bottom.

"We turn those out like some kind of child-labor factory of concealed-weapons permits," Dabakis says. "I would regulate the consumption of concealed weapons permits in Utah with the same severity with which we regulate alcohol."
Twitter: @ColbyFrazierLP