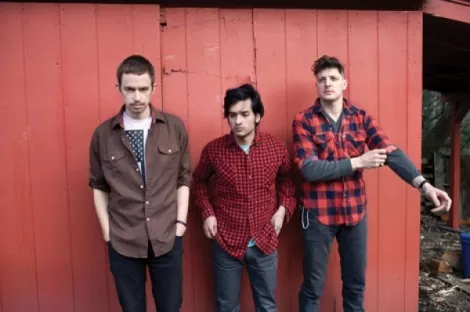 While most bands in Brooklyn a few years ago were trying to be the next Strokes,
Yeasayer
didn't want to be so trendy.
"Everyone sounded like the Strokes," Anand Wilder, Yeasayer vocalist and guitarist, says. "We wanted to do something that hasn't been done before."
The plan to be non-trendy backfired. Yeasayer exploded onto the independent music scene in 2007 with their electro-noise, world-music masterpiece All Hour Cymbals. It was different, very different, from anything else coming from Brooklyn at the time. Cymbals received great reviews, but hardly made a blip on the mainstream radar. And Wilder believes the album, and Yeasayer, were mislabeled after that release.
"After All Hour Cymbals, people thought we were a bunch of freak-folk hippies," Wilder says. "They couldn't be more wrong."
So, Yeasayer studied the album and took what they thought to be its stronger aspects (dance-pop electronic grooves, vocal arias) and ditched its not-so-accessible components (ambient instrumental swells, anticlimactic climaxes, guitar solos) to make their much-anticipated sophomore album, Odd Blood.
The outcome: a definitively pop-sounding record with a very danceable '80s vibe.
People have responded to the "new" Yeasayer sound. Odd Blood launched Yeasayer onto the Billboard pop charts and radio airwaves worldwide.
Listening to Odd Blood gave me a new perspective on Cymbals. Upon re-listening to Cymbals, I found it to be much more Talking Heads than the freak-folk style of, say, Devendra Banhart. They are more akin to Erasure than to Sufjan Stevens. Odd Blood has a distinctively '80s pop sound, but it is definitely Yeasayer. So, in a way, they defied the trendy Strokes sound to embrace the trendy '80s sound, and they did so deliberately.
For many purists, Odd Blood, with its pop hooks and electro dance beats, may have traveled too far from the cherished All Hour Cymbals. Wilder simply says, "We tried to make our second album more accessible to a wider audience."
Contrary to some opinions, a label did not strong-arm them to produce pop music. Wilder seemed a bit on the defensive as he explained their move to a poppier sound.
"It's been a really organic growth," Wilder says. "We didn't sell out, not that we could've sold out or anything. But we got on a bigger label [Secretly Canadian] and they were able to pour all their resources into this album."
And the album still contains many strange sounds, many African- and Bollywood-inspired arrangements—all Yeasayer staples—but they are part of an infectiously groovy album.
Since the February release of Odd Blood, Yeasayer has seen its audience multiply dramatically, hitting a level of fame most indie-rock bands only dream of. And what used to be the untrendy sound will likely set a new trend for both popular and indie music to come.
Just after Odd Blood's release, Yeasayer missed the hype rising in the United States because they ventured off on a European tour. But there was plenty of hype in Europe, too. Wilder was surprised to not only see their audience sizes grow this tour, but also to see audience members singing along to their new and old songs alike, within mere days and weeks of the album's release.
Wilder is clearly touched by the positive response to Yeasayer, but he is also confident that they deserve the attention. After years of hard work, self-releasing one album, touring like crazy, then composing and releasing one of the year's most creative albums, Yeasayer is finally seeing a payoff.
I spoke to Wilder just days after he got off the plane from Europe. He was somewhat flustered. But it was clear that, in more ways than one, his dream of "doing something that hasn't been done before" is coming true.
YEASAYER
In the Venue
579 W. 200 South
Friday, April 23
7 p.m., $13.50 adv./$15.50 door
MySpace.com/InTheVenue