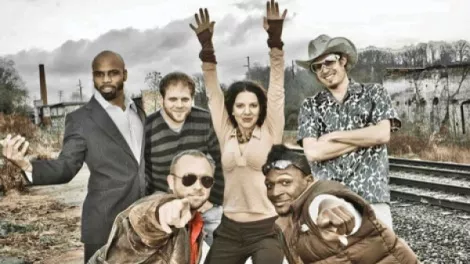 Asheville, N.C., six-piece
Yo Mama's Big Fat Booty Band
has been laying down thick bass lines, funky horns and tight grooves for as long as they can remember. Which, it turns out, isn't very far back, thanks to the hard-partying lifestyle of the band's early days.
"A huge part of our act was us raging to the fullest extent, drinking heavily with fans onstage ... Hell, we traveled with a dancing pole to put on the stage," says guitarist John-Paul Miller by phone from the road. Back in the day, the Booty Band—whose name was delivered from a Las Vegas casino fortune-telling machine—was known strictly as a party band. But now, they've decided to put their big boy britches on and, as a result, are crankin' out an impressive repertoire, one not possible before they got serious about their music.
"That was definitely an amazing part of our career, but at this point we've been touring for eight years. We want to be respected musically; we're more serious as musicians," says Miller, who refuses to be pigeonholed as a "costume band" with naked people dancing everywhere—a regular occurrence in the old days when the band played their tune "Naked."
Since shifting focus, Miller says the band's touring circuit has expanded, and there's been positive encouragement from old fans. While less gimmicky, they still bring that old-school party vibe—just not the ridiculous, howlin' at the moon drunkfest it used to be. Fans can do as they please, though; the Booty Band will always put the "fun" in funk.
The new musical focus came, in part, by adding Asheville duo Eymarel—Mary Frances (keys, synth, vocals) and Lee Allen (drums)—to the band's lineup in 2009. The duo's house-beat driven technical drumming and funky female vocals add greater depth to the Booty's Bands sound. And, over time, the original band has become tighter, more intuitive and interested in a broader range of musical genres; think something similar to Freekbass, with a twist of Galactic-gone-jammy and overt, heavy-hitting P-Funk inclinations. In fact, they're friends with George Clinton and company. And while they're predominantly funk, there are also flares of hip-hop, reggae, jazz and ska in the mix.
To capture the band's essence live, a recording engineer toured with them last year and the result, Greatest Hips Vol. II, was released earlier this spring, including Booty favorites like "Badonkadonk" and "@$$." Miller says they especially shine at small clubs with a tightly packed group of dance-ready funk-lovers. Their current tour has taken them from playing to 4,000 people at Asheville's arts festival to as far northwest as Alaska and down the California coast, playing to 100 people in towns they've never been to before. This will be the Booty Band's first bounce in SLC, so bring your dancin' shoes. 
YO MAMA'S BIG FAT BOOTY BAND
The State Room
638 S. State
Thursday, Aug. 19
8 p.m.
$12 adv./$15 door