Page 2 of 3
Christensen worries that since Intermountain contracts with the largest health insurer in the state (Deseret Mutual Benefits Association) and because it employs 30,000 in Utah and Idaho, it has too much monetary control over the potential testimony of doctors in the state. This is especially true in Utah County where, Christensen says, Intermountain owns 75 percent of the staffed hospital beds. "It's difficult for a doctor to get at cross-purposes with IHC without having to worry that he may jeopardize his career," he says.
When asked about Intermountain having too much influence over the medical caregivers of the state, Intermountain's counsel Erickson writes: "There is no merit or evidence to that claim."
Erickson also notes that Intermountain's meetings with Boyer were "presented to the jurors in the Wilson trial, who found in Intermountain's favor."
While such meetings in the Wilson case may have occurred before the Utah Court of Appeals 2006 Barbuto ruling or the 2008 Supreme Court affirmation of the 2006 ruling, other attorneys worry inappropriate meetings are still going on.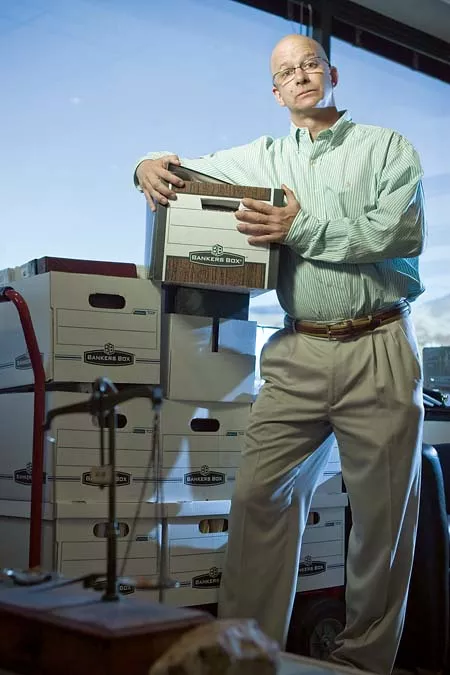 In the 2007 Davis v. IHC case, Jeffrey Eisenberg, attorney for the Davis family, alleged his client Jessica Davis suffered debilitating injuries as the result of negligent care at Primary Children's Hospital, an Intermountain facility. Like Jared Wilson, Jessica Davis required a shunt in her brain. His suit alleges Intermountain staff ignored symptoms in 2005 such as Jessica's vomiting, complaints of a headache, balling up in the fetal position and unresponsiveness to any external stimulus.
With more than 20 years in the medical-malpractice field, Eisenberg says Intermountain is not the only hospital defendant to skirt the Supreme Court's rulings by stealthily meeting with patients' doctors. Still, the Davis case troubles him.
Eisenberg filed a motion to compel Intermountain to allow him to interview the hospital's risk manager. In a memo to the court in support of his motion, Eisenberg wrote that Intermountain had denied him access to the risk manager—who had allegedly met with Jessica's doctor at least 20 times without the family's knowledge or consent—several meetings even taking place after the Supreme Court's 2008 Barbuto ruling.
"They're taking the position that their risk manager could talk to my patient's doctor, without my input, but that I could not talk to those doctors without their consent," Eisenberg says. "This matter can't just be explained away by saying this was before Barbuto, because they are contending Barbuto should not apply to them. They are saying, 'We can always talk to our own employees.'" When asked about these meetings, Intermountain attorney Dahlquist writes in an e-mail to City Weekly that such meetings were always fully disclosed to the patient's counsel regarding date, time and subject, adding they were insubstantial conversations meant simply to "coordinate appointments, schedule depositions, etc."
As of press time, Intermountain had filed a protective order to bar the patient's lawyers from interviewing the risk manager. The court is waiting to hear arguments before ruling. "They're taking the position that their risk manager could talk to my patient's doctor, without my input but that I could not talk to those doctors without their consent."
Stop and Go
The Wilsons could not imagine that the decade they spent waiting on the sidelines as their attorneys fought to push along a paper shuffle of pleadings, depositions and discoveries would result in a verdict in favor of Intermountain.
The Wilsons' attorneys complain that Intermountain legal tactics unfairly dragged out the proceedings.
"IHC's ability in Utah to get the plaintiffs' own doctors to join forces with IHC in fighting the plaintiffs added years of delay to this case," Christensen says, "and enormous expense."
Due to Intermountain's dominance in the market, Christensen says patient's lawyers have to get virtually all of their expert witnesses from out of state—such as the witness flown in just to confirm what the Wilsons' own doctor, Boyer, had diagnosed before he met with Intermountain counsel and a risk manager.
Some attorneys say that stall tactics in general are just par for the course for corporate defendants like Intermountain.
Tricks of the Trade
A look at the tactics employed in the game of med-mal law.

The Religion Card
If Intermountain Healthcare's attorney Charles Dahlquist II seemed to emanate a heavenly glow to jurors as they heard the 2008 Wilson v. IHC case, it may have been due to Dahlquist's higher calling. While he's known as a top-notch medical-malpractice defense lawyer, Dahlquist is also the Young Men General President, a significant calling in the service of the LDS Church. In their motion for a new trial, the Wilsons' attorneys claim Dahlquist's "churchiness" may have biased jury members.

According to the December 2008 motion filed by attorneys Roger Christensen and Joseph Steele, the Deseret News published two articles about Dahlquist's high-ranking church position during the November 2008 trial. The motion also includes an affidavit showing that one juror learned of Dahlquist's church position during the trial after having read one of the articles.

According to Intermountain Senior Counsel David Erickson, the Wilsons' attorneys never made any objections during the trial, even having known full-well of Dahlquist's ecclesiastical credentials before the trial began. Erickson also insists no religious references were floated during the trial: "There would have been no way to know whether someone's religious position or religious preference would have had a positive or a negative effect on a juror."

King of Diamonds
Another tactic the Wilsons' attorneys considered a low blow was Intermountain's inference that the Wilsons were rich and financially able to take care of their disabled son, Jared. The Wilsons' attorneys' memo for a new trial cites 17 instances where references were made to the wealth of the Wilsons, or Jared being eligible for Medicare in several years when he turns 18.

In Intermountain's opposition memo, attorneys argued they were free to mention other sources of income since previous court rulings prohibited such things only when a jury was considering damages—a place the Wilson case never got to since the jury didn't get beyond deciding liability.

My Clients! Mine!
In a 2008 case against Intermountain, attorney Robert Sykes made a motion to disqualify Intermountain attorney Brinton Burbidge as counsel to numerous hospital staff. Sykes argued a conflict of interest in Burbidge representing the staff, who could have been witnesses to the injury in his case. Sykes felt he was cut off from talking to people who might have just been at the hospital at the time of his client's injury even if they weren't culpable. Sykes's motion was defeated.

In an e-mail response, Intermountain's counsel David Erickson writes: "Intermountain does not prohibit employees from talking to attorneys if they wish. If they want legal representation while talking to an attorney, that is also their choice."

Go to the Media
If a patient's lawyer hopes to move a case along so that their client gets compensation in their lifetime, sometimes a little media coverage helps. It's obviously a factor in some of the stories shared with City Weekly for this article. During the Wilsons' trial, Intermountain attorneys even alleged that information was leaked to Daily Herald reporter Niels Nokkentved, who wrote a series of articles about the case in the spring of 2005. This coverage caused the court to seal certain proceedings in the trial from further press coverage that summer (see sidebar "Trusting the Trustee").



"The more [corporations] drag their feet, the less they have to pay in the long run," says Charlie Thronson, a veteran medical-malpractice attorney and president of the Utah Association for Justice, the state's 435-member trial lawyers lobby group. Thronson says that Intermountain, like other corporations, undoubtedly employs a corporate strategy known as "opportunity cost."
If a hospital or an insurance provider realize they might lose a case, and a settlement might cost them hundreds of thousands, if not millions, in damages, then they can treat the amount they might pay almost like an investment. Instead of just paying that amount to the injured party upfront, they take the amount and invest it—in stocks, bonds, etc. As those investments prosper, it pays to have attorneys drag out legal proceedings until it is necessary for the hospital or insurance provider to fork over the damages.
"The longer they don't have to pay the money," Thronson says, "the longer they earn interest and dividends and the more they earn on the money."
He also says such a strategy can even lead to smaller payouts. "Sometimes, people die, so there goes that case," he says. "Sometimes, the attorneys run out of money. I know there're lots of one- or two-man shops that just say, 'I can't fund this case.'" Amid the national health-care debate, Thronson says one reform for streamlining the medical-malpractice cases would be to make mediation hearings mandatory. Using impartial mediators to determine damages upfront would take years off the process.
Until then, he says the patient's lawyer has got to be on top of his game. "As a plaintiff's attorney, your job is to move the case, to push them," Thronson says. "Because if you don't, there's no incentive for defendants to settle."
Records Hold'em
Attorney Kevin Sheff is not content to just push his case; he's willing to shove in his case against Intermountain Healthcare. He's recently alleged Intermountain actions constitute racketeering, or a pattern of illegal behavior.
Sheff, a New York native and relative outsider to Utah's "med mal" legal community, has earned himself a firebrand reputation. His notoriety doesn't bother him much, which is why he went so far as to allege racketeering—the kind of charge usually reserved for the Mafia, not hospital chains.
The racketeering charge alleged a pattern of Intermountain withholding evidence. But it didn't get far: Third District Judge David Faust dismissed the claim in 2007, saying it lacked "particularity," which is to say, it couldn't allege sufficient facts to back up Sheff's claims of Intermountain withholding evidence. Still, Sheff believes his case illustrates that Intermountain's stall tactics have gone too far.
In 2003, his client, Aruna Shah, checked into Intermountain's LDS Hospital after suffering back injuries in a minivan rollover that occurred in Utah while she was traveling on a family vacation. With a burst fracture of the T-6 vertebrae, Intermountain doctors allegedly convinced Aruna she would be wise to undergo an elective surgical procedure to place stabilization hardware into her back to ward off additional injury while being transported back to her home in Aurora, Colo.
When Shah awoke from this operation, the first thing she noticed was the large cut running the length of her left arm and her hand unnaturally bent inward like a claw.
The staff allegedly informed her family that she'd had an allergic reaction to a drug administered during surgery and complications ensued. Puzzled by this, husband Ghanshyam Shah asked for a copy of her complete medical chart when they left—a chart that turned out to be 483 pages thick.
The Shahs assumed the boxful of records they were given was more than complete, but they eventually started to have their doubts, especially when the couple never received discharge instructions or documents disclosing the exact drug that caused the allergic reaction—seemingly vital information for Aruna Shah to pass on to her physicians in Colorado.
When attorney Sheff took Aruna's case in the summer of 2006, he realized many documents referred to other documents—tests and reports—that were not in her file. After six months of requests—on Dec. 4, 2006—Sheff finally received almost 500 pages of new documents from Intermountain.
The "missing" documents, Sheff says, showed evidence of undisclosed complications from the elective surgery, which resulted in major organ failures. The evidence included an Aug. 4, 2003, nutritionist report citing Aruna's levels of albumin protein as "severely depleted," allegedly leaving her in poor condition for the surgery scheduled for Aug. 8.
The surgery went forward even as Aruna's proteindeficient body struggled to maintain blood pressure, resulting in "myocardial infarction," "vascular collapse," "respiratory failure" and "complex regionalpain syndrome" a condition that, to this day, sends shooting, electric-like jolts of pain through her left arm. In other words, it appears Aruna had suffered heart and other organ failures and had nearly died without anyone telling her.
Aruna only learned about what occured during her surgery after Sheff and his team obtained her records, more than three years after the procedure.
"The patient first asked for copies of the medical record several days before she was discharged from the hospital," writes Brinton Burbidge, one of the attorneys representing Intermountain in the Shah case. "The timing of this request would naturally result in her not receiving copies of any records which had not yet been created," Burbidge writes in an e-mail to City Weekly. He added that the other records may simply not have been gathered into a single file. Burbidge likewise says Aruna likely never received discharge instructions because "she was being transferred to an inpatient facility in Colorado."