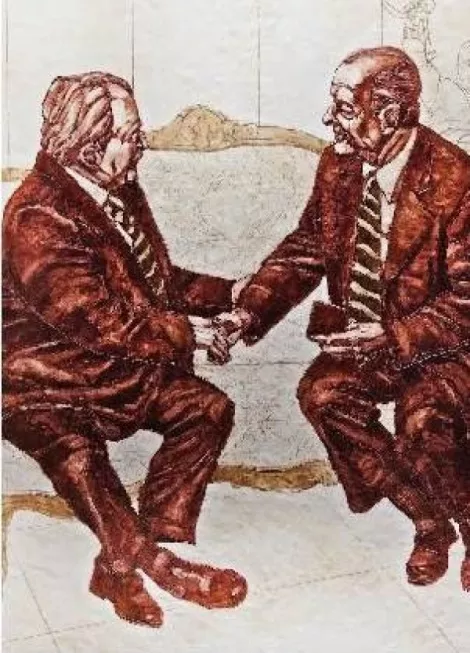 Political dealings are often cloaked—meetings packed with tension, smoothed over with a thick coating of false familiarity and friendliness. Few are privy to these transactions. Zane Lancaster has formed an entire body of work surrounding this specific moment between men. His paintings are ruddy, glib portraits of unremarkable men— men of extreme import and influence, the hidden faces of politics.

Lancaster uses encaustic and egg tempera— fairly painstaking media that in centuries past, as recalled in Lancaster's artist statement, were used for death portraits and religious icons. The palette is limited, and many of the figures are milky and transparent—perhaps another more unintentional statement about the people they reflect. The moments are the token "photo-op" handshakes, awkward conversations, and garish and insincere courtesy laughs that punctuate lip service. "The teeth and the ties are emphasized as symbols of well-dressed aggression," Lancaster says in his statement, and many of the works do have a strange violence about them; the encaustic pieces have scratched line work that constructs the portraits and catch the almost blood-colored paint.

But they aren't just about the gross triviality— the works are also pointedly funny, and as paintings, enjoyable to observe. The titles—my favorite being "That's a Cool Story, Prime Minister" (detail pictured above)—add comic relief.

Politically themed work can often be heavy-handed, but the ambiguity and humor in Lancaster's work allow it to achieve maximum effect. These recent paintings demonstrate a more dialed-in evolution of his work.

Zane Lancaster: Soon We'll Destroy You, For Now We'll Toast You @ Art Access II Gallery, 230 S. 500 West, No. 125, 801-328- 0703, through Aug. 14. AccessArt.org