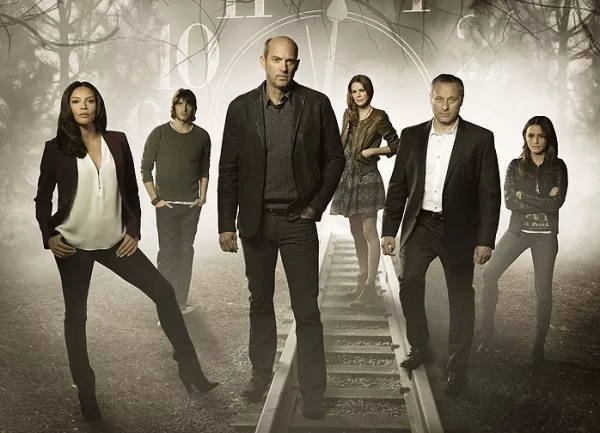 ABC
Zero Hour
Zero Hour
Thursday, Feb. 14 (ABC)
Series Debut: A conspiracy-mag publisher's (Anthony Edwards, last seen on some show called ER) wife is kidnapped because her antique-clock shop contains an apocalyptic Nazi treasure map (Magazines? Clocks? Maps? Nazis? To the Google, kids); a cross-eyed cocktail of National Treasure, The Da Vinci Code and The Ominous Drum Corps' Greatest Hits ensues. Zero Hour's producers have said that they hope the show's historical complexities will drive viewers to do their own research between episodes—because that's what 'Merica wants from TV: homework.

Freakshow, Immortalized
Thursday, Feb. 14 (AMC)
Series Debuts: Not only has AMC brought Kevin Smith's craptastic Comic Book Men back for a second season tonight (good luck without that Walking Dead lead-in, Kev), but the net that has no business in the reality-TV game is also dropping two new bombs right after it: Freakshow and Immortalized. The former follows the day-to-day of Todd Ray's Venice Beach Freakshow; the spectacle is impressive, but watching Ray call stilted "staff meetings" while his crew spouts scripted banter at "the office" is as painful as that 61st facial piercing. As for taxidermy-competition(!) show Immortalized, the host sums it up best with, "Get ready to watch art and animals collide." Uh, no.

History of the Eagles Part 1
Friday, Feb. 15 (Showtime)
Documentary: Don Henley and Glenn Frey are geniuses—just ask them. The Eagles' 40-year career in music likely wouldn't have been as hit-laden and fiery without the players around that core duo—Joe Walsh and Don Felder are two of the most underrated guitarists in rock history; Timothy B. Schmit, well, has nice hair—but History of the Eagles makes it clear that Henley and Frey are the iron-fisted architects of, ironically, that laidback California Sound. There's plenty of great '70s film rife with flannel shirts, porn 'staches and performance footage, but little about the band's fabled Rock Star Excess and infighting (Henley says it never happened; booted Felder's auto-bio says differently). Part 1 covers the Eagles' beginnings and heyday to their 1980 split; Part 2 (airing Saturday, Feb. 16), the exorbitantly priced, fan-fleecing reunion phase of the '90s on. Guess which part The Only TV Column That Matters™ is recommending?

Body of Proof
Tuesday, Feb. 19 (ABC)
Season Premiere: Dana Delany is back as Lady Quincy! (Wiki it.) Body of Proof has proven to be a solid, if un-flashy, crime procedural—hey, works for Castle these days—carried by the MILF power of Delany and costar Jeri Ryan; the supporting cast, not so much. Answering that, Season 3 brings aboard proven utility player Mark Valley (Fringe, Human Target) and jettisons some dead weight—unfortunately, none of it belonging to Windell D. Middlebrooks, who inexplicably plays a large, sassy woman trapped in the lab coat of a large, sassy man. Take it to RuPaul's Drag Race, honey child!
Cult
Tuesday, Feb. 19 (The CW)
Series Debut: Cult is a TV show about a TV show called Cult … wha? This is already too complicated for The CW. A good-lookin' journalist/blogger (The Vampire Diaries' good-lookin' Matt Davis) investigates crimes that seem to mirror those on a popular drama about a charismatic cult leader (Prison Break's Robert Knepper—not so good-lookin'), and CW viewers are called upon to follow two storylines while chewing gum and texting. The show-within-a-show blurred-reality concept has that not-so-fresh feeling (Cult was originally developed for The WB waaay back in the day, after all), but at least it's not Emily Owens M.D. (rest in pieces).