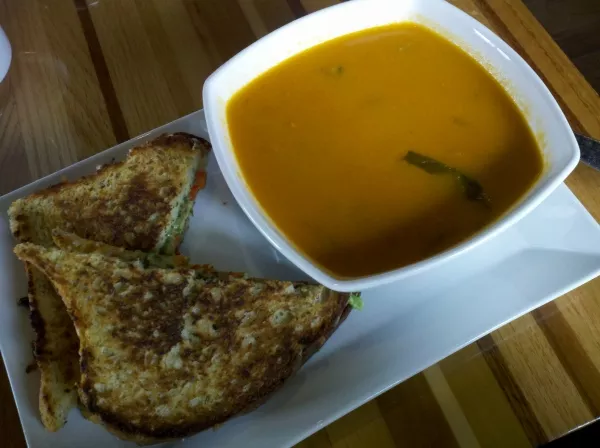 A gooey grilled-cheese sandwich paired with tomato & basil soup.
A 21-and-older vegetarian restaurant that turns into a dance club, Zest Kitchen & Bar stands alone in Salt Lake City. Casey Staker created Zest—which serves an inventive cocktail menu and tasty food made with local ingredients—to combine his passion for organic cuisine, original cocktails and live local music. And now that Zest is open for lunch, even more people have the opportunity to explore its good-for-you delicacies.

Staker says that Zest's most popular dish is the roasted mushrooms stuffed with a smooth, zesty cashew cheese. They're delicious to snack on while enjoying a cocktail and figuring out what else to order.

My very favorite Zest meal is the traditional combination of tomato basil soup and a grilled cheese sandwich. A thick layer of decadent pesto and sliced avocado gives this classic sandwich a healthy spin, but with local cheese from Caputo's, it's still cheesy, gooey and perfectly dip-able in soup.

Brunch options are also available at Zest during lunch service. According to Staker, one of the most ordered brunch items is the savory chickpea pancake with sauteed mushrooms and spinach, served with a smoked cashew creme sauce. Add a cup of Charming Beard coffee, and your day is off to a successful start.

Lunch is available after 11 a.m. Tuesday through Saturday. The service at Zest is always quick and friendly, and takeout is also available. In either case, don't forget to get something from the dessert menu. The Salted Caramel Hazelnut Torte is an incredible way to round out your healthy lunch.

ZEST KITCHEN & BAR
275 S. 200 West
801-433-0589
ZestSLC.com