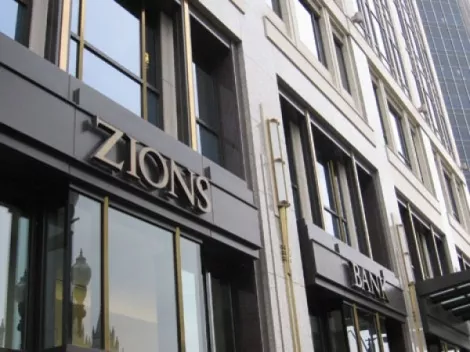 Gerald Armstrong, a Denver native with a small share in Zions Bancorporation but a large chip on his shoulder for reforming practices like executive bonuses for bad performance, fired his first salvo during the May 28 shareholder meeting by asking why, if shareholders had taken a 96 percent loss in 2009, that they were voting to re-elect the same board of directors. "Isn't it time for change?" Armstrong asked. "Isn't it time for a new approach?"
The answer to that question, and to nearly all proposals made at the meeting, was no, more or less. As Zions navigates its way from the bottom of the current economy, the board argued that staying the course was the best approach—voting down possible reforms like separating the position of CEO, president and chairman of the board. They also voted down Armstrong's "say on pay" proposal, which would have allowed shareholders to approve executive compensation packages annually.
Sonja Decker, representing the New York City comptroller and the trustees of the New York City Employees Retirement System; Teacher's Retirement System and Pension Fund; and the Police Retirement System and Pension Fund—proposed prohibiting the chairman position from being held by the person in the CEO and president positions—as is currently the case with Zion's President, CEO and board chair Harris Simmons.
Decker urged Zions to follow the lead of other large companies, as well as the recommendation of the U.S. Securities and Exchange Commission. "Separation of chair and CEO is standard practice outside of the U.S., and the trend is growing in the U.S.," Decker said. "We urge the company to be a part of this trend." Simmons said that was always an option, but that Zions did not want to lose board flexibility by prohibiting the move. He also countered comparisons to other companies that divided powers by noting that the trend was also one followed by Enron and Worldcom, and didn't change the problems with those companies. The proposal garnered 41 percent of shareholders' votes but failed to pass.
The final proposal heard was Armstrong's proposal for "say on pay," requiring shareholders to annually approve compensation given to company executives. Citing company documents that claim bonuses and compensation are necessary to "retain talented executives" who are essential to the "success" of the company, Armstrong said "the system might be broken because we have not been too successful in the bottom line of earnings." After all, Zions recorded $3.5 billion losses on pre-tax income in 2009. And the total decrease in compensation in 2009, including bonuses, compensation and other payouts for those at the top, like Simmons, was 8 percent, while the decline was 96 percent for shareholders like Armstrong.
The board's official position was that the proposal would be a bad idea, since a straight up-or-down vote by the shareholders doesn't provide specific feedback about executive compensation concerns. Armstrong's proposal was defeated, with only 32 percent approval. Ultimately, Simmons argued, the bank's investments in certain volatile residential markets resulted in problems with earnings, not executive mismanagement.
"The fact that land values in a place like Arizona dropped 80 to 90 percent is the source of most of the pain we've experienced here," Simmons says, adding that while the market is depressed now, Zions would be in good long-term position with these markets because of expected high population growth in the next two decades. He also pointed out that Zions, like other banks, was being asked by regulators to beef up capital reserves to help prime the markets, another factor in shareholder's meager returns.
The executive-pay issue was not brought up just by self-proclaimed shareholders-rights advocate and gadfly Armstrong. Another shareholder pointed out that even though Zions officers didn't receive typical bonuses or stock options, in 2009, they still received $1.7 million in restricted stock options. This type of compensation is a long-term stock option, not simple cash bonuses or stock options that can be cashed out in the short term. Simmons adamantly defended these "long-term incentives." "At the end of the day, my job is to keep talented people in place, and I'll do that until I'm thrown out." Simmons says.
For the shareholder, however, the compensations were simply too much. "They shouldn't be compensated for digging themselves out of a hole they dug themselves in," Armstrong says. "We believe the salaries that are paid are adequate—and should be earned."