Every year since 2000, the Dark Arts festival takes over the bottom floor of Area 51 and give the gothic arts a place to flourish.  With a combination of abstract imagery and heavy music, the festival shows off the best in local and national art and music.


--- I got a chance to talk with Alanja Oliver, one of the long standing organizers of the festival, about what's coming up as well as the festival's past and other topics that came to mind.

Alanja Oliver

http://www.darkartsfestival.com/
Gavin:
Hey Alanja.  First, tell us a little about yourself.
Alanja:
That's a big question…I grew up all over being a military brat, but I really came of age to the underground scene in Utah when I was hanging out and living in SLC as a young teen in '92, '93 and '94. I spent lots of time at Bandaloops and Confetti's and hanging around the same scene as the local goth bands. I loved locally owned shops like Modified, Raunch, Trash and all the others that are long gone. A good way to put it would be I'm of the school of thought where freaks are freaks. You don't divide yourself into opposing cliques because we are all fighting against the mainstream together. I guess now that people don't get things thrown at them by strangers for looking weird we can all fight each other for having a different hair cut, but I liked things when punks, goths, metal kids and everyone were cool cause we were all against the same things. Anyone with the guts to use their self expression should respect the same in others, you're enemy's enemy is your friend. Since moving back here in 1997 I've seen the entire underground scene change and grow, wax and wane, but it's always there with new people coming in and old people going out.
Gavin:
  For those who don't know, what is the Dark Arts Festival?
Alanja:
Dark Arts Festival is an annual event in its 8
th
year. Every summer it showcases underground bands from Utah and out of state. There is a fashion show, an art gallery, performance art as varied as dance, spoken word, one act plays, short films and also vendors. We strive to showcase artists that deserve recognition even though they don't fit into the mainstream. While it definitely has a "dark edge" to it, it's easy to find darkness in all aspects outside of the norm, as an example we've had indie bands such as Ether play, while the past few years we've become a favorite stage for local belly dancers, and Jared Gold had Black Chandelier in our fashion shows as early as 2002, when he was based in L.A. We are a non-profit organization and all the organizers and volunteers work for free to make this happen. We wouldn't be here if it weren't for the dedication of all the performers and volunteers.
Gavin:
  Before the festival around, how often were underground artists getting their work into local galleries?
Alanja:
There really wasn't a venue for anything at the time, art galleries need to make money and they look at the bottom dollar, the same goes for all artists. It seemed at the time that all the local underground venues and shops were closing or getting torn down to be turned into corporate complexes. Support was low and almost everything went away. I'm pleased now that we once again have a vibrant scene thanks to support from various clubs and all ages venues, there are so many amazing local bands it blows my mind, Gallery Stroll hosts such a variety of artists and despite losing a great shopping district in Sugarhouse, Broadway houses amazing shops and Arsenic Fashions just celebrated it's 2
nd
year as a brick and mortar store, a great feat for a goth boutique.
Gavin:
  How did the idea for the Dark Arts Festival come about and how did it get started?
Alanja:
In 2000 it seemed to me and a lot of my other friends that if something wasn't done soon there was going to be no where to go and nothing to do. Clubs, coffee shops and local businesses we had all spent our time at were closing. The best opportunity to get together was private parties, and although we talked of opening our own club, etc. no one had the capital to start anything like that, and there was barely a financial gain to be made by an established promoter to host our scene. I realized that although no one person among us could carry the scene, if we all pooled the resources we had, we might be able to make something happen. I didn't have money, but I had a big Victorian house on the west side with cool neighbors and a biker landlord who didn't care if I had parties. Given there wasn't much of a club or social scene anymore I thought my home could be a great place for parties, and if I got $5 donations from everyone that after a few months we might have enough money to put on a show, rent a PA and pay a band to come out to Salt Lake. I honestly thought when I mailed out invitations that 5 people might come over out of curiosity and after a month I'd have $80, an empty house and no idea what to do. What ended up happening was that it continued as a weekly event, almost every Saturday of the year for over 5 years. The old guard I had grown up with rarely attended, but the event breathed some new life into the scene, inviting a younger crowd, with new people and no rules. It ended up cementing our scene and created friends and relationships that continue to this day. Kevin Reece, who organized the Communion Festivals in 1993 and 1994 was my roommate at the time and with the unexpected success of Nightmares, the ability to put on our own shows, and his experience with the past festivals he came up with the idea for the Dark Arts Festival. Pooling everything together we could we made it happen, from the $5 someone had in their pocket, to someone with a small PA to others who helped spread the word, and most importantly the people who attended, we all made it happen somehow from practically nothing. A couple people jumped into help out the first year, then a few more people the next year, and the festival has continued grow each year.
Gavin:
  First time you started it up, what was it like for you and what was the reception?
Alanja:
The first Dark Arts Festival was very fly-by-the-seat-of-your-pants. No organization, hardly any planning. It was a logistical nightmare, but it was an amazing party and there was nothing like it going on at the time. By the end of the weekend there was so much excitement and buzz we knew we were going to have to get our act together to bring it back bigger and better the next year. On some scale we are still doing that, it never goes as smooth as we had planned for, but we work every year to improve and make it more fun for everyone.
Gavin:
  You said you were one of the last standing organizers.  Who came back, and why did the other members decide not to return?
Alanja:
Aside from myself, the longest standing committee member is Miah, who now works with the local and national bands. Also currently on the committee are Donna, Brandi, Sharyl, Skye and Nolan. There are many different areas of responsibility to the festival including bands, performance art, fashion show, art gallery, vendors, website, marketing and media and club liaison. It's far too much for one or two people to take on and being a thankless and payless job it's very easy to get burnt out or feel underappreciated. I can't say why people have chosen to leave in the past, but it's not like I haven't considered it before myself! All I can say is I respect their decision and appreciate everything that every person has ever done to help with the festival in the past. The festival wouldn't be here today without everyone's support.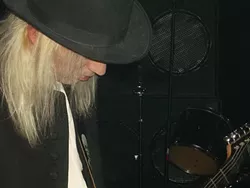 Gavin:
  What brought about the Foundation joining up with the state to become non-profit?
Alanja:
Nightmares had been going for a few years and the festival was getting bigger and bigger every year. It came to the point where we really needed more organization and couldn't just keep the funds we were raising at my house in a pickle jar anymore! So with the big help from Alicia Porter, a former committee member, we incorporated with the state and made some big expansions with the scope of the festival.
Gavin:
  A little on the past few years, what are some of the big acts you've had?
Alanja:
It's hard for me to say "big" because I think everyone who participates in the festival is big, but our headlining bands the last few years were Red Flag, The Last Dance and The Brides. I think all the local bands are amazing and I love that we also have the opportunity to book more unknown out of state bands that deserve more exposure. A couple of my favorites from the past would be Stolen Babies and Mortal Clay. There's also a lot to the festival like the art gallery, performance art, fashion show and vendors, I really think that there's something at the festival for everyone that they'd really like.
Gavin:
  Real quick, what's your take on the local art scene, both good and bad?
Alanja:
We have such a variety of talented artists out there right now. There's also a good potential in this town now for people to get their stuff out there and get it seen, there's so many events and galleries, and people taking on art in a non-traditional way. I love that people are doing creative things now to showcase art, like the graffiti house that was on 4
th
and various things hosted by local business. And I love how art and music intermingle here too. As far as bad, well I guess you mentioned it in the word scene. People forming cliques, or thinking they are better than others. It's the same as any scene any where, it will always become better the more varied the people are the more they try and work towards everyone's success. Look back at any movement that was relevant in it's time and it wasn't one guy thinking he was a better artist than everyone, it was a group of people with an artistic vision working together.
Gavin:
  Is there anything you think could be done to make it bigger or better?
Alanja:
Make art, get it seen, get others involved.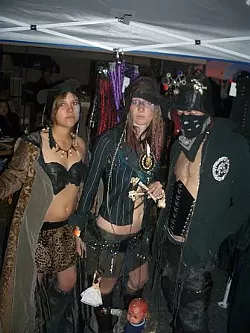 Gavin:
  What have you got lined up for this year's festival?
Alanja:
I say this every year, but I think this is going to be our best festival yet. We have London After Midnight headlining, a legendary goth band that pretty much revitalized the scene in the early 90's. Just when it seemed goth was a fleeting punk offshoot from the late 80's that was dying a slow death they stormed into the LA scene and got everyone excited again. They have never played in Utah before and I've personally tried to book them since almost the first Dark Arts Festival, so it's going to be amazing. We also have Johnny Indovina from Human Drama returning, who is so loved by the people here he should probably just get a summer home in Utah. System Syn is a great industrial band, James D Stark will be there playing romantic synthpop and I think my next favorite band from the festival might just be Adrian H and The Wounds, who list some of my favorite artists as influences, Nick Cave, Tom Waits and Charles Bukowski. We have local bands here that would be qualified to headline their own festival, this year we have Tragic Black, who just got back from playing a huge festival in Europe that featured London After Midnight, as well as Redemption, Carphax Files, Domiana, Digital Love and Chirp! Chirp! The art gallery and fashion show both look amazing, we are showcasing more short film than ever before including one starring Clint Catalyst and the return of SORP Films, also a new comer Chad Ruin will show a short film that was entered in a George Romero film contest. There will be a wide variety of dance and I'm looking forward to what Obscure Mudra has for us this year, as well as Anaar, who came from California and blew us all away last year. There's also returning favorites Dragomi and The Skirts and Nepenthe will be our new comers. Spoken word will be the return of Eric Blair, with the musical performance accompaniment of the VCR5 as well as Chad Painter's festival debut and a reading by JoSelle Vanderhooft. And just in case that wasn't enough we are going to be bringing back themes this year too! Friday's theme is Zombie Apocalypse, Saturday is Absinthe Circus and Sunday is Space Oddity. Costumes are encouraged and the venue will be decorated each night in theme as well.
Gavin:
  Anything we can expect from the foundation the rest of the year?
Alanja:
We'd like to have a mini-festival fundraiser in the fall, but we'll have to see how full everyone's plate is, this is something we all have to do in our "free time" so we can't always do everything we'd want to as far as Dark Arts is concerned.
Gavin:
  Anything you'd like to plug while we're here?
Alanja:
I want to say thanks to all the amazing people we have in this city, and everyone who has performed at or volunteered for the festival. This really is something that you don't get in many cities and we are all honored to have so many talented people around here. So go out and support them so they'll keep it up! If you love something support it or it won't be there for you later.