Showing off local pride never felt so sexy.

--- For over three years now Aliece Lindsay has been selling one locally commercial logo, but what a logo it is. The "SL, UT" brand shirts can be found everywhere across the state, from teenagers to mothers to politicians, and even yours truly. All of whom wear them with pride for the place they live in and love, along with a smirk for the taboo. I got a quick chance to chat with Aliece about her clothing from creation to local phenomenon, as well as the surprising people who have worn them, and the criticism she's gotten from some over being controversial and censorship.
Aliece Lindsay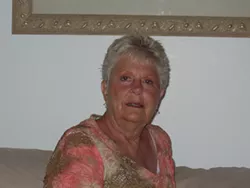 aliecelindsay@yahoo.com

Gavin:
Hey Aliece. First off, tell us a little bit about yourself.


Aliece:
Well Gavin, I have lived in the beautiful "SL, UT" valley most of my life. I am married, have a great family, most of them support me and are just great helping me out with my little business.


Gavin:
Where did the idea for the "SL, UT" logo come from, and what made you decide to put it on t-shirts?


Aliece:
I guess just finally realizing what "SL,UT" looked like and how funny it was, and how other people would appreciate it too.

Gavin:
When you decided to put it on merchandise, was it hard finding someone who would accommodate, or were there people fighting to make it?


Aliece:
You know Gavin, everyone I approached loved it to pieces. I just shopped around for who could get the orders done for the right price right away.


Gavin:
When you were going around trying to sell it, who was the first to get on board, and were there any places that outright refused to take them?


Aliece:
The very first place I approached loved it and gave me an order, that was Cabin Fever at Trolley Square. Next to come on board was Blue Boutique, and then Cahoots. A few day salons have them, etc.
No one
refused to put them in there stores, a few just didn't have the mark up for them, but over all it has been really great.

Gavin:
What was the response like when they hit the local market?


Aliece:
Well some of my grandkids and my husband wore them, and people were wanting to buy them right off them! In fact, my one grandson was selling them right off his back!


Gavin:
You won a Best Of Utah award for it in 2005. How did that feel?


Aliece:
Winning that was just great, I have never branched out into the world and tried anything. I have been a wife, mother and grandmother and what that stands for. So you can imagine...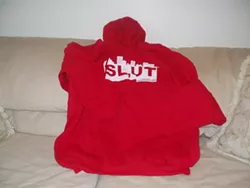 Gavin:
I understand the Mayor's office bought a bunch of them at one point. What's the full story behind that?


Aliece:
When Mayor Rocky Anderson was in office, from what I understand, a few of his staff members went to Cabin Fever and saw the t-shirts, loved them and bought them. They went back to the office and they made quite a hit, so the staff purchased more.


Gavin:
Your niece told me about a recent incident at a restaurant over the shirt. What happened?


Aliece:
A group of us went to lunch at Golden Corral and while eating we were approached by the manager. She stated that a gentleman was taking offense to the t-shirts my two nieces were wearing She stated he wanted us to leave, or take of the t-shirts, or he would call the police. I thought that was asking a lot to see them in there brass, so naturally we did not comply.

Gavin:
How did you feel about it after leaving?


Aliece:
I was sad at first, then I realized people have a right to there own opinion. So it's okay.


Gavin:
What's your feelings towards people who feel it should be censored?


Aliece:
No one has expressed there desire to have it censored, only two people, and they have a right to their opinion.

Gavin:
Do you get a lot of grief over it in general, or is it mostly positive?


Aliece:
I love it! But a lotta work goes into it. Always positive Many thanks to all my helpers and followers!


Gavin:
What made you decide to branch into stuff like hats and key chains?


Aliece:
People are always asking for different things, so I try them. Mostly it works.

Gavin:
Are you working on anything new, or just enjoying what the "SL, UT" brand has brought in?


Aliece:
Mot at the present. "SL,UT" Art is keeping me plenty busy. There are a few copiers out there making cheap knockoffs, so make sure you get the original!