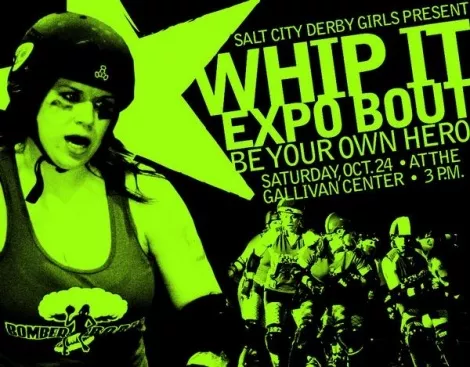 The
real
end of the 2009 local women's roller derby season is finally here--if you've procrastinated all summer, get thine ass to at least one of these events Saturday, Oct. 24 (as Utah's leading/only roller derby reporter, I'll be at both).---
First, the Salt City Derby Girls will host an outdoor expo bout at the Gallivan Center (239 S. Main) in downtown Salt Lake City, starting at 3 p.m. The SCDG played Los Angeles' Angel City Derby Girls in California last weekend and, even though they lost, your local ladies put up what's been reported as a hell of a fight (literally, but that's for the referees to sort out). Admission for the Gallivan bout is $5, and don't worry about the weather--it still probably won't be as cold as the icy Utah Olympic Oval, where the SCDG used to play before moving to the Salt Palace last year.
Up north Saturday, Ogden's
Junction City Roller Dolls
will play their last expo bout of the season at Layton's Davis Conference Center (1651 N. 700 West); doors at 6 p.m., game at 7 p.m. Possibly in response to my bitching, er, reporting, this bout will
not
be Black vs. Blue, but a Halloween theme: Witches vs. Skeletons, which doesn't seem fair on the surface--how much damage can a skeleton do? Oh, you'd be surprised ...
If you're too lazy to make it to either event, look for past Salt City Derby Girls roller derby bouts on Comcast On Demand (Utah On Demand section), or just go see Whip It already: