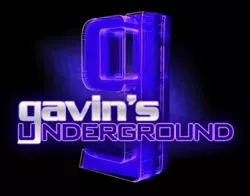 When looking over our slew of screenprinters and designers navigating through the art scene, you find an array of talent who have mastered the four-color press. Not to mention saviors of local bands looking for colorful and affordable promotion. But today we're looking at one specific artist who has been pushing himself to make even the most simplistic statement or pictures stand out to their fullest.


--- Ryan Perkins has been creating his works since 2006, both on the press as with his instillation pieces that have caught the eye of many at the U campus. Working under the Big Fun title for some of his prints, he's been a frequently featured artist for Signed & Numbered as well marketing his various works online and around the city in various ways. I got a chance to chat with Ryan about his career and pieces, as well as his thoughts on local artwork.

Ryan Perkins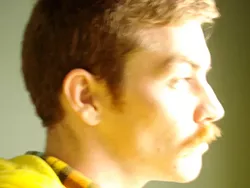 www.ryanperkins.net

Gavin: Hey Ryan, first thing, tell us a bit about yourself.

Ryan: I've lived in the same old house on Beverly Street in Sugar House my whole life. Which, I believe, makes me a fabled Old Man of The Neighborhood. Last summer, my girlfriend, Whitney Shaw, and I had a booth at The Downtown Farmer's Market; I was Big Fun, she was Easy Keeper Press. We had quite a time out there.


Gavin: What first got you into art, and what were some of your early inspirations?

Ryan: My restless fingers got me into art, may they never rest. The earliest inspiration I can recall is the illustration work by Henrik Drescher in The Fool & The Flying Ship, I couldn't get enough of that bizarre, creepy, fun stuff! But while that book was pretty lively, Maurice Sendak's Outside Over There had the same sort of effect with a different delivery; absolutely beautiful illustrations about a horrific situation. When I got into college, I discovered Ed Fella and Seymour Chwast, graphic design grandpas of strange, erudite, whimsical imagery. Of course, my official emphasis of study was sculpture (though it's sometimes easy to forget) and I found the most success in installation work, with the process-centered Anne Hamiton and the experience-centered James Turrell as my inspires. I'm also enamored of old poorly-printed offset ephemera, the results of bad registration thrill me!

Gavin: Speaking of studies, you earned your BFA at the U in Sculpture/Intermedia Emphasis. What made you decide on the U and what did you think of their program?

Ryan: I chose the U because it was convenient. It's just a few miles from my house, it's relatively inexpensive, and its a respected state institution. I'm very happy with the education I received there, I learned to think critically about the purpose and concept of a piece as well as its presentation and saleability. I did wish, however that there were more classes which required only a couple of finished pieces for the whole semester; it's important to make, make, make, but it's also important to really interpret an idea. I also think they should require more cross-discipline study, what I learned in graphic design and printmaking helped me immeasurably in sculpture.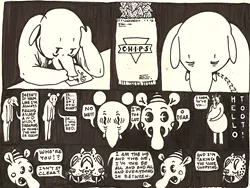 Gavin: For a time you worked for the Chronicle as a Graphic Designer. How was that experience for you?

Ryan: I loathed working there. It was exactly what I feared graphic design was outside of the classroom: uninteresting, uncreative, and unfun. In hindsight, I've realized that I just cared too much about creating good artwork, when I should've distanced myself from the work at hand. It was essentially the same lesson I learned when I was a lifeguard: when you're cleaning up vomit, you've got to be nothing but a working machine without a brain--if you think about your circumstances, you'll throw up.

Gavin: What was it that influenced you into wanting to do screenprinting?

Ryan: Whitney had taken the U's screenprinting class and told me I'd like it. She was right. Some things just make a lot of sense viscerally, and screenprinting is that way for me. I still really love letterpress printing and sculpture, but screenprinting fits my drawing style pretty well with its ability to handle broad areas of bright color, and it's a relatively cheap and easy form of art to get into.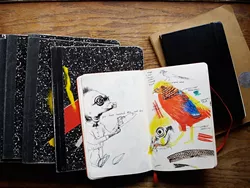 Gavin: Not a lot of people who do poster work take on screenprinting anymore. What made you decide to go the tradition route for it instead of going digital?

Ryan: Part of the problem working at the Chronicle was that my only attachment to the work was through a mouse and a keyboard. Some people can create all their artwork digitally, and that's fine, but I have to be physically connected to the artwork in order to feel like I've actually done something. Between drawing everything, hauling my desk-on-wheels outside to expose the screen, mixing up the ink, cutting down the paper, and pulling each print individually, screenprinting very nicely fulfills my corporeal need. Especially in the middle of the summer when I sweat buckets, courtesy of the garage/studio humidifier.

Gavin: Does it ever feel like it's a lost art, or do you believe there's still a strong audience for it?

Ryan: Not a lost art, but certainly fringe. Although I think there's still a very strong audience, it just doesn't include the Huntsmans and Eccles and Rockefellers. I think most art is that way, and that's probably what keeps it interesting.


Gavin: What's the process like for you in creating a specific piece of work, from design to final product?

Ryan: Give me a sketchbook, and I'll fill it up quicker than you can utter an idiomatic phrase about a jackrabbit! I always end up drawing lots of variations on the same thing, until I feel like I really understand what I'm trying to do with my idea. Then I make a final drawing and, using tracing paper, draw out the other layers. If type needs to be added or if the images need to be changed in size, I scan them into the computer and have black and white copies made. If not, I simply use the tracing paper to expose my screens directly. And always in the sun, because I do not have an exposure unit.

Gavin: What made you start participating in group showings, and how is it for you being in those shows and hearing the reactions from people?

Ryan: I can't recall whether I asked Leia Bell to add me to her email list for group shows at Signed & Numbered, or if somebody else told her about me. Either way, the first group show I participated in was "This Is The Place" for which I made a letterpress print about Gilgal Garden, one of my better pieces. I really enjoy participating in the group shows, it gives me exposure to the community and I get to become familiar with other local artists. I honestly haven't had a chance to hear much reaction from people though, I'll be sure to work on that.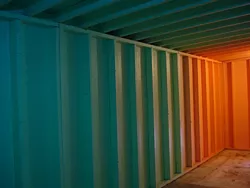 Gavin: Last year you were a part of the big "This Aggression Will Not Stand, Man" show at Signed & Numbered. What was it like being a part of that exhibition?

Ryan: That show was big, and there were so many submissions from people outside of Utah, I felt a bit outclassed. I've never felt great about my piece, The Dude Never Actually Bowls, but my fingers were all cut up from a table saw accident at the time and the whole process was pretty tough. It was certainly good to get that kind of exposure though.

Gavin: Considering the work that you do, are there any plans down the road to start up a print business, or will you mainly stick to doing your own works?

Ryan: I haven't really considered starting a print business and I'm not sure it's a feasible when offset and digital printing are so cheap. In fact, I was pretty surprised during the summer when a local musician's agent asked me to print a huge run of posters for a tour. After a month of planning, the agent shocked me by mentioning the deadline was in a few days, which hadn't been previously disclosed. I couldn't have the paper delivered that fast even if I payed twice as much for it, not to mention the time for printing. They must've just had the thing offset printed. So I'll probably just stick to my own stuff. But if a another grand opportunity presents itself, who would I be to turn it down?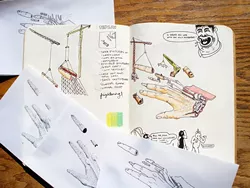 Gavin: Speaking of your works, what new material are you currently working on?

Ryan: I'm working on a letterpress piece for the Liminal show at Kayo Gallery that opens on March 19th. I'm also trying to figure out how to make myself a new screenprinted backpack and then sell a few copies on my Big Fun online store, so look out for that.

Gavin: Going state-wide, what are your thoughts on our art scene, both good and bad?

Ryan: It's great that we've got such a diverse group of interests and concepts in Utah's art scene, whether its landscape painting or graffiti on buildings to be demolished, it's all worth exploring. And though there may be a difference in themes between students from the U of U and BYU or between northern and southern artists, they all have value. Unfortunately, there is such a thing as bad art (and how!), but I think making art can only be considered a good thing.

Gavin:
Is there anything you believe could be done to make it more prominent?


Ryan:
I'd like to see more of a push towards public art and art which intimately involves communities. Of course, that stuff is a bit difficult to pay for, but I do think that every bit of it makes the public excited for more--look at the success and the offshoots of Project 337. I've also wondered why there seems to be a lack of organized political activism in the formal art scene, especially when I know that artists have some pretty strong views. I'd be thrilled to make a piece for a show which benefits the cause of gay marriage. Maybe I should put it together.


Gavin:
What's your opinion on Gallery Stroll and how its evolved over the years?


Ryan:
I don't really know about the evolution of Gallery Stroll because I haven't been around very long, but it's clear right now that Gallery Stroll is immensely popular. Unfortunately, crowds and noise tend to give me panic attacks, but I'd be a fool to suggest there needs to be less people visiting galleries. I think it's great that there is a cultural event every month centered around artwork, and I hope people stay interested in it.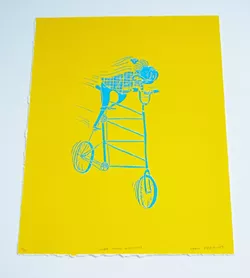 Gavin:
While we're on the topic, what do you think of the galleries we have here in Utah?


Ryan:
Outside of Salt Lake, I know more about the museums than the galleries. It's funny, I don't think many people have a clue about the Springville Museum of Art, but it's world-class. Aside from their terrific Russian painting collection, they've got great American and Utah art collections, as well as pretty good exhibitions of local talent, such as the Spring Salon. BYU has a pretty impressive museum too, I saw graphic design legend Milton Glaser give a lecture there and, though the opening prayer was a bit jarring, the show of his works was good. The UMFA is good, as well as the Salt Lake Art Center, and so is the art scene in Park City, though it's less formal. All around, I can't say there's anything bad.


Gavin:
What can we expect from you throughout the rest of the year?


Ryan:
Whitney and I endeavor to make a Big Fun & Easy Keeper Press appearance at Craft Lake City this summer, where we'll have lots of printed-cover sketchbooks and cards and coasters and backpacks and boxes and things. I'm working on a little comic book featuring the good chap, Toot Tapir, I'm trying to have it shown at the Alternative Press Fair at the City Library in July. I've also been talking with
SLUG
lately, and will likely design some local concert posters for them. Also, I'll move out.
Gavin:
Is there anything you'd like to promote or plug?


Ryan:
Go see the Liminal show at Kayo during Gallery Stroll next month as well as this "Friends Of Friends" show at GARFO that opens on Friday, it should be pretty great. Also, please visit
www.r-word.org
--cruelty towards others, even unintended, is something we can do without.