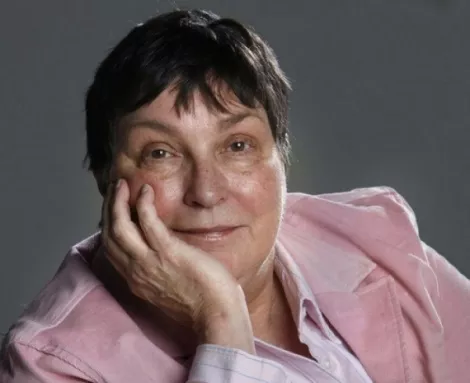 Utahns may have seen her face a thousand times in news print, but today, she has joined the ranks of thousands of unemployed journalists. The Salt Lake Tribune's reader advocate, Connie Coyne, a 16-year veteran of the paper, was laid off.
Reached at her desk at the Tribune, Coyne said the layoff was prompted by budgetary concerns. ---
"They had to cut a position and there was no existing position into which I could transfer," Coyne said.
To which, I asked, you mean there were no positions that were attractive to you, or there were no positions available?
"There aren't any," she said.
Affiliated Media, the holding company of the Tribune's ownership, MediaNews Group, filed for Chapter 11 bankruptcy protection in January. One of Affiliated's corporate boss's received $500,000 in bonuses since that time. MediaNews Group chairman Dean Singleton will retain his position in the reorganized company.
Which could be plenty to make Coyne boiling angry. She was even-tempered, however, in talking about her departure.
"I've worked here a long time. It's disappointing, but life is change," she said. "And the minute we stop being willing to change, we may as well just lie down."
Coyne started at the Tribune when it was lead by the local part-owner/operators, the McCartheys. The paper was sold to a company that would itself soon be bought by AT&T in the late 1990s. Another sale resulted soon after. After acrimonious and complex litigation involving the Tribune, Deseret News, the McCarthyes, AT&T, City Weekly, and others, the paper was indisputably in control of Denver-based MediaNews Group.
Coyne lamented the sad state of newspapers. They lost classified advertising revenue to Craigslist and similar sites, the Internet disrupted advertising-based business models and then there's the Great Recession which has shrunk the advertising base papers like the Tribunehave left.
Coyne made no prediction regarding future layoffs at the Tribune.
"There's fewer people sitting at desks here. Do I think that will continue? I don't know," she said.
She said the paper lost its "family feel" after the McCarthys were out of the picture. She said she rarely sees Singleton, he rarely sees her, and the relationship between management and staff is distant.
"With the McCarthys, the owners were often down in the newsroom, they were visible, they were easy to get to, and they weren't bound by corporate decisions," she said. "We see [Singleton] periodically, so you don't get the feeling of closeness that you had when the publisher was down here several days a week at least, and the owners were in and out of the building."
Surely that lack of "closeness" between ownership and staff is felt by the owners, too.
"I think that's very true," Coyne said.
Update 3:39 p.m. 3/18/10: Salt Lake Tribune Editor Nancy Conway was in a meeting, but gave a brief statement: "I think [Coyne's lay off] is definitely not a sign of things to come, although it is certainly a sign of the times in that all news organizations need to be as efficient as possible."
Update 6:13 p.m. 3/18/10: Romenesko quotes the e-mail from Conway sent out to Tribune staff announcing Coyne's lay off. "Connie has been so much a part of the newsroom for the past 16 years it is hard to imagine it without her. ... I know she has been a mentor and support to many of us and we will miss her for that as well."