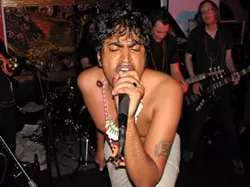 Headdress? Check. Sequined jacket? Check. Best show Salt Lake's seen in a while? ....Check ---
King Khan & the Shrines rocked the house tonight at Urban Lounge. I feel like discussing Khan's styles belittles his music a little bit, but even so, his switch from the above wardrobe to bejeweled spankies and a pickelhaube helmet made me love him that much more during the encore, which, by the way, was a solid 5-6 songs of musical gold. Actually, musical platinum.
I have to give some love to the horn section because my dad plays the saxophone. They were, to put it simply, awesome- not awesome in the way that they support the main artist, but awesome in the way that if they wanted, they could easily be their own successful band. I was given a "Scion" hat after the show by the alto sax, which was a little disappointing given that I thought he was giving me a King Khan & the Shrines hat (which if I had thought about it, I would have realized the Shrines probably wouldn't put their band's name on a baseball cap). Regardless, up to five minutes after Khan had left the stage the horn section was going still strong and no one was arguing with that.
It doesn't seem too often that a national artist comes to Salt Lake and tells the audience they're looking forward to coming back, but by the end of Khan's set, even before he told us how great we were (maybe not in those words...) I have a feeling everyone knew in their heart of hearts that the group would rather just hang out in the SLC than continue on to Coachella, which they'll be playing next Sunday. A lot of national acts seem to come to Salt Lake with an attitude that stereotypes our state and everyone in it. King Khan & the Shrines, regardless of their feelings about Utah, gave the show Salt Lake deserves, no matter of what their thoughts were as they entered the state of snow, smog and sanctity. (Photos courtesy of Josh Cameron).