Not even Utah is spared from oil spills. This is an alert sent to city residents from Salt Lake City --- :
Salt Lake City officials and Chevron crews have been working since early morning Saturday, June 12, to stop a severe oil leak discovered East of Red Butte Canyon. The number of barrels of oil released is estimated at 400-500. The site of the leak has been capped.
Drinking water for residents has not been affected. Residents are advised to stay away from Red Butte Canyon and Liberty Park so crews can adequately manage the spill. All water access points along Red Butte Creek, Liberty Park and the Jordan River should be avoided by humans and animals at this time.

"We are working tirelessly with Chevron teams to contain this spill form the critical ecological areas affected in our City," said Mayor Ralph Becker who is heading to Salt Lake City from Oklahoma City where he was attending the National Conference of Mayors.
See: More Salt Lake City Oil Spill Photos (brace yourself)

"Our fire teams have capped the site and will work to determine the damage and best course of action. We ask all residents of Salt Lake City to help by staying away from these areas." Chevron has a pipeline bringing crude oil in from western Colorado and eastern Utah into the Salt Lake Valley. This pipeline runs down Emigration Canyon and heads west over Beck Street to the company refinery.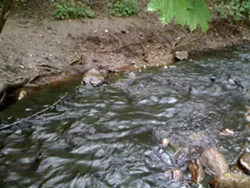 Thanks to Christian Pulpher for sending photos above, taken at the Bonneville Glen. Pulpher lives on Harvard Avenue just above 1300 East (the now oil-slicked Red Butte Creek runs behind his home).