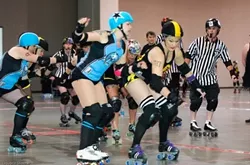 Saturday, June 12: The Salt City Derby Girls' all-star Shakers hosted the FoCo Girls Gone Derby's Microbruisers (Fort Collins, Colo.) in a double-header bout at the Salt Palace—then proceeded to crush them. ---
The Salt City Shakers scored first with a quick 4-point jam by China White; subsequent jams by NOS (who would eventually go on to score over 80 points on her own in the bout) left the Microbruisers in the dust throughout the bout. Deciding factor: FoCo's Chocolate MILFshake, Iona Switchblade and Iggy Cox had trouble breaking through the Shakers' wall of defense to grab lead-jammer status even a quarter of the time. Score at the half: Shakers 88, Microbruisers 35.
FoCo concentrated on their own defense in the bout's second half, smacking around Shakers like bowling pins and attempting to shut down NOS' scoring onslaught. The Shakers' Roll-Her Kitty and Ashes to Ashes toed the jam line as well, and China White delivered the coup de grace run in the bout's last minutes. Final Score: Salt City Shakers 152, FoCo Microbruisers 78.
The second part of the evening's double-header saw the heretofore undefeated (at least, no one can remember the last time they lost) Leave It to Cleavers taking on the still-struggling Bomber Babes (mostly a team of newbies and transferred players this season). In this bout, China White (Cleavers) dominated her previous Shakers teammate NOS (Bombers) in scoring, as the Babes leaned more on MotoRedhead and Pushy Galore for jams. Score at halftime: Cleavers 95, Bombers 26.
[Around this time, the night's most serious injury was incurred: Announcer Lulu Garou slipped on her high heels and jacked-up her knee on the sidelines. According to attending EMTs, she'll be OK to talk by the next game.]
The Cleavers' well-oiled derby machine is enough of a challenge for any team to face, but the Bombers have as much of a defensive deficient as they do an offensive one: While they can hit like trucks—ask any player who's been on the receiving end of one of Phatal Pheromone's kamikaze smashes—the Bombers have little focus or strategery to back it up. As they spent most of their time in the penalty box, the Cleavers were racking up over 70 percent lead-jammer statuses. Bomber blockers could take a lesson or three from the Cleavers' Veronica Scars, who knocks around opposing skaters as if in a full-contact chess match (though teammates might attribute it more to her overpowering pad smell). Final score: Leave It to Cleavers 133, Bomber Babes 67.
Next Salt City Derby Girls bout: Saturday, July 10 at the Salt Palace; another double-header, featuring the Salt City Shakers vs. Arizona's AZRD Roller Girls, and the Leave It to Cleavers vs. the Death Dealers. Tickets and info: SLCDerby.com. Full local league schedules: Utah Roller Derby: 2010 Preview.
Shots from Saturday's SCDG bout by Liquor'n Shooter (First five: Salt City Shakers in black, FoCo Microbruisers in blue. Second five: Leave It to Cleavers in red, Bomber Babes in green):