Salt Lake Acting Company's first-ever Fearless Fringe Festival delivered well-crafted, small-production plays to sold out audiences this weekend. Yoga Confidential was the highlight.--- Lucky for Salt Lake, SLAC is recreating a festival that many other similar-sized cities already have going on. It's an opportunity for artists to expose their craft to others, hoping to evoke some emotion, some feeling, some rapport—that's why they write, be it snarky, tearful or otherwise. Let's hope that SLAC brings this festival back again and again.


Yoga Confidential
For cynics of America's two-decade-long love affair with yoga and yoga instructors' "gift for shallow philosophy" or, on the reverse, those instructors who secretly hate smelly, sweaty students, Stephen Brown holds nothing back in his hilarious insider's snark at all thing "Yoga." Brown, a long-time yoga instructor and SB Dance founder, successfully incorporates dance, song and acting in his tale to find the "True Meaning of Yoga in America." He embarks after being visited by the Ghost of Yoga Past and the Ghost of Yoga Future ( Tracie Merrill) who shows Brown his future in Polka-uma-ate, a hybrid of polka dancing, Zumba and silliness.
The versatile cast, also including Daniel Beecher, play 1/3 of Stephen through internal monologue sessions and Brown also solos the role of Stephen as he takes to his quest. The three actors mix and mingle various other character roles while staying in simple costumes. All three brought excellent performances, directed by Winnie Wood. The set design is simple: purple and orange yoga mats abstractly strewn across the floor, back-dropped by black curtains.
The journey, narrated by Beecher and Merrill as cheesy announcers, is a brief history lesson of yoga, which at every opportunity the play wittily rips on. No yoga mat is left unturned as, in succession, Bikram, Bob Flanagan, Anusara, Toxic, Kundalini and Power yogas all get it. Then, there's oddball bantering between Rob (Beecher) and Stephen about the philosophy of Rambo "who just IS," which seems out of context but well-accepted and witty. Rob assists Stephen with insights from a visionary acid trip to Yoga Journal's lobotomy-inducing headquarters. The revelation: America has an industrial spiritual complex. Stephen doesn't buy it and at the play's end when asked to relinquish his insights to the Ghost of Yoga Past, he doesn't give up much other than an anecdote of teaching yoga at a prison with one tattooed, mean-looking guy lifting out of corpse pose ("Although, I didn't call it that there.") and gruffly saying, "Fuck. I'm still here." If you missed the highlight of the Fearless Fringe Festival, Sugar Space will host Brown and company soon and you don't want to miss this wacky rat bastard's tale.
Yoga Confidential @ Sugar Space Studio, 616 Wilmington Avenue, 888-300-7898, Fri. - Sat., Sept. 10-11, 8 p.m., $12.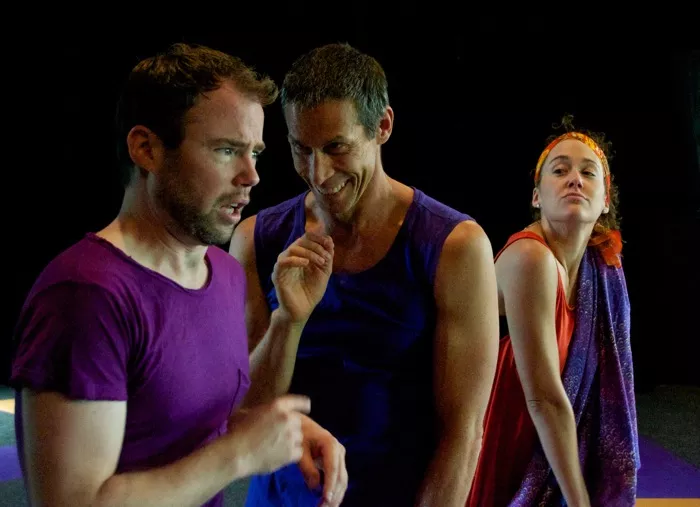 Photos by John Brandon