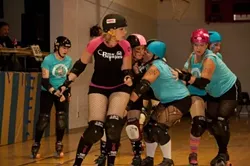 Saturday Sept. 11: Ogden's O-Town Derby Dames took on Prescott, AZ's Northern Arizona Roller Derby at the Marshall White Center in Ogden. ---The bout recap, as submitted by OTDD:
Right off the first whistle, you could tell both teams were evenly matched. Jam by jam each team keeping the score within mere points of each other leaving the crowd on the edge of their seats. NAZRD kept a tight front domination but you could tell the Brawlers counteracted that by concentrating on blocking the NAZRD jammer instead of trying to break up the front wall.
First Half: O-Town 60, NAZRD 57.
In the second half, NAZRD switched up strategy, putting in new jammers and pulling their wall back into where O-Town was stationed. O-Town quickly changed the pace by pulling more to the front thus keeping them in the game and points on the board. In the last jam, O-Town was up by 3 points, looking like they might take it, when NAZRD gave everything they had to block jammer Corre Caminos from passing no matter what it took and getting their jammer through for 6 points and O-Town none.
Final Score: NAZRD 119, O-Town 116.

Both teams put up a good fight to the finish. It was an amazing bout and we had tons of fun as usual putting it together for our family, friends and fans! Thanks to UDOG, Johnny Crass, NAZRD and especially to Effn' Ref for his hard work dealing with us ladies as head ref for the night!
Next up, we will be participating in the Mountain Throwdown (Saturday Oct. 2), and then our season finale Sailor Marys vs. Ladies of Capone on Oct. 30! Tickets and info: OTownDerbyDames.com.

Shots from Saturday's bout by Chris Bojanower (O-Town in pink/black, NAZRD in blue):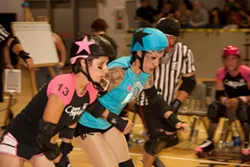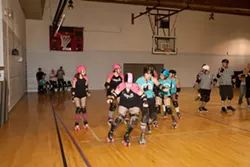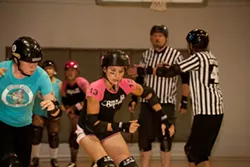 Full 2010 schedule for all local teams at Utah Roller Derby: 2010 Preview.