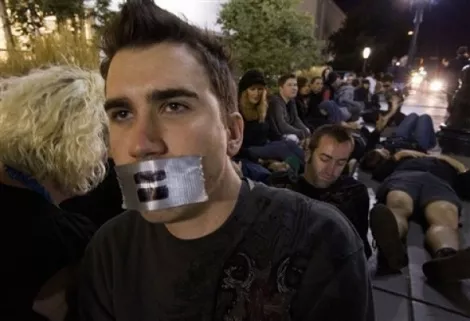 So how many people actually showed up to Eric Ethington's Thursday-evening demonstration at the LDS Church Office Building?
---
Church-owned KSL lowballed the number at "a little more than 600, and peaceful."
Video Courtesy of KSL.com
On the other hand, Fox 13 reported the organizers' figure of "4,500 people dressed in black."
All things being equal, we could reasonably estimate the actual figure as 2,550 -- the arithmetic mean (600 4,500) / 2.
However, all things are not equal. I've found from past experience that KSL tends to underestimate numbers of participants involved in gay events.
Many years ago, while writing a Pride Festival wrap-up, I noticed The Salt Lake Tribune and the Deseret News had reported attendance figures for the event in the neighborhood of 7,000. KSL reported a number significantly lower (if I recall correctly, around 1,200).
I was curious about the discrepancy, so I called up the KSL news director, who became defensive and ended up telling me it was "like counting jellybeans in a jar."
I couldn't disagree with him ... particularly when those jellybeans are so brightly colored and fruity-flavored.