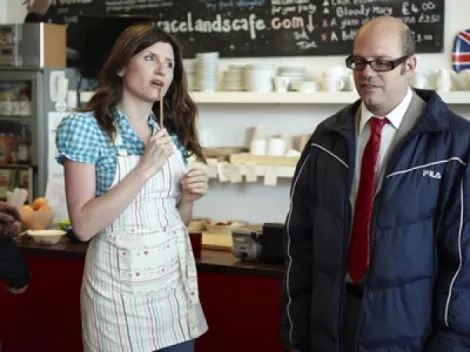 MSNBC has suspended
The Countdown
's Keith Olbermann for making campaign donations to Democratic campaigns. Reportedly, he'll Lean Forward to take it in the ass.---
What's new this weekend:
The Increasingly Poor Decisions of Todd Margaret (IFC, tonight) Season Finale: The saga of hapless American Todd Margaret (David Cross) and his attempts to sell Thunder Muscle energy drink to the British comes to an end—but will there be another season? Since this is the funniest project Cross or Will Arnett have done since Arrested Development (sorry, not Running Wilde, Will), let's hope so. You hear me? Get the cock out of your ear, IFC!
Also new tonight:
Medium, CSI:NY, Blue Bloods (CBS); The Good Guys (Fox); Smallville, Supernatural (The CW); School Pride (NBC); Law & Order: UK (BBC America); The Benson Interruption (Comedy Central); Sanctuary (SyFy); The Soup (E!); Real Time With Bill Maher (HBO)
The Simpsons (Fox, Sunday) Treehouse of Terror XXI: As usual, we get it a week after Halloween—which was conveniently on Sunday this year, too. In the 21st edition, Bart and Millhouse become trapped in a board game, Lisa falls in love with a vampire classmate (voiced by Daniel Radcliffe), and Homer and Marge's romantic cruise is crashed by a possible murderer (Hugh Laurie).
Married to Rock (E!, Sunday) Series Debut: Meet the wives of rock stars Perry Farrell (Jane's Addiction), Duff McKagen (Guns N' Roses, Velvet Revolver), Billy Duffy (The Cult) and Steve Stevens (Bill Idol). Why? Because middle-aged women with spray tans and too much time/money/silicone/vodka on their hands are just fucking fascinating, that's why. Ask any cable network exec.
Eastbound & Down (HBO, Sunday) Season Finale: With Mexico in the rearview mirror, Kenny Fucking Powers returns to the US of A! But will he get his American baseball career and his girl back? As the man says, "A true champion, face to face with his darkest hour, will do whatever it takes to rise above. A man fights, and fights, and then fights some more. Because surrender is death, and death is for pussies." So probably not.
Also new Sunday:
The Cleveland Show, Family Guy, American Dad (Fox); Desperate Housewives, Brothers & Sisters (ABC); The Amazing Race, Undercover Boss, CSI: Miami (CBS); The Walking Dead (AMC); Kendra (E!); Boardwalk Empire, Bored to Death (HBO); Childrens Hospital (Adult Swim)
Preview: Seems like a reality show about Perry Farrell would be waaay more interesting than the skanks who're Married to Rock.