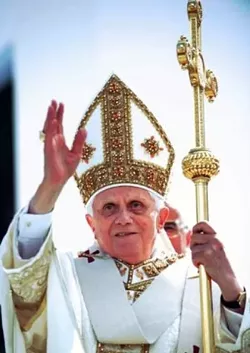 I love unintentionally funny homophobia. Check out this representative for the Pope and his twisted, vaguely perverted metaphor that compares gay sex to mugging. What do you think he's getting at with this "steel pipe" stuff?---

From yesterday's All Things Considered, Rev. Joseph Fessio is trying to explain how the pope's position on condoms has not changed. The pope, in case you weren't aware or can hardly fathom it, is officially opposed to condoms. A recent book, however, seemed to suggest the pope is open-minded to use of condoms as a way to prevent STDs.
It's nice to see the pope dragged kicking and screaming into the new millennium. But it's even funnier to hear his minion try to explain:

Reporter Mary Louise Kelly: Are you saying that the pope was perhaps using some sort of sliding scale here? That while not condoning contraception, not condoning homosexuality, he's signaling that they are not the worst evils, and that passing on HIV is worse?
Father FESSIO: He's not giving a scale of evil or good here. But let me give you a pretty simple example. Let's suppose we've got a bunch of muggers who like to use steel pipes when they mug people. But some muggers say, gosh, you know, we don't need to hurt them that badly to rob them. Let's put foam pads on our pipes. Then we'll just stun them for a while, rob them and go away. So if the pope then said, well, yes, I think that using padded pipes is actually a little step in a moral direction there, that doesn't mean he's justifying using padded pipes to mug people. He's just saying, well, they did something terrible, but while they were doing that, they had a little flicker of conscience there that led them in the right direction. That may grow further, so they stop mugging people completely.
Go to the NPR link to hear the audio. It's worth it.
Follow Me: