When acoustic music and theatre merge, interesting things can happen. Salt Lake City-native Mindy Dillard will perform her in-progress operetta Snow White and the Submarines tonight for Sugar Space's first "Self-Produced Indies Series."---
Dillard, a performance artist/ singer-songwriter now living in Portland, Oreg. (which can be weird), earned a BFA in Acting from the U and has been teaching theatre, music and yoga ever since.
She says this story-piece as about "escaping Disneyfied consciousness and uncovering authentic connection." She'll play guitar, banjo and sing in a wavering Disney-like lead voice, while her musical partner Eric McEun backs her on vocals and electric guitar. Check out some of her tunes here.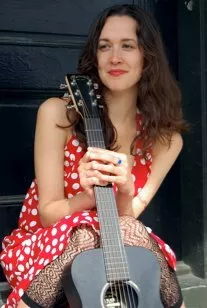 If music-backed fairy tales are your thing, this should be worth checking out. If you're like the rest of us, this should still be worth the cheap admission—a sliding scale of $5-10. Plus, how often do you get to see an operetta in Salt Lake City?
Snow White and the Submarines @ Sugar Space, 616 Wilmington Ave. (2190 South), 888-300-7898, Fri., Nov. 26, 7:30 p.m., $5-10.