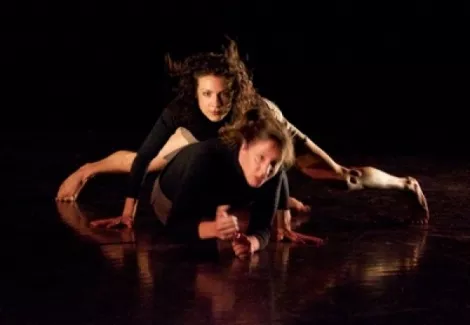 Eight choreographers entered but only one left victorious. When all the votes were tallied and the panel weighed in, Liberty Valentine was named the 2010 Sugar Show winner. Valentine spoke with City Weekly about "Near Death I Tell Ya," its evolution, feedback, how she'll celebrate and more.---
Valentine has danced with Ririe-Woodbury Dance Company and SBDance for years, and her experience showed in a challenging piece that delved into physical containment, sexuality, individuality and even included four pairs of dazzling red heels. She's awarded $1,000 and logistical support for a full performance to run next year.
Describe your piece to readers that weren't in attendance?
One audience member came up to me and said my piece reminded him of the modern dance version of SNL skits. Although the "snippet" timing of a skit is true, this piece has more of a sad humour.
Is it a risk-taking piece for Utah audiences?
Some audience members want you to spell it out for them, they want to be able to follow "a story". For me, dance is similar to poetry. I provide specific images and a tone and the audience gets to take what they will from it. That is hard for many audience members.
During the post-show Q&A you said you never begin a piece's choreography with the audience in mind. Please explain.
The creative process starts with an idea, and then another idea and then another. I can only speak about what I know and if I'm clear about what I know then the piece will take form. How is it possible to create from an outside perspective? That seems like a bad idea.
So, what was your muse for this piece?
My loves and losses [laughs] and my upstairs' neighbor walking on concrete in high heels all hours of the night.
Describe its development over the 12 weeks you were allotted for the competition.
I had three rehearsals in October where I created a solo and one duet. That was a start but I didn't know where it was going. I left for Mexico to film during Day of the Dead. While I was there I had a dream and finished the choreography on a bus to Oaxaca. Got back and set it all on the dancers and kept adding small details up and through the performances.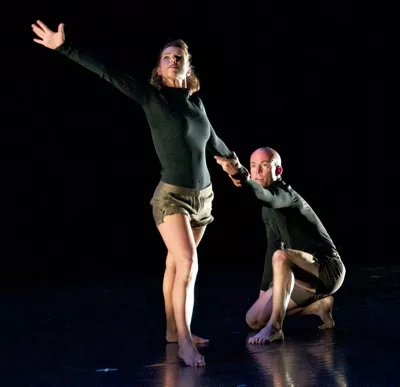 You had an eclectic music selection, including world music, Rai vocals and the Almighty Defenders. How did you select these and what's your intention with them?
I geek out on music. I will spend hours listening for the right tone and speed of music to support my work.
The Sugar Show is interesting because of the feedback process that choreographers receive after the preliminaries. Did you make any changes to your work after the first show? If so, what?
The second venue where we performed provided wings. So, I made changes to best utilize that feature. Other than that slight changes were made.
Is it difficult getting all of this feedback at once?
No. I love it. It gives me the chance to clarify things that might have been overlooked.
What can we expect from the full-length piece that you'll perform next year as the Sugar Show's winner?
An expanded version of what you just saw, more poetic story lines and some sparkles. Every good dance piece has to have sparkles.
Do you have any plans to celebrate winning the contest?
Yes. I get to create more. Yay!
Anything else you'd like to add?
Yes. Brittany [Reese] and Stephen [Brown] are pioneer rockstars. This is the first time Utah has ever had anything like this and I thank them.
Photo credits: Jon Brandon