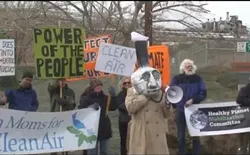 When I started at City Weekly in July 2009, a born-and-raised Salt Laker told me she wanted more news on activism: who's doing what, how to get involved, what actions are working--and which are not.---

I've had more than a year to reflect on that desire and try to fulfill it along with my coworkers here at City Weekly. Here's a list of the 10 greatest actions of the year, including animal rights, queer rights, environmental protection, poverty issues and politics.

I've thought of "greatness" as a flexible term, indicating either major impact, influence, memorableness, magnitude and/or something akin to "degree of difficulty" with a side of "David vs. Goliath"-ness. But "great" activism is subjective, so make your own list and leave it in comments (or just tell me what's wrong with mine!). Like TIME's Person of the Year, being listed here is not an endorsement, but merely an indication that you had impact--for good or for bad. Were I an activist, my priorities might be quite different than these.
Folks on both sides of the immigration issue might be pissed or surprised to have not been included, but anti-immigration is more about zeitgeist than activism, and the immigrant supporters... well, the most memorable thing they've done is organize the Utah Compact--a major feat, no doubt--but until the Legislative session wraps up, we have no idea if that will have any impact at all, so check back in 2011 to see if it made the cut.

More than anything, I hope this list demonstrates that activism works so get out there and get involved.

In no particular order, the 10 greatest acts of activism in Utah 2010:
1. The Citizen's Candidate/Claudia Wright Campaign - It started as a Craigslist hoax, a joking want-ad posted by famed "Bidder 70" Tim DeChristopher. The ad asked for applications for a liberal to challenge decade-long incumbent Rep. Jim Matheson, Utah's only Democrat in Washington, who was criticized in the past year for voting against health care reform and climate change legislation. Matheson won anyway (reelection is all but assured to all Congressional incumbents), but I suspect this one was too close for comfort for Matheson (among the Democratic Party delegates, Wright won and thus Matheson lost 45 percent of the vote) and likely will weigh on his mind as he considers crossing Utah progressives in the future--because for all it's impact, Matheson will consider crossing Utah progressives again.

2. Equality Utah's 10 in '10: Nearly 1 million Utahns are now protected against discrimination based on sexual orientation or gender identity in both their workplace and housing, an amazing feat since exactly zero Utahns were protected but one year ago. Passing these ordinances on city and county levels has been Utah's premier queer politics organizations' top priority since Salt Lake City jumped in first a little more than a year ago and state initiatives were canceled for a year after the grand compromise with conservative legislators last session. Though those same legislators are now threatening to "preempt," or erase, these city and county ordinances, for now, Grand County, Salt Lake City, Salt Lake County, Park City, Summit County, Logan, West Valley City, Taylorsville, Murray and Moab all have these protections on the books.
3. PETA and homeless pets as lab equipment: In a state where you can legally torture your farm animals--and let your imagination go wild on what constitutes "torture" because livestock have zero protections in Utah--it's a little remarkable to see any new protections for any animals, although things have been shifting on the state level in recent years. No animal-rights group, however, was more responsible than People for the Ethical Treatment of Animals for 2010's HB 107, which repealed a law that forced animal shelters to sell their animals to the University of Utah for use in experiments. After the law was passed, all but one Utah animal shelter has decided that it would stop selling animals to the U--and the campaign isn't over yet.
4. SLC panhandling ordinance opponents: One way to effect public policy is to build a coalition. In this case, in addition to civil libertarians, homeless advocates and others, the opponents of the Downtown Alliance's proposed panhandling ordinance recruited six different churches to show up at City Council meeting in November to trash the ordinance. In December, the council voted 4-3 to take no action on it. Led largely by the Crossroads Urban Center, the opponents of this ordinance were tasked with advocating on behalf of an unpopular group--those poor and bold enough to ask for money on the street--and do so against a well funded opponent who ran billboards and created a spiffy website specifically for this small, local battle. The resistance to the proposal grew as 2010 passed, probably ensuring that if the panhandling proposal is not dead completely, it will only reemerge in 2011 in a scaled-back form.
5. Queer activists "die" at Temple Square: some 4,500 people organized around Temple Square in Salt Lake City to protest the inartful speech--many called it hateful or worse, deadly--of the man who's third in line to be prophet Church of Jesus Christ of Latter-day Saints, Boyd K. Packer. The masses assembled around this holiest of LDS site and lay down, as if to die like the several gay teen suicides that were catching headlines toward the end of summer. Organized by Pride in Utah blogger Eric Ethington, it was, perhaps, the largest protest rally in Salt Lake City since the 2008 protest at Temple Square, that one called to protest the church's involvement in California's Proposition 8, which banned same-sex marriage. The LDS Church recently changed its handbook guidance regarding homosexuality in a move that some said shows an opening mind toward homosexuality, while others criticized it as more of the same. Either way, it's either a tip-toe in the activists' direction.

6. Clean air coalition and Kennecott (pictured): Ask and you shall receive seemed to be the message after a coalition of clean air activists gathered in April to pressure Kennecott to stop burning coal right here in Salt Lake County, home of some of the most polluted air in the country. They didn't get everything they want--if it were easy, it wouldn't require activism--but Kennecott made substantial promises to decrease its reliance on coal in the coming years earlier this month.
7. Fair Boundaries ballot petition: Well, they just straight-up lost this (nearly-impossible) campaign to ask the electorate to create an independent redistricting commission so that lawmakers don't pick their voters--which is how it is now--rather than voters picking their lawmakers--which is how democracy works. But their cause is so fundamental to our governance the effort deserves recognition. Organizers and volunteers gathered more than 45,000 signatures, but that's half as many as they needed. I've heard rumors that despite millions of Utahns recognizing that Republican legislators gerrymandered the state in 2001 and will certainly do so again in spring 2011, the campaign lacked cohesion and a team spirit. With as difficult as ballot initiatives are in Utah, any lack of focus can kill your efforts.
8. Legislative ethics ballot petition: The other and more talked about ballot initiative from 2010 also targeted legislators and had some measurable impact, even though it too failed to gather enough signatures to be put on the ballot. Utahns for Ethical Government got nearly 75,000 signatures, however, and pressured the Legislature to pass its own version of ethics reform. The in-house reforms are weak tea compared to what UEG wanted, but it at least shows the lawmakers got scared that the people were gathering pitchforks and they better do something about it.
9. Dog owners fight for off-leash at Parley's Park: Love them or hate them, Friends Interested in Dogs and Open Spaces (or FIDOS) are well organized and understand the full-court press of activism involving organizing, lobbying, communicating to the public and news media, rallying your own troops and evangelizing others to join the cause. They're Parley's Park campaign has nearly as many fans as the Utah Democratic Party and they were a formidable and intimidating group at city council meeting sufficient to outnumber much larger, more established political causes and groups. While they can't seem to convince Mayor Ralph Becker that 12 acres of off-leash space--a cut from about 80 now--is not enough, they did convince enough council members to defeat the plan that way. The Mayor vetoed the council's vote, so where it will land is still up in the air.

10. Ousting Sen. Bob Bennett: I said these are in no particular order, but I did save the biggest one for last. Regardless of how you feel about Bennett, Senator-elect Mike Lee, or primary challenger Tim Bridgwater, I think you gotta admit that this race was exciting. American democracy has not functioned very well these past couple decades, but a race like this reassures me that the dysfunction can not--not always anyway--quell the will of the people. In this case, it was clear for at least a year that Utah conservatives had had enough with the relatively moderate Bennett. They organized, they rallied, they competed, and they melted Bennett, a man who promised to serve no more than two terms but was seeking his fourth this year.

Follow Me: