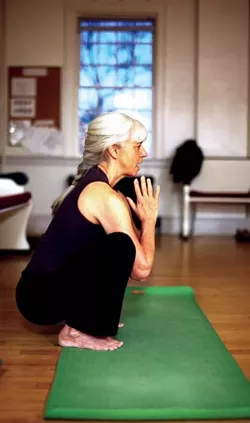 My cover story this week focused on the business of yoga and the compromises yoga teachers make as they turn the ancient philosophy into a modern business. ---One woman's views stood out more than anyone's and she'll be teaching in a new location after 24 years.
Charlotte Bell was a joy to talk to for Yoganomics and I was happy to include someone who is a bit more--um, shall we say--mature than the stereotypical yoga fan. We won't give her age, but she took her first yoga class in 1982 and started teaching in 1986--before it was mainstream, as hipsters might point out.
The belle of Utah's yoga ball has always taught her classes at the First Unitarian Church in Salt Lake City, on 1300 East. That will soon change:
Hi Jesse,

I found out that the Unitarian Church will be doing a massive remodel on the space where I teach. Thanks to a referral from one of my longtime students, I've just found a beautiful new space--not a studio, but a karate dojo --that's just five blocks from the church. So after 24 years at the church, I will be moving most of my classes there in February, and the rest in April. It's always changing...

Thanks again for your thoughtful treatment of yoga and its SLC proponents.

Peace,
Charlotte
Her new location will be at Wadu-Ru Karate Institute, 865 East 500 South. For more information call 801-355-2617 or email charlottebell@earthlink.net .

That massive remodel at First Unitarian Church is to build a new meeting room to accommodate larger Sunday congregations--Utah Unitarians are growing. The chapel on 1300 East--an architectural landmark--will remain.

I'd say going to class with Charlotte is among the out-of-shape first-timer's best move (along with specific first-timer classes some studios have). She's got a peaceful energy that's infections, she's uber-experienced, and definitely focused on honoring your body rather than pushing it to the limits, which can be really important if you're tip-toeing out of a sedentary lifestyle.

Follow Me: