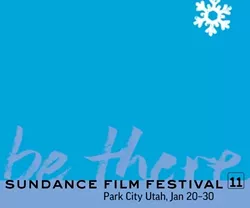 Oh, what wild events unwind up in Sin City the first Friday of the Sundance Film Festival. Here's a quick round-up in pictures and captions of yesterday's festivities.---
ASCAP Music Cafe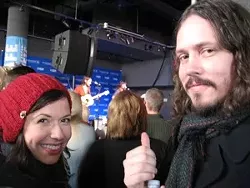 The Civil Wars, who played an exquisite set at The State Room, watch Madi Diaz at the first afternoon of the ASCAP Cafe. The two duos are friends and couldn't stop giggling at each other during the set. I actually caught Diaz at a vendor booth at the Outdoor Retailer Convention the day before. Or should I say, she caught me, with her clear voice and catchy lyrics.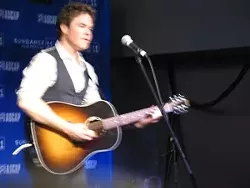 Josh Ritter never disappointments. The Idahoan by birth and current Brooklyn resident bantered about the "similarities" of the two regions, among other asides, in between a set peppered with songs from his latest album, including my favorite song, "The Curse" and older tunes. His charming, humble onstage demeanor combined with his wordsmithing won the crowd over. He's also playing ASCAP today (Saturday). To read my interview with Ritter last summer, go
here
. For Music Editor Dan Nailen's ASCAP highlights, go
here
.
Loungin' in Style
Folks hang out at the Sundance Channel HQ and get a shoeshine (while drinking margaritas). Salt Lake-native Sarita Valentini (far left), after clearing her new friend's nostril, talks about the movie she saw earlier: "
Pariah
rocked my world. It was very cutting edge. The director said, in film, you're not supposed to saw your work is cutting edge, gay and black. She called it all those things."
Local musician
Camron Rafati
says he's gearing up for the big weekend and was giving big hugs all around. The fun-lovin' big man will be playing ASCAP Cafe later next week as the first Utahn to grace that stage.
The Streets are Alive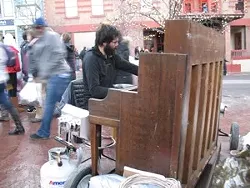 Familiar faces from the Pioneer Park Summer Farmer's Market are are on the streets busking away. Pictured are Eric Rich, the piano-bike guy, and hula-hooper Jaecey Adams who I featured in a story about
SLC buskers
last year.
What filmmakers do before their premier
Chris Edley takes a shot in the Filmmaker's Lounge two hours before the premier of The Woods. Edley, the art director and actor, said they spent 30 days camping on a fire road in Oregon to cut the avante gard film that hosts a traditional living room, but in the open, in the wild. Edley and crew had crosses between their eyes and will be face painting at all the the film's showings. Multi-talented, Edley, is also the band Safe, which will be opening for
Das Racist
tonight at The Sidecar.
Nightcap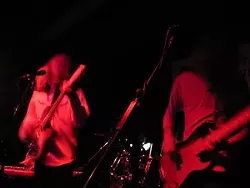 Heber, Utah-based band Holy Water Buffalo (pictured), who recently won the
Velour Battle of the Bands competition
, opened for The Stone Foxes. Onstage, there was a hair and organ explosion—better than it sounds; on the dance floor, Heber brought it big with 30-plus natives supporting their hometown rockers. The Stone Foxes closed the night, for a packed-in crowd, gloriously with their blues-rock, proving they're on the cusp of breaking it big.