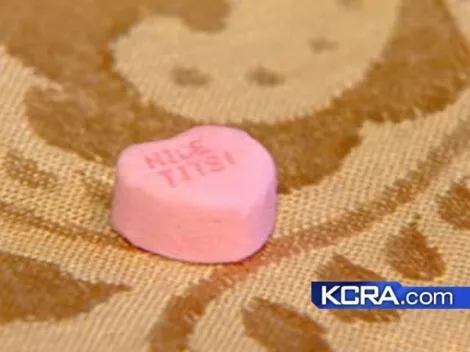 Whatever happened to romance?---
There was a time when the mottoes stamped on conversation hearts, those cardioid bits of flavored chalk popular around Valentine's Day, were as sweet and bland as the candy itself ("TRUE LOVE," "BE MINE," etc.). The New England Confectionery Company, also famous for its oddly delicious Necco Wafers, has for more than a century maintained a near-stranglehold on the conversation-heart industry with its familiar Sweethearts brand.
Sweethearts are a charming artifact of Progressive Era Americana. However, NECCO does make an effort to keep up with the times. According to its website, the company "introduces 10 new Sweethearts Conversation Hearts sayings each year." The first* of these updated sayings, "FAX ME," was introduced in -- can you guess? -- the 1990s. This innovation must have caused some uproar within the conversation-heart community. (In any case, the implication that lovers during the Clinton administration routinely exchanged romantic messages via electronic facsimile is strange and wonderful -- did people really ever do that?)

While its judgment may be questionable at times (last year's batch included such heartfelt sentiments as "TWEET ME"), at least NECCO keeps its newfangled convo-heart phrases within the bounds of good taste. The same can't be said for knock-off brands. With modern times come modern methods, and the technology for publishing conversation hearts is apparently now within everybody's grasp. In recent years, so-called adult or X-rated conversation hearts have become available from many sketchy retailers**.
One such "adult" heart, bearing the blunt compliment "NICE TITS," recently turned up in a bag of candy from a discount store in California. The incriminating heart was spotted by a 12-year-old girl, and in case there was any doubt, according to KCRA reporter Richard Sharp, "the message printed on the small piece of candy ... referred to a woman's chest." The girl's father, Derrick Deanda, said he doesn't have any plans to sue the manufacturer.
So all is well, and it appears the 12-year-old was unharmed. Of course, all this could have been avoided if Deanda had insisted upon genuine Sweethearts, rather than settling for off-brand dollar-shop hearts, which evidently don't undergo NECCO's rigorous editorial process.
As with most things, when it comes to conversation hearts, you get what you pay for.

---
* Or was it the first? I distinctly remember the shock of seeing an updated convo-heart phrase for the first time. It was "HOT STUFF" -- a disco-era expression that would have felt at home in the late-'70s/early-'80s.
** Although both "X-rated" and "adult" are really misnomers -- not so much pornographic as merely puerile and trashy, it's difficult to imagine any phrase that can be stamped on a candy heart being capable of producing genuine sexual arousal.