Finding a niche with corporate and personal photography is difficult for many professionals to pull off. While the principals to shooting a wedding shouldn't be any more different than taking a snapshot of a computer, the two couldn't be any more different when it comes to getting it right for the subjects involved. Perfect placement compared to lifetime moment. Capturing a treasured memory to show off as opposed to creating a pleasing aesthetic for possible clients. That's the battle and balance in which the photographer we chat with today keeps on perfecting.


--- Delphenich Photography got it start many years ago as a private solo studio for namesake founder Eric Delphenich to pick and choose his subjects. His work quickly gained localized and national exposure, bringing in work from several high-profile clients and businesses looking to have his intricate eye for detail create stunning shots for private use and public display. Still working as a one-man studio, Delphenich has become highly sought out for his reputation and photographic touch. I got a chance to talk with Eric about his career and current works coming out of his studio, along with a couple thoughts on the local art scene.

Eric Delphenich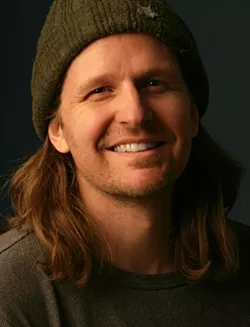 http://www.delphenichphotography.com/

Gavin: Hey Eric, first off, tell us a bit about yourself.

Eric: I am a freelance photographer based in Salt Lake City, Utah. I primarily shoot advertising/corporate work with a emphasis on people, product and architecture. The commercial work is the thrust of the business as well as shooting fine art or personal projects for myself. Salt Lake has been home since 1989 with the exception of two years in New York back in the early nineties. I grew up in the suburbs of Dayton, Ohio the youngest of six kids. My parents have always been very supportive of my decision to pursue a life in the arts. My mother was a elementary music teacher and my father was a chemist in the Air Force, an honest-to-god rocket scientist. I note this only because I feel that the blending of art and science is very crucial in the field of photography. As a kid growing up in public schools I wasn't the model student by any means, but art has always been my comfort zone. Upon graduating from high school I attended the Art Academy of Cincinnati and received a Bachelors of Fine Art, majoring in photography and minoring in printmaking. After art school I traveled out west finally settling in Salt Lake City. I must admit I never thought I would end up in Utah.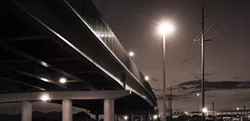 Gavin: What first sparked you interest in photography, and what were some early inspirations?

Eric: Photography entered into my life in high school after a bout with "creative block" in my drawing and painting. I started looking at the work of Ansel Adams, I know this is so cliché but hey I was in high school and we all have to start somewhere. His grand landscapes took me to a place far away from my mundane surroundings of southern Ohio. Upon entering art school the work of Edward Weston, Aaron Siskin, Cartier Bresson and Duane Michaels quickly became major influences in my work. As time went on and I started photographing people the work of Irving Penn and Arnold Newman, to list just a few, became important influences.

Gavin: You attended the Art Academy of Cincinnati for roughly six years. What made you choose their program, and what was their school like for you?

Eric: In 1983 the AAC was primarily a fine art school, a museum school. The building was a work of art in itself. Built in the late 1800's and physically attached to the Cincinnati Art Museum located in the center of Eden Park. The setting was idyllic, and the approach was classic old school fine art education. Initially I chose the Art Academy for it's sculpture department namely an artist Walter Driesbach. He retired after my first year and his replacement successfully persuaded anyone interested in sculpture to choose another path. Enter the photography department. The education was outstanding, the depth of such a classical art background has been invaluable.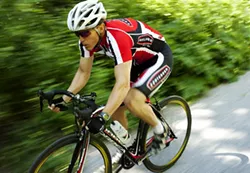 Gavin: Considering the many options in front of you, what made you choose to come to Utah?

Eric: After art school I set out on a journey of the west and first settled in Phoenix for a short time. That just didn't feel right and I had a friend in SLC that encouraged me to come up and check it out. While driving north on Highway 89 I was going through Moab, the sun was setting and just outside of town a massive blinding dust storm rolled through. It was one of those truly amazing moments in life. After the dust had cleared, the golden light lit up the desert and I told myself this has to be one of the most beautiful places on earth, I have to live here.

Gavin: How did the idea come about to start up your own photography studio?

Eric: The apprentice process in commercial photography starts with being an assistant to working photographers. I had the opportunity to work with a lot of different people in many facets of photography, food, architecture, people, fashion, still life etc. This led me to New York where I worked as the first assistant to the chief photographer of Rolling Stone Magazine. After the two year agreement was up I had no choice but to start my own studio.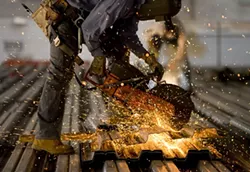 Gavin: What was it like starting up and how did things go during your first year?

Eric: It was rough in the beginning, not having the luxury to turn anything down, there are jobs I'd like to forget. In time I had a solid list of clients and was able to focus on the clients that I really enjoy working with.

Gavin: For your own personal choice, do you prefer traditional film or digital, and why?

Eric: Coming from the traditional film age of photography I held out for a long time before switching to digital. Now digital is the standard and I have fully embraced it. I still shoot Black & White film for personal projects and love the hands on process. Digital allows you to do so much so quickly, it's hard to beat that with polaroid and film.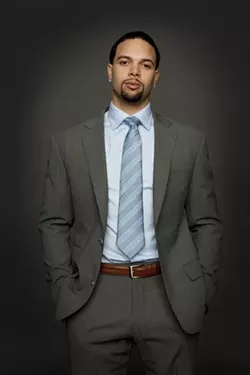 Gavin: While were on the topic, what kind of equipment do you choose to shoot with?

Eric: The camera bag is pretty straight forward; I use Canon equipment. Two bodies: EOS 5D mark II and the EOS 1Ds mark II. Two lenses: 24 mm to 70 mm and 70 mm to 200 mm, both f 2.8. Any specialty lenses that are needed for a project are rented. Lighting consists of strobe, tungsten and natural light.

Gavin: The majority of your material are profile shots. What made you choose to focus on that specifically?

Eric: The interaction you have with your subject is everything. Immediately upon meeting your subject you must gain their trust, put them at ease and guild them through the process of being photographed. A process that not many people enjoy very much. The exchange of energy between you and your subject is what I love about photographing people.


Gavin: You also do work for bigger companies like 3Com and Microsoft. Is it a challenge taking photos for a corporation as opposed to individual clients, or do you find them easier to work with?

Eric: I don't market my work to the general public, as a wedding photographer or family portrait photographer must do. Almost all of my work is through direct contact with corporations, advertising agencies / designers and magazines. This is very different because you are building a working relationship that can last over time.

Gavin: Do you have any plans to expand beyond what you're doing now, or mainly sticking to the solo-photographer system?

Eric: As far as expanding into a bigger studio, or hiring employees, the short answer is no. My business model has worked very well. I try to keep things simple as possible, I rent larger studios, locations, crews and equipment when the project requires. Seventy-five percent of my work is shot on location so the studio I have been in for years works well for most projects. The one area that I am planning on expanding is the gallery side of the studio. The studio is located on Pierpont Ave in the original ArtSpace Building and is a wonderful space to display art. Several years ago Pierpont was much more alive on Gallery Stroll night than in the last few years, I would like to see that change.


Gavin: Going state-wide, what are your thoughts on the local art scene, both good and bad?

Eric: Utah has many very talented artist that are producing quality work. My feeling is that there is a rather limited local outlet to show the work that is being produced here. Many artist live and work here in Utah but market their work outside the state in bigger markets. Let's face it, Utah is not known as a player in the art world.

Gavin: Is there anything you feel could be done to make it bigger or better?

Eric: There are several organizations, galleries and publications that are working hard at promoting the arts here in SLC. The artists themselves are creating groups and communities that have done a good job at bringing the large diversity of work to the public. I'm not sure I have a solid answer on what would make the local art scene bigger or better.


Gavin: Are there any local photographers who you view are at the top of their game?

Eric: I must admit I have no idea who is doing what out there. In the last few years quite a few new photographers have entered into the local market. My focus has been on growing and improving my business with attention placed on what is going on at the national/international level.

Gavin: What can we expect from you over the rest of the year?

Eric: One area I have really wanted to revisit is the traditional silver and non-silver photographic processes. The experimental print making end of photography. As well as opening the gallery side of the studio.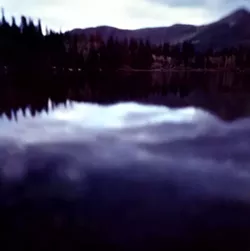 | | | | |
| --- | --- | --- | --- |
| Follow Gavin's Underground: | | | |