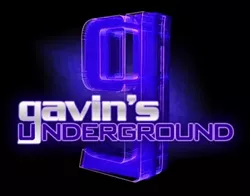 As our art scene continues to thrive there are some artists finding it harder to find a space to hang their work on. Yes, we have plenty of galleries throughout the Wasatch Front and, even as I type this up, there are two more currently in the works to open their doors in downtown. But over the past couple of years the amount of work coming out of the scene has doubled, creating a bit of an issue for some galleries and forcing others to do group showings almost year-round, and even causing some artists problems in finding a spot to showcase work. So what do you do when you're low on physical space? Build in cyberspace.


--- Mondo Fine Art started up in 2009 as an online gallery with the intent of helping artists to deal with a broader crowd, showcasing the works they wanted for a world-wide audience to check out and purchase. Since then it has become an online home for many of Utah's rising names and a secondary source to find their latest creations when they're not being featured on Stroll or promoting their latest exhibition. I got a chance to chat with the gallery's founder Mikell Stringham about her own career and the website, plus her thoughts on local art and the scene itself.

Mikell Stringham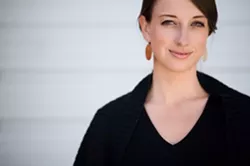 http://www.mondofineart.com/

Gavin: Hey Mikell! First off, tell us a little bit about yourself.

Mikell: I'm a Utah native, traveler, ski bum, and art enthusiast.

Gavin: What first got you interested in artwork and what were some of your early inspirations?

Mikell: I've always been passionate about art. When I was little, I was always drawing on something. But what really inspired me was my first time out of the country when I studied abroad in Annecy, France a little over ten years ago. We spent some time in Paris and went to all the museums - the Louvre, Musee D'Orsay, Rodin's Gardens, etc. That was it, I was hooked!


Gavin: Originally you went to the U and got your Bachelors in Business Marketing. What made you choose the U and why Business?

Mikell: Though I wanted to study art, I thought I had to choose a "practical" degree to pursue. I chose business marketing, knowing that I could use it for anything down the road. I'm glad I did, as it has helped me with the business aspects of Mondo.

Gavin: When you were done with the U, what made you decide to go to Italy and study at the Florence University of Art?

Mikell: I had always wanted to study the arts and loved the thought of studying it in the home country of some of the great art masters so I did some research, found FUA, and applied. Once accepted, I bought a plane ticket, gave notice to my job, and a few months later I was living in an apartment in Santa Croce Piazza, minutes away from where Michelangelo painted centuries ago.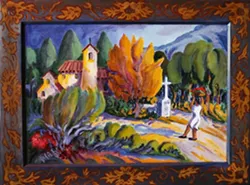 Gavin: What was your time like over there, and how did their program compare to American courses?

Mikell:%uFFFD%uFFFDFUA was an experimental new program, geared towards the hands on learning and real world experience approach. We had really small classes, some classes less than ten people in a class, where we were able to spend a lot of time out of the classroom working in the field we were studying. I studied everything I had ever wanted, but hadn't - painting, photography, interior design, and gallery management. I felt really lucky to have the teachers I did, all top professionals in their respective field, and to have the access to the contemporary galleries.

Gavin: Considering the jump to Italy, what made you decide to return to Utah?

Mikell: Simply... I ran out of money and time. I would have loved to have stayed out there longer, but my visa was up and it was time to go home. It's been five years now, and I'm looking forward to going back to visit this summer when I go to Italy for the Venice Biennale.


Gavin: Since returning you've been involved with other projects such as the International heART Exchange and being a part of the Utah Museum of Fine Art. How has it been for you joining and starting up these different projects?

Mikell: The International heART Exchange (now called the Mondo Art Project) was an idea I had a while back, wanting to connect kids around the world through art. Like pen pals, but with drawings- to transcend language barriers. I've been so appreciative of our partnering humanitarian orgs that have helped make this possible. We've had exchanges in over eight countries now and have more planned for this year, as well as with our local kids - especially with the refugee community (Hsar Nar Moo Refugee Center in partnership with Youthlinc). It has been a really rewarding experience to see what these children can communicate to each other through their creative voice. I learn so much from them. One of my favorite groups in the Utah arts community has been the Utah Museum of Fine Art's YBs. I've been on their executive committee now for a little over a year and think it's a great program that helps those in the art community have a say in what contemporary works are acquired for the Museum, as well as have access to one of our state's best art resources. Every year we, with the help of chief curator Jill Dawsey, nominate artists' works that we will then vote on in the fall to be added to the permanent collection. It's a great group of people. Also, recently I joined the board of the Central Utah Art Center - a progressive contemporary art center in Ephraim that is bringing cutting edge artists from around the world to Utah. I'm excited to be a part of a group so committed to the effort of putting Utah on the map for contemporary art.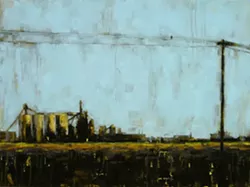 Gavin: Where did the idea for Mondo Fine Art come from?

Mikell: At a time when many galleries were going out of business because of the decline in sales and high rent, I wanted to try out a model that would be low on the overhead, and therefore maybe more sustainable - so I decided to forgo the walls and represent virtually online. I also wanted the flexibility to travel to other art markets and art fairs to see what was happening in the greater art world, and use this information for myself as well as for my artists and clients. Having Mondo online helps me take my gallery with me everywhere I go.

Gavin: Knowing that it was going online strictly with no physical gallery, was there any sense that it would be considered taboo with the art scene, or were you confident it would be accepted by artists?

Mikell: Since I didn't know of anyone in Utah doing exactly what I was doing, I was stepping into the unknown. I didn't know how it would be received by artists, collectors, and the arts community. In many ways it is taboo. A gallery without walls - can you do that? The art world has done things a certain way for a long time, but now with technology being what it is, there is a paradigm shift; the art world is trying to embrace the online world - and in a really interactive way. What once seemed taboo is now moving into the familiar. It's a shift that has to take time for people to really feel comfortable. Knowing that, I decided that my gallery should be a hybrid model - online, but also still exhibit works in person, pop-up style. So I started having shows in vacant commercial spaces, high-end design spaces, vacant penthouses - collaborating with real estate groups and local business owners to allow people in the area to see the works in person - to experience the work with all their senses. Then they would be able to go online with a better understanding of the works and what to expect. I was happy that pretty much everyone I talked to about the idea was very supportive. Artists were excited about it and wanted to be part of something new and different. I appreciate my artists for stepping into the unknown with me, and for seeing the vision.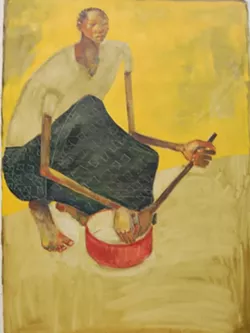 Gavin: How did you first go about finding artists to add to the collection, and what were the first few months like when you launched the website?

Mikell: I already knew quite a few artists from the community and had asked a few of them whose work I really liked to join me with Mondo, then I had a few artists approach me, or were referred. The first few months were exciting and nerve racking - I didn't know if this would be a success or not - after all, it was so experimental. I believed it would, but only if we got the sales. Slowly the sales came, thanks to my awesome clientele, and almost two years later, Mondo is alive and kicking. Like any new business, it takes time (and a lot of patience) to get to where you want to be. I have so much gratitude for the artists, the clients, and the arts community for helping me get Mondo off the ground.

Gavin: What's the current process like for you in finding artists to put on display, and how do you end up picking who to add to the main website?

Mikell: I look for a combination of things in my artists - there is a mixture of progressive and accessible, representational and abstract, from the mind and from the heart. I go to as many major art fairs as I can to discover new artists. I may not end up representing them, but I do keep them in mind for certain clients and projects on the consulting end of Mondo.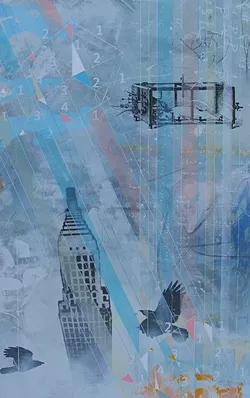 Gavin: For those interested, who are some of the current artists you have on board, both local and abroad?

Mikell: My Utah artists include Aaron Bushnell, Lane Bennion, Carlisle, John Bell, Pilar Pobil, Roland Thompson, and Zachary Proctor. My out of state artists are Angie Renfro and Olivia Pendergast. Other artists featured on the website are not formerly represented by Mondo; they are either spotlight artists, or I am selling their works in the secondary market.

Gavin: The website is slowly creeping up on the two year marker. What have you learned overall since starting it, both in managing and it's affect on the artists and the scene, and what improvements are you looking to add down the road?

Mikell: One of the biggest things I've learned in the art world is to be as educated as you can, but also trust your own instincts and pay attention. We've experienced growth and are constantly evolving. I look to my artists, clients, and colleagues for feedback on moving Mondo forward. My goal is to extend and transcend the vision of Mondo, which has always been to support Utah artists, as well as connect people to contemporary art from around the world. I'm looking to execute this vision more fully in the coming months. As for its affect on the artists and the scene, I think Mondo brings good exposure to our artists in a unique way; and as for the scene, I'm seeing more people embracing the idea of pop-up style galleries/exhibition. I've also learned a lot by visiting major art markets and fairs; about what is current in the art world, what's happening in different markets and how the Utah market and art compares. Then I can see how Mondo fits or can fit into that greater dialog. I'm connecting all of these dots going into year two.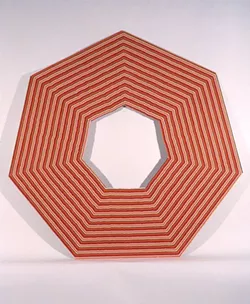 Gavin: Moving onto local stuff, what are your thoughts on our art scene, both good and bad? And is there anything you believe could be done to make it more prominent?

Mikell: There is some really good momentum with the Utah contemporary art scene right now. We are lucky to have curators like Jill Dawsey (UMFA, and formerly SFMoMA), Jeff Lambson (BYU MOA), and Micol Hebron (Salt Lake Art Center), and Adam Bateman/ Jared Latimer (Central Utah Art Center) leading our major art institutions into a more contemporary direction with important shows that are getting national attention and helping Utah to become more prominent in the art world at large. On the gallery and artist level, I've been seeing more and more really great up-and-coming contemporary artists, and these artists are getting shows in major art markets and international art fairs, as well as shows at our own major art institutions. I've noticed galleries showing more challenging and progressive contemporary artists, which also helps to educate our community about what is happening in this moment of time in art. Both of these elements are important to educate locally and to represent nationally. Collectors/patrons of the arts are also a key factor in the progress and health of the Utah art scene. It is important for Utahns to support the arts in whatever way they can - buying an original work of art is a great way to enjoy your donation to the arts, while keeping our artists creating and growing.

Gavin: What's your opinion on the other galleries around SLC, and do you view them as competition or more as colleagues?

Mikell: Definitely as colleagues. I've been very appreciative of the support and camaraderie within the SLC art community. I feel collaboration is more effective than competition and have worked with many of the galleries on different projects, always trying to create a win-win.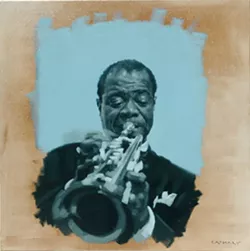 Gavin: While we're on galleries, what's your take on Gallery Stroll as a whole and how its doing today?

Mikell: I think Gallery Stroll creates a great energy in the Utah art scene. People plan to make a night of attending art shows in the area, and hop from gallery to gallery. The downside is that you have to pick and choose what shows you see, because you can't possibly make it to all of them. I've tried. I purposefully don't have my shows on Gallery Stroll night, simply because I want to attend the shows. But overall, I think it is a great idea to have a night that the art gallery community comes together to show art.

Gavin: What can we expect from Mondo Fine Art and yourself over the rest of the year?

Mikell: There will be some exciting changes coming up at our two year mark. Expect to see work by some new artists, in a variety of media. We will be shaking things up a little for our big anniversary show in the Fall... stay tuned. We will also have a few other smaller events, some public, some private throughout the year. The best way to get invited to the private events is to sign up on our contact page.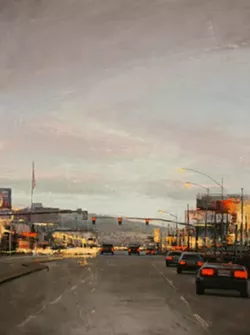 Gavin: Is there anything you'd like to promote or plug?

Mikell: Our next show is coming up on April 28th from 7-9PM at Light Spot Modern Design (2927 Highland Drive). This is our spring group show and will have the freshest new work by our Mondo artists; it should be a really great show with most of our artists present. Come meet the artists, see some beautiful works of art, and maybe even start or add to your own art collection.



| | | | |
| --- | --- | --- | --- |
| Follow Gavin's Underground: | | | |