Free Comic Book Day is on the way for this Saturday (check back here for details on Friday), and as usual you can expect various shops taking part in their own way, including bringing in some of Utah's finest names from the industry. Localized writers and artists who painstakingly put their skills to work to entertain you with their own material and work they've done for bigger companies like DC, Marvel, Dark Horse, Image, Vertigo and more. So in preparation for the event we'll be talking with one of those locals.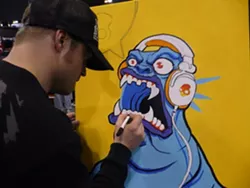 --- Tim Odland has been one of the creative minds behind the designs and graphics you see on many a pair of Skullcandy headphones and apparel, putting his artistic touch to the locally based company and helping attract a younger audience. He's also put his skills to work on a couple of Utah-based comic book titles such as Curse Of The Raven and Mad Monkey, becoming one of the quickest rising names in that community. I got a chance to chat with Tim about his career at Skullcandy and the work he's done on various titles, plus some thoughts on art and comics.

Tim Odland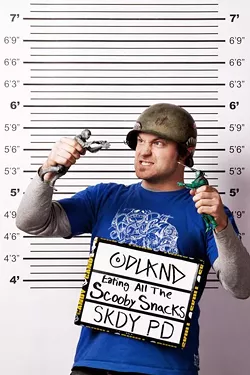 http://timodland.blogspot.com/

Gavin: Hey Tim! First thing, tell us a little bit about yourself.

Tim: I graduated from Weber State University in 2007 with a Bachelor's of Fine Art degree in Visual Communication with an illustration emphasis. Four of my five years at Weber I was an outside linebacker for the football team in 2006 I got my very first professional work designing a pair of women's free style skis for Voelkl international. My last year at Weber I worked at The News Paper Agency designing coupon books and illustrating for a magazine called Utah CEO. I work at Skullcandy as a designer/illustrator and live and work in Park City. I work mainly on product at Skullcandy focusing on the look and feel of the headphones with materials and graphics. I also create concepts and themes that focus on target markets. Along with headphones I've done graphics for skateboards, apparel, ads, posters and snowboard helmets. During my time at Skullcandy I've worked in partner with such companies as Hurley, Nike 6.0, Jordan, Giro, Dr. Pepper, Monster, Paul Frank, Toki Doki, Bape, and Troy Lee Design. I've also worked in partner with such artists and Metallica, Snoop Dogg, Slightly Stooped, Super Nat, 3 Inches Of Blood, along with athletes such as Andre Iguodala. Outside my full time job I do "live painting", and freelance print illustration. Along with all that I'm an aspiring Comic Book Artist.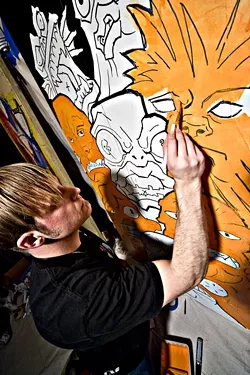 Gavin: What first drew you interest toward artwork and graphic design?

Tim: Ever since I could hold a pencil I've been drawing. It's just something I was naturally drawn to.

Gavin: You went to Weber State for college. What made you decide on Weber, and what was their program like for you?

Tim: The major deciding factor of me going to Weber wasn't really the art program. After graduating high school my mind was in a different place. I was recruited by their football program. Coming from a blue collar family a scholarship wasn't something you turn down. Feeling like I didn't have much of a choice I looked into the Art program and found that it seemed pretty good. I remembering looking at Dan Christofferson's work who was at that time a recent grad and thought "yeah, I could take that trail." Originally I was working toward a degree in illustration, but coming back from a mission I learned that it had been dropped from Weber's program. They said the the illustration industry was dying due to stock art and the opportunity in that field had diminished, so it was no longer a degree that the university would give. And with my commitment to my football scholarship and financial standing I couldn't just leave, so I was pooled in with the graphic designers and began working toward that degree. I was in a interesting spot living in two different worlds that didn't seem to fit together. I felt like I never really belonged to either. From one side I would get things like "What are you going to go hang out with your faggot art friends now?" From the other side I'd get more of a passive persecution where I felt that class mates would pass me off as the asshole in high school who use to slap them around. The biggest challenge was fitting class schedules together with my football schedule. I think a lot of degrees accommodate student athletes and the fact that there are so few that peruse art degrees, consolers and coaches just don't know how to deal with it. After four years of playing football there came a point were I had to quit 'cause I had classes during practice and practice during classes. So I missed my final year of ball. All and all I'd say the Visual Communication department at Weber is pretty good and they have great facilities and professors. I got a degree that i could go out in the real world and use. If your looking into graphic design as a career it's not a bad place to land as a student.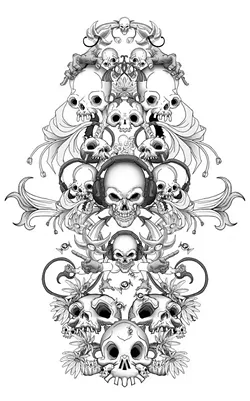 Tim: As for illustration... my main beef is with most universities and their views of the illustration industry. I don't think they see the whole picture. They're teaching students with the intent that they're going to go out and be gallery artists, illustrate for the New Yorker or even be the next Michelangelo. They have a pure academic view of what an artist is. What they need to realize is a small percentage of people that do that kind of stuff and actually even make it. Yeah I agree that publication illustration has diminished and it's not what it use to be but, what universities fail to recognize is that new industries have popped up and filled that void with lots of jobs. There's all kinds of jobs out there that exist with in action sports and the entertainment industry. Video games, movies and animation standing as huge revenue builders and they need artists. I think a lot of professors believe that these are not valid occupations a pure artist would hold. They're considered low-brow jobs that you have to stoop to. Guess what? they make money and need artists. Here's a funny example: I remember being scolded in one of my classes for drawing a skull. It was "taboo" and "cliché." Now I work for Skullcandy where I make a living drawing skulls. I feel like a major reason I got hired here is cause I could draw a mean skull. Fundamental studio classes are very important but I think more universities need to start teaching kids for the kind of jobs that actually exist out there. Don't just drop your illustration program 'cause the jobs have shifted. Shift your programs to prepare kids for the jobs out there.

Gavin: What was it like for you getting deign jobs after college and trying to make a name for yourself?

Tim: Not easy. I started with any design-job i could get. My last year at Weber I worked at The News Paper Agency designing coupon books and illustrating for a magazine called Utah CEO. The magazine jobs would come only every now and then and most of my work was down and dirty design busting out as many ads as I could in a week. My first real break into the action sports industry came when I designing a pair of women's freestyle skis for Voelkl international. I got that job through a friend who road on their Pro team. That gave me a good portfolio piece to get more work in that industry.


Gavin: When did the opportunity come around to work for Skullcandy?

Tim: I had been the the Skullcandy office a few times to temp for their customer service guy and I showed some of my work to the art director while I was in school. At that point it wasn't a job interview or anything. Right before I graduated an opportunity came up where the head guy didn't like the art work they had for an existing package and they needed something in a week. I got a call and they wanted to see what I could do. I jumped on it. I did a tattoo influenced piece and the next thing I new that package was in every Best Buy in the nation. I had no idea that would happen. I didn't even know they were going to use it. It was pretty crazy to be in California on vacation go into a Best Buy and see my art work hanging on the racks. I went back to my day job at NAC and focused on finishing up on school. I got another call from Skullcandy out of the blue and they said the product I did the packaging for was selling really well and they wanted to bring me in for a interview. A week after I graduated I was hired.

Gavin: What was it like for you first starting out and essentially designing artwork for headsets and other gear?

Tim: When I first got the job i knew it was a big break 'cause there's not many companies like Skullcandy in UT. What I enjoyed the most was, the variety of projects. One day I'd be designing a line of headphones and the next I'd be working on tee shirts and promo Skate decks. When I first started we were doing every thing in the art department but slowly as the company got bigger We started to specialize. Now I work Mostly on product.


Gavin: What's the process like for you in creating a new design for something, from design to final product?

Tim: I like to do a little research first. I collect images, styles, objects and photography that I can pull characteristics from. For example, if I'm designing graphics for a headphone that's should appeal to the "Metal kid", I'll look at anything that I feel fits in that genera. Like motor bikes, rock posters, fashion, rough textures, and even the actual music. These story boards inspire and help put me in a way of thinking. From there I'll go to my sketch book. I'm a designer that focuses heavily on illustration and original art so my sketchbook is one of my most valuable possessions. Weather I'm working on a legitimate project or I just have some random idea I usually sketch it up in there first. I've got a bank of ideas in my sketch book. From the sketch, I take an idea to a more refined version depending on what the project craves. After I've created the art I render up the headphone on the computer and start making decisions on art placement. After going through an elimination process of design comps, a final design is chosen and sent off to sample.


Gavin: On the side you've also been creating art for some comic book companies like Image, and even have a couple titles like Mad Monkey and Curse Of The Raven. What made you want to start creating comics?

Tim: I've always had a passion for comics. It was the main driving force that motivated me to keep drawing which in turn, I think, gave me a one up in the design world. I've been a professional graphic designer for four years now, I'm getting older and I finally want to take a stab at the dream I had as a kid to draw comics. My first attempt was The Mad Monkey which was a self published book with all black and white interiors. It's the adventure of a superhero gorilla-man and his monkey side kick. This "one-shot" was pretty much an experiment to see if I could actually do a whole issue. It's pretty raw. I started attending a weekly draw night with artists form different industries and just being around those guys gave me a lot of support and motivation to keep doing the comic thing . The next book I did was a 24 hour comic called Curse Of The Raven. This was a result of the draw night pals holding a 24 Hour Challenge. It's sixteen pages and full color zombie western. It was published by Derek Hunter's (Pirate Club, Derek Hunter Is A F**k) little imprint Totally Rad Comics. Curse Of The Raven is still available at NightFlight Comics.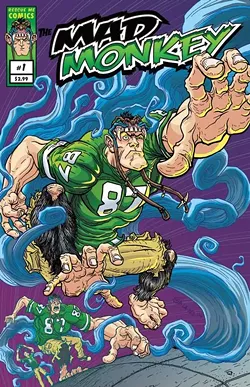 Gavin: Are there any projects your working on or series your developing at the moment, or are you simply creating work as you see fit for now?

Tim: Currently I'm working on a top secret comic project with an Eisner Award winning writer. He's published quite a few works through Image Comics. This will be my first real break on the national comic scene. I won't mention too much more about it as it's in the early stages.

Gavin: On top of all that you've been doing some freelance and charity artwork, most recently in support for Hati. How has it been for you raising money with your art?

Tim: Well how I see it is, I'm not in position to just drop a bunch of money as a donation to a charitable cause but what I can do is create art that will raise money. I think it's important to use your talents for the benefit of others.


Gavin: With everything you're doing on the artists end, are there any other projects on the way we can expect to see from you?

Tim: I'm pretty busy with my full time job and now comic work but every now and then I'll do a random painting. I also I plan to do the 24hr Comic Challenge again this year with my "Draw Night Pals." It may even be a follow up to Curse Of The Raven.

Gavin: Going local for a moment, what is your take on the current local comic scene and the books coming out of it?

Tim: I think there's a great comic scene here in Utah. There are quite a few pros and lots of artist from other professions that love to draw comics. I think there is a lot of talent here its just a matter of getting that art out for people to see. I think the main obstacle is the cost of printing and self publishing. I think the solution would be teaming up with similar artist publishing one book that has a story from each. That way you can combine funds and efforts. I know there are a few groups that are starting to do this. Derek Hunter's in the process of starting Totally Rad Comics which is a web site focused on local artist publishing. Some of "The Draw Night Pals" headed by Sean Bird put out a comic called 666 which was one book featuring different stories and artists. I'd like to see more local artists pool together an put out quality comics publications.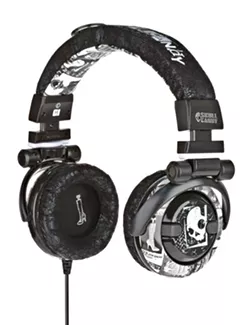 Gavin: Who are some local artists and writers you believe people should check out?

Tim: Derek Hunter, is a guy I think you should always keep tabs on. He's always got something brewing and really stands out as a leader on the local level. Jake Parker, a BYU Professor who publishes a kids comic Missile Mouse through Scholastic. You can pick that up at any Boarders or Barns & Noble book stores. Brandon Dayton, An EA concept artist put out his local comic The Green Monk based on Russian mythology. He's working on a larger format book to follow up. Geoff Shupe, also an EA artist has an amazing blog that you can always find great paintings and concept work. Ryan Ottley, who besides being a ridiculously talented artist, and a pillar at a national level, is really down to earth humble and very friendly. And finally Alan Tew, master of anatomy and the godfather of Draw Night, has a really cool virtual sketch blog.

Gavin: While we're on the topic, what are your thoughts on the local art scene and how its growing?

Tim: I think Salt Lake has an amazing art scene that caters to fine artist who are starting out. The Salt Lake Gallery Stroll gives lots of opportunities for artists to show there work in a gallery setting and network. If an artist "puts their work in" and shows on a regular basis, they can begin to build a fan base. When I was in the last years of schooling I had a few shows at Gallery Stroll and found that it was a really great tool to meet people who liked your work. If they didn't like your work they would walk on but the people who did would want to talk to you and ask questions. It was a effective way to gauge how your art was accepted and sometimes it would be a real eye opener.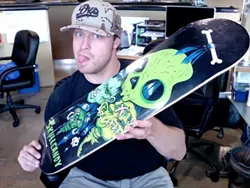 Gavin: What can we expect from you over the rest of the year?

Tim: I'll have some new headphones in Skullcandy's 2011 line. I'll be busy working on my "Top Secret Project" that is planed to be out next year . Look for another 24hr Comic in October and you can always drop in on my blog and see what I'm currently up to.

Gavin: Is there anything you'd like to plug or promote?

Tim: My blog where I do Daily Sketches and post some of my design work. Also If you'd like to pick up Curse Of The Raven, I'll be doing a signing at NightFlight on Free Comic Day with a line up of other local artists like Ryan Ottley and Derek Hunter. It's May 7th 2:30-6PM at NightFlight Comics' Murray location, 6222 South State Street.



| | | | |
| --- | --- | --- | --- |
| Follow Gavin's Underground: | | | |