We've all heard bands express their surprise and delight at how rabid Utah concert audiences can be, but perhaps none have been as adamant about it as the perpetually grinning dance-rock duo Matt & Kim was Monday night at In the Venue.---
"Salt Lake City knows how to fucking party, and I'm going to spread the word!" Kim declared after the Brooklyn-based twosome had just started with a ripping version of "Block After Block" from their most-recent release, Sidewalks.
That was just the first of many gushing compliments the drumming Kim and keyboard-manning Matt gave the crowd throughout a high-energy show that was a blast from start to finish, full of insistent dance beats, goofy moves on the part of the musicians onstage, and plenty of participation by the audience, including crowd-surfing, jumping in unison and, when asked, blowing up balloons at the request of Matt & Kim to add some visuals to the light show.
The set list included songs spanning Matt & Kim's career, and virtually every song was received with shrieks of delight from the crowd—well-deserved, considering the work the duo was doing on stage. Kim is a manic drummer, smiling widely as she pounds away furiously, and occasionally jumping up on her bass drum to exhort the crowd to get wild. Matt, tasked with vocal duties as well as most of the music via his synthesizers, was just as active, strolling the stage and chatting between songs and jumping off his chair more than once.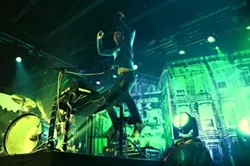 Together, Matt & Kim create an infectious mood that matches their catchy tunes. Among the highlights Monday: "Good Old-Fashioned Nightmare," "Red Paint" and "Lessons Learned" (the song that boasts the duo stripping down in Times Square in the video, inspiring the audience to chant "Take it off!" at its conclusion).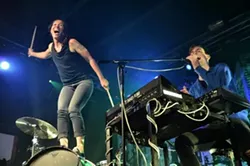 "Lightspeed," "Silver Tiles" and "Yea Yeah" also hit their marks Monday. Matt & Kim proved a most-worthy live act, and they had a tough act to follow. The Thermals opened the show with a potent set of indie-rock that included a heavy dose of their excellent album Personal Life. Even so, by the end of the show, there was no doubting whose night this was. And as Matt said around mid-show, Matt & Kim will "be back sooner rather than later. We're already looking forward to it!"
You should, too.
(All photos by Meredith Newsome)