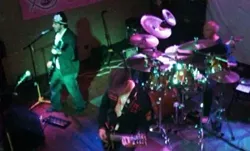 Wrapping up July we've got some new releases this weekend to chat about, one established and a few new comers. --- First up is the latest from The Dark Past, the "message driven" metal trio who have been around for a few years but have fell short at getting major attention from the music scene. Most of their shows have been at Burt's and the now departed Club Vegas, which has gained them a small following, but their failure to branch out beyond those two venues has left them virtually unknown to most. The group (seen above) are looking to change that with their EP Dies In The Light, to which their first single "Gutter Bravado" has gotten some airplay on community radio. You can catch their release show tonight at Kilby Court playing along with Freedom Before Dying, Numbered With The Dead, My Final Estate, DeadGates, Face The Tempest. Just $7 starting at 6PM.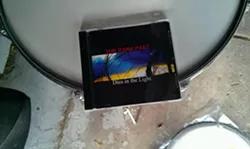 Then tomorrow night back at Kilby, Spy Hop Records takes over the building for their annual Spy Hop Night. Every year Spy Hop works with young musicians to bring out the best music they can from some of Utah's most talent youth. They've produced such talent as The Direction, Idyll Rigamarole, Malevolent MC, Sam Burton, Heterodactyl and more. This year we'll be seeing two new releases from the minor-label, the first being a compilation album of several musicians who came through the program this past year, fittingly titled Grains Of Salt. The second will be the self-titled debut album from rock band The Orchard. The band will be headlining along with Joel Brown and Come September. Just $6 starting at 7PM.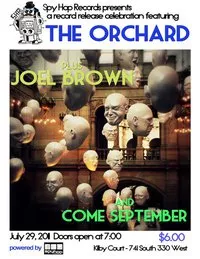 Head out, love music, buy local!