While most of the local theater companies have just started up their season from a brief hiatus, Salt Lake Acting Company has just kept rolling along. --- In fact, until a few weeks ago, SLAC was still running Saturday's Voyeur throughout the summer to sold-out performances. But the seasons change and the show had to end its run in time for the season-debut production taking place this week.
To kick off its '11-'12 season, SLAC presents God Of Carnage, an adapted and translated work from Yasmina Reza about two upper-middle-class families at odds with each other after both their sons brawled in their neighborhood. The production earned a 2009 Tony Award for Best Play, and now SLAC brings the play to the local stage, directed by John Caywood, for the next three weeks, starting tonight. We chat with executive producers Cynthia Fleming and Keven Myhre, as well as three of the actors involved with the play and their thoughts going in.
Nell Gwynn, Darrin Doman, Zack Phifer, Cynthia Fleming and Keven Myhre
http://saltlakeactingcompany.org
Gavin: Hey, everyone! First thing, tell us a little bit about yourselves.
Nell: I have been here in SLC a little over a year. I came here after 10 years in NYC and was married in Big Cottonwood Canyon in May.
Darrin: Hi, my name is Darrin. I've been living in Salt Lake City for almost 9 years now. I work full-time for the University of Utah Hospital and act/perform around the valley as time allows. For God Of Carnage, I am playing the role of Alan Raleigh, head legal counsel for a pharmaceutical company.
Zack: I'm a U of U acting-emphasis graduate who just wanted to be "Center Square." A summer-stock play I did in college that was being recreated in Hollywood took me to LA. One of the many characters I played was Paul Lynde! Got that "" thing out of my system. I went on for the next couple of decades to do commercials, TV and films. Google me!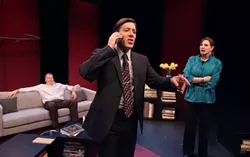 Gavin: How did each of you become involved with theater and how did find your way to SLAC?
Darrin: Being a middle child, I've always had a flare for the dramatic ... need I say more? My first exposure to SLAC was attending a performance of Bat Boy in 2003 (funny enough, directed by John Caywood). I saw Saturday's Voyeur in 2004; didn't really get it, but auditioned and made the 2005 SV cast (funny enough, directed by John Caywood). Here I am working with John yet again -- funny enough.
Zack: There is this tall blonde at SLAC  -- Cynthia Fleming; need I say more? Cynthia and I were good friends at the U in the theater department. We always stayed in touch. When I returned to town, I called her up and she immediately put me to work cleaning the theater. Four years later, I finally worked my way up to being on stage. She's brutal.
Nell: I found theater in high school and it has been a ride ever since. I got a scholarship for the BFA program at the University of Miami in Coral Gables, started working professionally after college in South Florida and eventually moved to NYC. I met Cynthia Fleming through a mutual friend in LA, came to see Charm last year and was invited to audition for Angels in America.
Gavin: Cynthia and Keven, how did SLAC come across the play God Of Carnage?
Cynthia: We've been longtime fans of Yasmina Reza's plays – Art, The Unexpected Man, Life X 3. We've had our eye on God Of Carnage since it first played in London, and we were thrilled about the play's awards and New York reception.
Keven: We've tried for three years to get the rights, and we finally got them. Opening our 2011/2012 season with God Of Carnage felt like a perfect fit given SLAC's amazing history of producing the best in contemporary plays.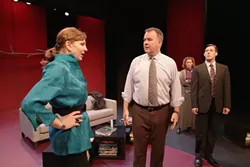 Gavin: For the actors, when did you first find out about the play, and what were your thoughts on it after reading it?
Zack: I was aware of the play when it was nominated for the Tony but didn't know the story. After reading it, I thought it was a dreadful play about dreadful people. I HAD TO DO IT!
Nell: I had heard nothing but amazing things about the play, and was very surprised when I read it. I wanted it to be a part of the season, and I knew I wanted to be in it. I knew it was going to be fantastic.
Darrin: I first found out about God Of Carnage via my subscription to SLAC's audition-notice e-mail list. I know that's horribly practical, but it's much more reliable information than you get through the "grapevine" if you know what I mean. Believe me, there is plenty of buzz and speculation about what theater is going to produce what show around the time local companies announce their upcoming seasons. Anyway, the audition instructions asked us to read the script prior to auditions. So, like a good little actor, I did as I was asked. I was immediately hooked. The situations the playwright constructed and the conventions she used throughout the script were wildly creative and unlike anything I have ever seen on stage. I was intrigued at how funny, yet serious, comical yet tragic, the story and characters could be simultaneously. It's seemed like a roller coaster of a ride and I knew right away that I wanted to be part of it.
Gavin: What was it like for each of you auditioning and eventually getting the part?
Darrin: Well-trained actors are taught to wear something to auditions that reflects the character for which they are auditioning. Preparing for callback auditions, I consulted my closet and chose an ensemble that spoke "lawyer" to me -- navy slacks, blue shirt and a gold tie. Imagine my surprise when another actor showed up wearing the same thing. AWKWARD!
Nell: I had the eye of the tiger for this show. I knew I was going to do well, and I was very relieved to be cast. I didn't want to watch someone else get to do this great material!
Zack: Bribes, cakes and more cleaning of the theater.
Gavin: How has it been for everyone involved adapting the work for a local stage and working with such a unique production?
Nell: It's been great. SLAC is a top-notch theater and theatrical experience. I hope people realize how cool it is to have this show playing here.
Zack: It's a tough, fast, roller coaster of a ride to negotiate. Soon, adding an audience will make it that much more heightened, difficult and different to navigate because there aren't the standard kind of sitcom-y joke setups in this funny, funny farce. It will be exciting to see where the laughs are.
Darrin: The play was originally written in French. The English translation did very well when it was produced in Europe and the run of God Of Carnage on Broadway was hugely successful. Personally, I think it is due to the universality of the plot lines and experiences portrayed by the characters. Audiences in Utah are going to relate as well as anyone, no adapting required.
Gavin: How has it been for each of you fitting into these roles and interacting with each other?
Zack: For my character, I have to do a New York dialect that keeps popping out in my offstage life. Because of this NY dialect, people will ask me where I'm from. My true answer of "north of Cheyenne" throws them. Unfortunately, the dialect and the character of Michael have also has made me even more obnoxious than my usual self with my fellow cast members with whom I have had no prior interaction. When I return to "normal" in a few months and I see them, I'm sure they'll think I'm bipolar. I think all of us are well cast to our characters, so interacting with each other has been really easy.
Darrin: My character, Alan Raliegh, is not very likeable. He's a lawyer and pretty much fits all the negative stereotypes. What's more, he is addicted to his cell phone. My castmates joke that I will need an escort to my car each night after the show to ensure my safety. Alan does have ONE redeeming moment in the show. I hope the audience will focus on that. Finding my inner Alan has been an interesting journey. I have to make a conscious effort to shake the character before leaving the theater. Either that, or keep my car window rolled up as I drive home so other motorists don't hear my threats of litigation and "colorful metaphors" in response to their driving.
Nell: The cast is wonderful and we keep it light off stage ... we'd better, or we'll rip each others faces off! HA!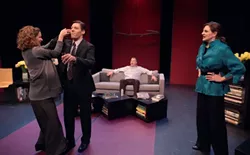 Gavin: What are your thoughts going into opening night?
Nell: I hope people will enjoy themselves. That's all you can hope for.
Darrin: There's nothing quite like an opening night. Just thinking about it makes me a little tingly. I know this is a "Captain Obvious" thing to say, but it's the audience that makes live theater, live theater. I can't wait to see their reactions. Part of me wants to warn them all to buckle up and keep their arms and legs inside the ride at all times. There are certainly a few unexpected bumps, turns and twists in the plot of this play. The other part of me thinks it will be more fun to see their untainted reactions.
Zack: What does not kill us makes us stronger.
Gavin: What can we expect from all of you over the rest of the year?
Darrin: I'll be musically directing SLAC's production of How I Became A Pirate. That starts immediately following the close of God Of Carnage. I also have rehearsals/performances with the Utah Chamber Artists; oh, AND jury duty, to keep me busy until the end of 2011.
Zack: I'm hoping that the Lawrence Kasdan film, Darling Companion, which was shot in Park City and Sundance last year, gets released. It employed a lot of local actors  --bless you, Mr. and Mrs. Kasdan. I'd love the residuals and the bump to my union pension.
Nell: You'll find me on a ski hill most of the winter, and I hope more opportunities for Equity actors keep popping up here in town. I'm also a huge supporter of the LGBT community here in Salt Lake.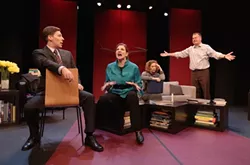 Gavin: Aside fom the obvious, is there anything you'd like to promote or plug?
Zack: Exciting season of plays this year at SLAC. I got my season tickets. Cynthia said to plug this or I'd be on bathroom-cleaning duty for a year, AGAIN!
Nell: Check out ChrisTotsiaras.com to see the short film Red Flag, which I starred in back in NYC. We screened at festivals around the country and won the "Best of the Fest" Audience Award for Comedy at the Palm Springs Film Festival. This awesome little film was also recently chosen by the SAG Foundation to screen in NYC this October. It's hilarious and sweet and I'm really proud of it!
Darrin: I sing with the Utah Chamber Artists. Come to our Christmas concert, "Carols & Lullabies" on Dec. 13 at the Libby Gardner Hall.



| | | | |
| --- | --- | --- | --- |
| Follow Gavin's Underground: | | | |