Last month, the Tower Theater opened its doors to local filmmakers once more for the Open Screen Night event. --- For those of you unaware, several directors bring in their short films for a free screening, where each one runs back-to-back, and at the end of the night three awards are handed out to the finest of the bunch.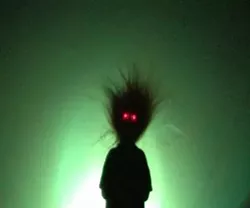 This month's competition was very spirited and had plenty to offer in taste, as City Weekly's Scott Renshaw wrote in his recap of the event last month. For September's showcase, the film Yellow Pill by Chris Rogers (a previously interviewed director here on the blog) took home the Critic's and Audience Choice Awards, while Christopher Hanna picked up the Salt Lake Film Society Award for his rapid-fire snippet entitled ZICSM. We chat with Hanna today about the film and his other works, plus Open Screen Night and his thoughts on local filmmaking.
Christopher Hanna
http://www.phantommonkeyfeet.com
Gavin: Hey, Christopher. First off, tell us a little bit about yourself.
Christopher: My biggest passion is art. I love making art, but I also get excited by new and innovative art, design, music and film made by others. Originally from Colorado, but I have spent most of my life in Salt Lake City. I come from a family of musicians, although I am not very musically inclined. I studied photography at the University of Utah, but ended up doing graphic design and illustration as a living for various companies and employers. I spend most of my days with a Wacom drawing-tablet pen in my hand, clicking and dragging. I am quiet, mellow and sarcastic. I am a 13-year-old boy living in a 30-something-year-old body.
Gavin: What first got you interested in art in general, and what influenced you early on?
Christopher: I don't recall the moment I became interested in art. I was drawing as far back as I remember. Since I came from a creative family, art was strongly encouraged. My mom always tried to get me into different art programs and contests as a kid, so that helped motivate me and keep the momentum going through my youth. My biggest influences came from contemporary pop culture: TV shows and movies. Those are the things that stick with you growing up in the late 20th century. My earliest creations and drawings reflected that influence: drawings of E.T., Bugs Bunny, Ewoks, Gremlins, the aliens from V, Freddy Krueger, you name it.
Gavin: You've worked with so many different mediums. What made you decide to learn various works rather than master a single form?
Christopher: I was never content with just one medium. Naturally, as a kid, you want to learn how to do everything. So I continued that throughout my life as an artist. It could be to my detriment as an artist that I've tried to use so many different mediums. I realize that it could be hard to find the common thread through all my work, whether it be graphic design, painting, photography or video. But over the years, I have seen some of my best work come from the combination of mediums. Often it's more about the idea. The medium is just a means to execute the concept.
Gavin: What made you decide to create a short film, and what was it like for you learning how to create one?
Christopher: I have been making short films since I was about 10, starting with in-camera VHS productions with my siblings and cousins. I love creating with video, whether it be experimental or narrative. In college, I learned to use non-linear and traditional tape-editing systems. In the past few years, I have incorporated more animation and graphic elements into my video projects with the use of After Effects and Photoshop. At one point in my life, I considered getting into filmmaking as a career, but I really enjoy the freedom of creating with a medium without commercial constraints.
Gavin: How did the concept for ZICSM come about?
Christopher: I don't remember which came first, the music or the film concept. I love messing around with Photoshop and distorting and mutating people's faces. It's a great party trick, especially in the pre-smart phone app days. So I started with several Photoshop "disguises" for myself, each one getting just a bit more creepy and unsettling than the previous version. I decided to use the images to compose a short, animated, German Expressionist-inspired film set to a my own choppy rendition of King Crimson's 21st Century Schizoid Man. The film was originally titled 21CSM, as an acronym for the King Crimson tune. It was misspelled in the program at the SLFS Open Screen. I actually like the accidental new title a bit more. Thank you, SLFS!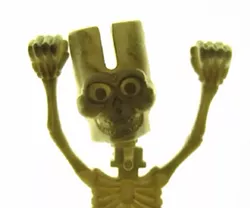 Gavin: How did you find the graphics and materials to work with, and how long did it take you to film and then edit it?
Christopher: I composed the music using Adobe Audition and collected Mellotron samples I found online. Since I'm not a musician, it was a bit more difficult to assemble the music than the visuals. For the images, I used a bunch of photos I had collected from the Internet and magazine and book scans. I used a handful of self-portraits I had taken and just went to town with the mutating and scrambling of imagery in Photoshop. It took 3 or 4 weeks to complete the project.
Gavin: Were there any difficulties that came up along the way or was it all pretty smooth?
Christopher: It was fairly smooth, once I knew what I was doing. Having music as a guide makes it so much easier to complete a film project.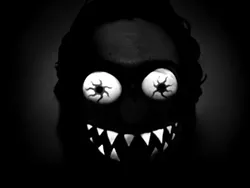 Gavin: The film itself is an excerpt from a bigger project called Ter-ror and Suspenssse. What's the bigger project about?
Christopher: Ter-ror and Suspenssse is an ongoing collection of experimental and narrative shorts, both animated and live-action, that I started about six years ago. The inspiration is autumn, horror films and Halloween, which is probably my favorite holiday. So far the the most ambitious piece is ZICSM. And like so many of my art and film projects, it's a work-in-progress. I intended to create at least one new segment each year and over time build a motion-picture equivalent to a concept album. Better get on that ...
Gavin: Did you show the film to anyone prior to the event, and if so, what did they think of the film when it was finished?
Christopher: The piece was actually made about 2 years ago. So several friends and family had seen the film prior to the SLFS event. It had also been shown publicly once before (sans music) as background visuals for a musical performance my cousin Jonathan McEuen did at the Sundance Film Festival in 2010.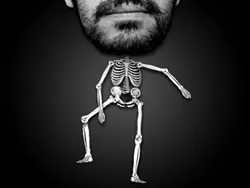 Gavin: How did you hear about the Tower Theater's Open Screen Night?
Christopher: I have been attending the Open Screen Night regularly for a few years now, oftentimes submitting some of my own projects.
Gavin: What was it like seeing it there and hearing the audience reaction?
Christopher: I love seeing my projects on the big screen at the Tower Theater. Even better is hearing people's reactions. The local audience is very supportive, and it feels good to get a nice round of applause after the screening. It's also nice hearing laughter ... and groans, where applicable. It's a great way to test your material on an audience, which is kind of the point, right?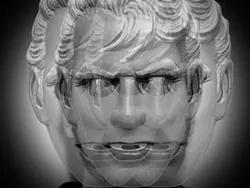 Gavin: At the end, you won the SLFS Choice Award. How did it feel winning that and receiving that recognition?
Christopher: I love it! It's great getting recognition, especially from the folks at SLFS. I didn't expect it. After all, it was only a last-minute decision to submit a 2-year-old video project.
Gavin: What's your opinion of the local film scene, both good and bad?
Christopher: Judging by the selections of shorts I've seen at the Open Screen Night, there are plenty of skilled and talented filmmakers coming out of Salt Lake and surrounding areas. However, I would like to see more people using video and film as an expressive art medium rather than just a narrative medium. There is a tendency to create short, absurd, comedic films that work well as viral videos. And don't get me wrong, they are fun, and oftentimes they are my favorites at the Open Screen Nights, but it would be nice to see more personal, experimental video shorts. But there are so many people making great art in this town, it's hard to generalize.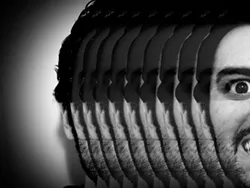 Gavin: Same question, but this time on the Utah art scene and the work coming out of it.
Christopher: There are so many amazing artists in this city. And it's incredibly diverse. There's no shortage of art in this town. It's also very easy for anyone to get their art out there, so you get a lot of so-so work you need to weed through to find the really interesting stuff. But I find inspiration in the works of several local artists.
Gavin: Is there anything you think could be done to make either prominent?
Christopher: Make personal art. Art that reflects yourself and your environment. Not stuff that's derivative. I think too many people are caught up with what's happening in San Francisco, New York and Portland. All the other bigger cities. It's more interesting if it comes from a place that's personal. And be open to up-and-coming artists. We have incredible established artists in this town, but there's always room for new blood to stir things up.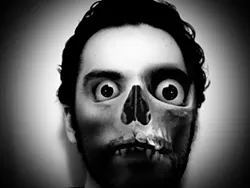 Gavin: What's the next project you have coming and what can we expect from you over the rest of the year?
Christopher: Right now, I'm in painting mode again. Getting away from the computer. That is necessary once in a while. I just completed a nine-month run doing a weekly live show for UtahFM called The Invasion with Floyd, which was a combination of music and performance art. Since the station is on a hiatus from live shows at the moment, I'm not sure what will happen with the show for the time being. I'm also planning on curating an art show early next year that will feature work by various artists based on selected musical pieces. Other than that, I don't know. Maybe it's time to continue working on my Ter-ror and Suspenssss project.
Gavin: Is there anything you'd like to promote or plug?
Christopher: My websites: PhantomMonkeyFeet.com, BlankTapeProductions.com and my Facebook page.



| | | | |
| --- | --- | --- | --- |
| Follow Gavin's Underground: | | | |